Building science solutions you can trust
February 12, 2020
Building science solutions you can trust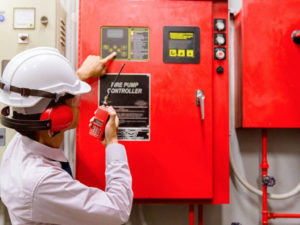 [1]It is important for buildings to be safe and to operate efficiently, and that is no easy task. It takes a thorough understanding of complex issues such as regional code requirements and hidden maintenance needs. Underwriters Laboratories (UL) covers multiple areas of a buildings construction: from building inspections services and field testing of building envelopes to testing and certification of building materials.
Building inspection
UL's building inspection services provide building owners and facility managers with the information they need to identify building compliance gaps and where improvements are needed to maintain compliance with fire and life-safety codes, security, and air and water quality requirements. This ultimately delivers confidence in building and occupant safety and the continuity and sustainability of the business. Our menu of services covers all the needs for the life-cycle of the building, including new building inspection and commissioning, training, and annual life-safety reviews while reviewing and recommending building security needs.
Fire, life safety, and security inspections
Gap analysis of building fire, life safety, and security systems through building design, construction, and maintenance helps to reduce risk of fire, life safety, and security failures and breaches that could result in harm to life, property, and litigation.
Indoor air quality inspections and certification
Indoor air quality (IAQ) issues can impact occupant safety and health. This is an assessment of IAQ issues and tools are provided to prevent future problems so that a healthy building can be maintained.
Alarm certificate services and alarm hub
Fire and security alarm companies are certified for their ability to install, maintain, test, inspect, and monitor alarm systems, provide runner service, and communicate with the proper authorities.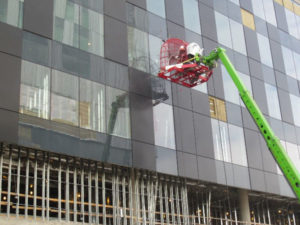 [2]For more information, visit www.ul.com/offerings/building-inspection-services[3].
Onsite field testing
Moving from inside to outside, gain confidence that installed windows, curtain walls, skylights, and all building envelope components and assemblies and the joint seals between those components and assemblies meet the performance requirements for airtightness and water penetration. UL's field testing experts conduct onsite assessments to determine compliance, risk mitigation, and remediation solutions. Testing is conducted during construction at varying stages of installation and after construction to assure proper performance and compliance to requirements. Testing is also conducted on existing structures to identify the source of air and water leakage to allow for remediation of the problems.
Services
[4]Air and water field testing is conducted by constructing interior or exterior chambers around assemblies and pressurizing those assemblies while measuring for air and water penetration. Test results allow for contractors and owners to make improvements to achieve performance and compliance expectations.
Whole building air barrier/blower door testing is conducted to obtain an overall measurement of the airtightness of a whole building and adjacent spaces to the defined performance requirements resulting in increasing the performance and energy efficiency of a building.
Thermographic evaluations are conducted to identify conditions including uncontrolled air leakage, missing insulation, thermal bridges, and moisture presence inside materials.
Forensic evaluations are conducted to identify leakage issues using tools to validate precise characteristics including tempering of glass products, fogging of insulating units, argon fill concentration, and low-emissivity (Low-e) coatings on glass products.
For more information, visit www.ul.com/buildingenvelope[5].
Testing and certification of building materials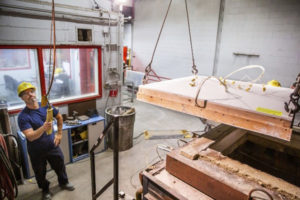 [6]UL evaluates a wide range of products for fire resistance and performance including doors, door hardware, roofing products, gypsum board, and more. Fire testing can be conducted with full test capabilities in our Toronto laboratory or at global UL laboratory locations. Product groups for testing can include:
steel protection;
gypsum board and acoustical tiles;
roofing products;
dampers; and
doors, glazing, and hardware.
The path to safety certification

[7]
Early engagement – This advisory phase involves technical discussions surrounding UL's testing and certification requirements and can help minimize delays and prevent redesigns.
Test program development – A UL engineer will work with the manufacturer to develop a test program, providing an accurate statement of work and a quote for certification.
Preliminary engineering evaluation – UL collaborates with the manufacturer to determine which tests to conduct. After each preliminary investigation, UL provides a detailed report of all test results.
Testing and certification – UL conducts all required tests and evaluations in accordance with the applicable standard(s). Upon confirmation of compliance, UL issues a certification report and schedules an initial production inspection at the manufacturing location(s) to confirm the production facility is ready and authorized to produce UL-certified products.
Factory production control (FPC) and follow-up services (FUS) – UL performs regular follow-up visits to the manufacturing location(s) to help ensure the products being produced are representative of the products evaluated during the certification program.
Online certifications directory – Certified products are entered into UL's Online Certifications Directory. This directory is a valuable, free-of-charge resource used by stakeholders looking for products that have been certified in accordance with specific standards or requirements.
For more information, visit www.ul.com/built-environment[8].
For more information or to find certified products for your operation, visit iq2.ulprospector.com[9].
UL supports you in your drive to enhance public safety, meet regulatory demands, and create smarter, safer, and more sustainable buildings and cities. Our testing, inspection, and certification services for the built environment delivers solutions to architects, building managers, and owners, code authorities, contractors, and manufacturers. Our comprehensive service portfolio addresses all of your challenges in design, development, construction, and operations.
For detailed information or to start your next project with UL, please call 1.800.463.6852 or e-mail info.canada@ul.com[10].
Endnotes:
[Image]: https://www.constructioncanada.net/wp-content/uploads/2020/02/Building-Inspection.jpg
[Image]: https://www.constructioncanada.net/wp-content/uploads/2020/02/Building-Envelope-1.jpg
www.ul.com/offerings/building-inspection-services: https://www.ul.com/offerings/building-inspection-services
[Image]: https://www.constructioncanada.net/wp-content/uploads/2020/02/Building-Envelope-2.jpg
www.ul.com/buildingenvelope: http://www.ul.com/buildingenvelope
[Image]: https://www.constructioncanada.net/wp-content/uploads/2020/02/Building-Material-Testing.jpg
[Image]: https://www.constructioncanada.net/wp-content/uploads/2020/02/UL-Path-to-Certification.jpg
www.ul.com/built-environment: http://www.ul.com/built-environment
iq2.ulprospector.com: http://iq2.ulprospector.com
info.canada@ul.com: mailto:info.canada@ul.com
Source URL: https://www.constructioncanada.net/building-science-solutions-you-can-trust/
---