Building industry skills at CONSTRUCT
August 14, 2017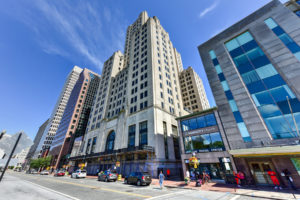 Canadian design/construction professionals can join CSI[2] in Providence, RI, this fall for the U.S. organization's 61st Annual Conference, held in conjunction with CONSTRUCT[3]. Running September 13 to 15 at the Rhode Island Convention Center[4], the event features both social and educational opportunities for professionals in the industry.
Sessions include:
"Who'll Stop the Rain: Considerations for Specifying Rainscreen Systems," presented by Andrea Baird of Raths, Raths & Johnson[5];
"Through the Eyes of the Contractor: Using Specifications to Bridge the Gap Between Design and Construction," presented by Martin Houston of Walsh Construction[6];
"Paint 201: Practical Solutions and Problem-solving Techniques," presented by Marion Beaulieu of Benjamin Moore[7];
"Architecture Disrupted: Transforming an Evolving Industry," presented by Bradford Prestbo and Gerard Gutierrez of Sasaki Associates[8]; and
"The Accessible Restroom: Why Doesn't the ADA Just Give Me the Solution?" presented by Daniel Hargreaves of SRA Architects[9].
Attendees younger than 35 also have the opportunity to attend specifically chosen sessions by participating in the Young Professionals (YP) Day[10], which includes features such as 'speed mentoring.' There will also be a CSI Young Professionals Mixer, which is just one of the CSI-hosted events scheduled for the conference.
For more information on professional development sessions, technical tours, and other networking events, visit the CONSTRUCT website[11].
Endnotes:
[Image]: https://www.constructioncanada.net/wp-content/uploads/2017/08/bigstock-145966061.jpg
CSI: https://www.csiresources.org/home
CONSTRUCT: https://www.constructshow.com/en/home.html
Rhode Island Convention Center: http://www.riconvention.com/
Raths, Raths & Johnson: http://www.rrj.com/
Walsh Construction: http://www.walshgroup.com/
Benjamin Moore: https://www.benjaminmoore.com/en-ca
Sasaki Associates: http://www.sasaki.com/
SRA Architects: http://srarch.net/
Young Professionals (YP) Day: https://www.constructshow.com/en/education/floor-plan.html
website: https://www.constructshow.com/en/home.html
Source URL: https://www.constructioncanada.net/building-industry-skills-at-construct/
---