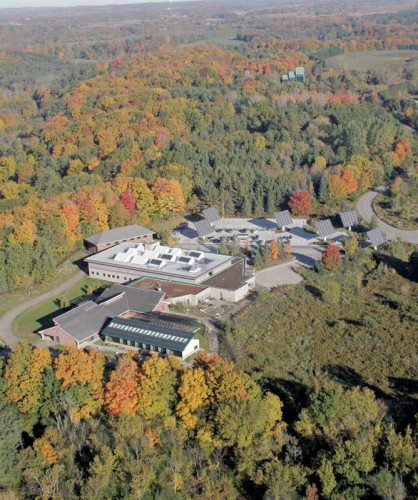 By Andy Schonberger, P.Eng., MBA, LEED AP, and Scott Tarof, PhD
Pulling into the parking lot at the Earth Rangers Centre for Sustainable Technology (ERC) immediately instills the impression something unique is happening with the building. Six dual-axis solar photovoltaic (PV) trackers provide some shade for visitors to park under, but more obviously, significant onsite electricity generation. This feature is superficial compared to what is going on beneath the building's surface. Almost every detail was looked at in the design phase of the ERC including material choices, system design, and performance modelling.
The building, just north of Toronto, is the headquarters of Earth Rangers—a non-profit charitable organization dedicated to educating children and their families about biodiversity loss, and inspiring them to "Bring Back the Wild." Building on children's natural connection to wildlife, Earth Rangers' communicates to children a positive, science-based message regarding the importance of protecting biodiversity and adopting more sustainable choices.
Each year, the group's education outreach program connects with hundreds of thousands of children across the country in schools, community shows, and online. By incorporating live animal ambassadors, the power of wildlife is used to connect the audience with issues that animals and their habitats face as a result of human actions. Along with a national YTV campaign and live community show, Earth Rangers' conservation and education programs inspire and engage children to take action to help ensure the lasting survival of species everywhere.
It is important for the organization to practice what it preaches. Given the mission, it makes sense Earth Rangers' headquarters is certified Gold under the Canada Green Building Council's (CaGBC's) Leadership in Energy and Environmental Design (LEED) for New Construction (NC) program. It is also currently targeting LEED for Existing Buildings: Operations & Maintenance (EBOM) at a Platinum level. An example of how to operate a green facility at optimal efficiency, ERC was built as a thermal mass facility, incorporating concrete as its
core material.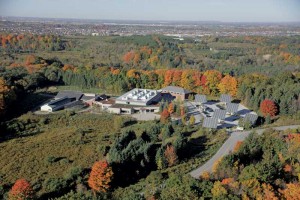 Why concrete?
Concrete enables efficient heating, cooling, ventilation, as well as high thermal comfort levels and energy efficiency. Designed to be the home for various animal 'ambassadors'—such as bald eagles, ring-tailed lemurs, and Asian water monitors—as well as office and education space, a strategy of 'no air recirculation' was consequently chosen to maintain the highest indoor air quality (IAQ) levels.
To conserve energy and keep utility costs low, there is a ground-coupled heat exchanger in the form of nine 'earth tubes' that are 20 m (66 ft) long. The earth tubes are used to temper outdoor air for ventilation requirements. These prefabricated concrete tubes temper the fresh air entering the building both in heating and cooling seasons by using the Earth's thermal mass and the concrete tubes themselves. This reduces the requirement for gas or electrical energy to condition the ventilation air. The earth tubes are combined with a heat recovery ventilation (HRV) system in the air-handling unit (AHU), resulting in minimal energy requirements for fresh air tempering, even in the depths of a typical Southern Ontario winter.
Approximately 4000 m3 (141,260 cf) of concrete is on the conditioned side of the insulation, acting as a large heat sink. This allows the building to coast through temporary spikes or dips in outdoor temperature without mechanical systems needing to immediately react. The design also makes predicting and modelling the building's response to outdoor temperature variation more complex, as the dampening effect of all this mass takes effect. As a solution, Earth Rangers uses a comprehensive and highly integrated building automation system (BAS) with embedded thermocouples to measure slab temperatures and ensure ideal comfort levels.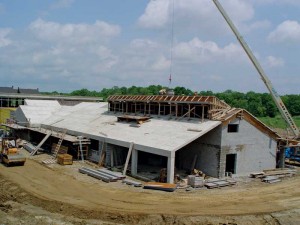 The ERC's design as a 'heavy' building, rather than a 'light' one composed of more traditional steel construction, was carefully modelled by a German firm, TranssolarEnergieteknik, before any shovels went into the ground. The building is radiantly heated and cooled, with thermally activated concrete slabs acting as radiators in all conditioned spaces. Transsolar's energy modelling for the original design determined 500 tonne-hours of energy could be stored in the radiant concrete slabs.
The simple science of specific heat shows that, under the same conditions, it takes much longer for 1 kg (2.2 lb) of concrete to drop by 1 C (1.8 F) than it would for the same mass of wood or steel. Thermal conditions are therefore much more stable and, when combined with adequate insulation, less susceptible to fluctuations in outdoor temperature. During the winter of 2008, a boiler control issue shut the primary heat source off for the building for three days during Christmas vacation when few occupants were onsite. The building only lost 3 C (5.4 F) over three days before the problem was repaired. This situation would have been dramatically different with a 'lightly' constructed building without this enhanced thermal capacity.
An integrated design
Concrete plays a central role in space conditioning, taking advantage of these thermal mass properties. Some 3400 m2 (36,597 sf) of exposed concrete is heated or cooled, depending on the season, with 22 km (13.7 mi) of embedded, cross-linked polyethylene (PEX) tubes, through which a propylene glycol-water mix is circulated. Energy is harvested from the ground, thermally upgraded by a heat pump, and then circulated through the concrete ceilings, floors, and skylights to radiantly heat interior spaces. Cooling can be accomplished particularly efficiently through direct exchange with the ground.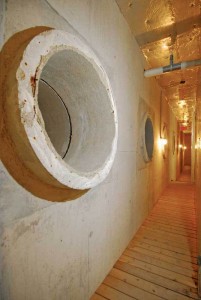 Without the energy-consuming heat pump operating at all, the ground can be used to obtain 'free cooling,' making the system up to 40 times more efficient than a standard heat pump operation. This free cooling was used in the summer of 2011 to meet 90 per cent of the building's latent and sensible cooling needs.
For ERC, integration of building systems does not end with traditional HVAC. Energy consumption targets are measured, recorded, and compared to operational parameters (including temperature, carbon dioxide [CO2], and relative humidity [RH] levels), allowing systems to operate only as needed, while still ensuring comfort levels are maintained. Natural light permeates office spaces, minimizing the requirement for artificial lights, and even cleaning products are carefully selected to ensure no detrimental effect to indoor air quality (IAQ) levels. Current integration efforts seek to take advantage of the building automation system's capabilities, including use of access controls to inform when the building is unoccupied. This enables automation schedules to:
track occupancy;
shut off specific lights, computer, and monitors; and
automatically arm the building alarm.
In short, a smart building like the ERC can still be much smarter, and take the integrated design concept further to realize operational benefits and energy savings.
This integration has also incorporated a public display of the design and operation of the building's systems. An online building tour was developed that explains building systems, like the earth tubes, and thermal mass concepts. The tour incorporates live data showing performance of the building systems, and it allows everyone from tenants to the general public to see how the building is performing. Energy consumption and generation, comfort levels, water consumption, and much more are covered. (Visit www.ercshowcase.com).

Control the content you see on ConstructionCanada.net!
Learn More.