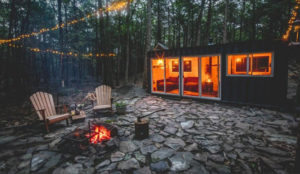 Construction company Sustainable Imprints has developed a line of "Better Backyards," structures made from shipping containers that double as multipurpose spaces for home offices, guest houses, recreational spaces, and more, to help with the growing need of a separate, yet convenient space on a home property.
"Just a few months ago, I do not think many people could have predicted the long-term situation we have found ourselves in," said Rory Rubin, CEO of Sustainable Imprints, in regard to the growing and long lasting work-from-home environment. "Our team saw a need that took us all by storm: a way to better balance work and home life when they are happening at the same place—and also a way to keep people we love closer, while still maintaining separate spaces."
The Sustainable Imprints team takes recycled shipping containers (made of steel and already created for longevity and withstanding intense weather conditions), and creates high-quality, quiet spaces to focus on work and play.
"Our company as a whole is focused on affordability, environmental sustainability, and convenience," said Rubin. "Not only does this situation offer more room for professional office space without taking space away from your home, but it can also help parents provide their kids a space for online learning and tutoring."
"It is a simple fix for privacy and home burn-out," said Rubin. "Not to mention, this is a way to add lots of value to your home in a cost-effective manner."
The "Better Backyards" model lineup includes containers in 3, 6, or 12-m (10, 20, or 40-ft) lengths with 3-m (9-ft) high ceilings. They feature high-quality finishes of the homeowner's choosing. The build timeline for completion ranges from four to eight weeks with the ability to build all year round in a secure, climate-controlled warehouse.