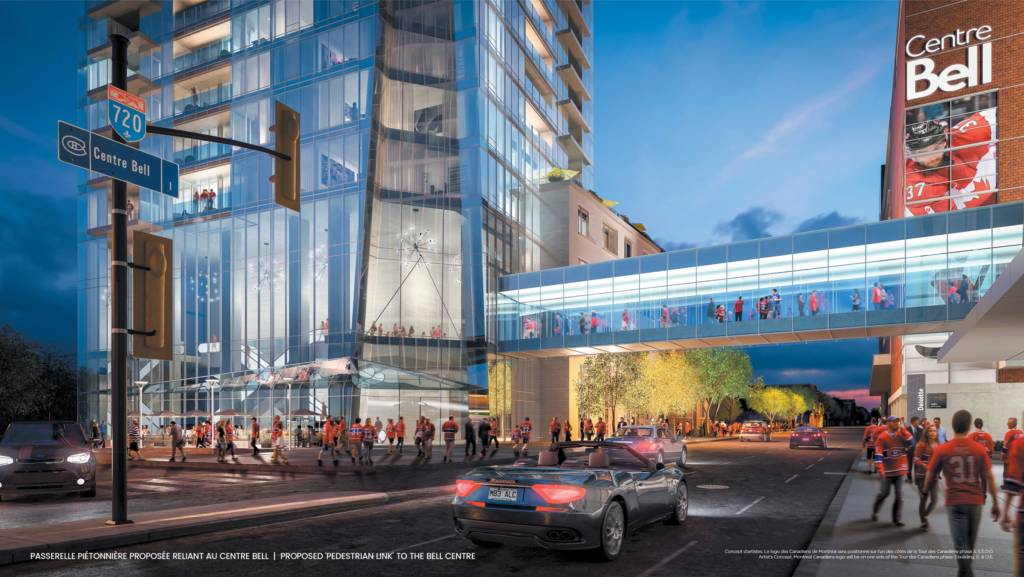 Construction has launched on Tour des Canadiens 3 (TDC3), the third phase of a project in downtown Montréal's new Quad Windsor neighbourhood. Designed by IBI Group with Béïque Legault Thuot Architectes, the 53-storey residential building is slated to house 565 units, including a dozen townhouses.
Named for Montréal's National Hockey League (NHL) franchise, the Canadiens, TDC3 will feature a ground-level café connected to an adjacent park, as well as adaptable party rooms, a fitness centre with an indoor pool, a modern game room, and SkyLounge on the building's 55th floor. An above-ground skybridge will provide residents with direct access to the Montréal métro, as well as to RÉSO, the city's underground path network. The bridge will also provide direct access to Réseau express métropolitain (REM), Montréal's new $6.3 billion light rail transit (LRT) system, which is due to open in summer 2021.
With a $2 billion investment from real estate development firm Cadillac Fairview, the Quad Windsor neighbourhood is expected to draw nearly 6000 new residents and 6500 new workers within the next 10 years. When completed, the mixed-use community will include a 2-acre (0.8-ha) park, office buildings, residential towers, dining, shopping, and cultural exhibitions.
The first phase of the development's construction, the 50-storey Tour Des Canadiens, was completed in May of 2016, while the second, the 53-storey Tour des Canadiens 2 (TDC2), is expected to finish in 2019. TDC3 will finish construction in 2021.
To read more, click here.