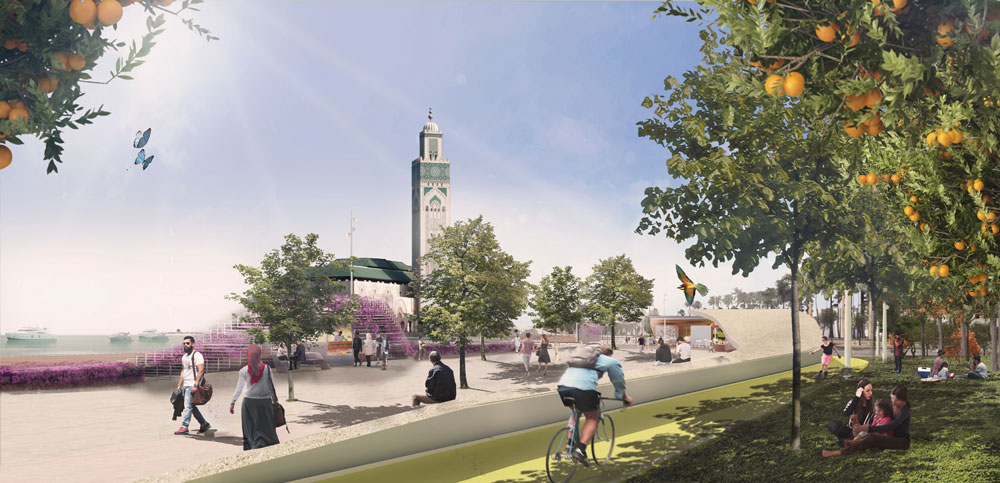 A Québécois architecture, design, and urban development firm, Lemay, has earned the opportunity to show off Canada's architectural talent overseas, outpacing six other design firms (from the United States, Europe, and Australia) in an international competition. Valued at $26 million (200 million dihrams), this corniche redesign project on Morocco's Casablanca coast will be led by Lemay's principal, René Hubert, and designed by the LemayLAB, with additional input from topography and engineering firm, Geodata.
The project will be completed in phases, but will ultimately result in a new seaside promenade/extension for the Hassan II Mosque and the restoration of the Ain Diab corniche. Designed to balance with its natural surroundings, the project draws inspiration from multi-tiered Islamic gardens, making use of landscaped layers. The first phase of the development—adding an urban park and a corniche along the El Hank embankment—was launched by King Mohammed VI at the end of 2016.
Supporting the theme of harmony with nature, the development will include sustainability features such as:
an electric tramway;
the coast's first bicycle path; and
a greywater treatment system with biofiltering gardens.
To accomplish all this, Lemay is bringing together professionals in various disciplines within the firm, including:
international and sustainable development;
architecture and landscape architecture; and
urban and graphic design.
It is hoped the design will fuel the city's economy by supporting its tourist trade, modernizing the area, improving mobility, and ultimately enhancing residents' quality of life. After the first phase (the promenade) opens later this year, the second phase (the Ain Diab corniche) will be underway, set to open in 2018.