Bringing Down the Curtain on Fire: Specifying fire-rated curtain walls
by Katie Daniel | October 11, 2016 10:00 am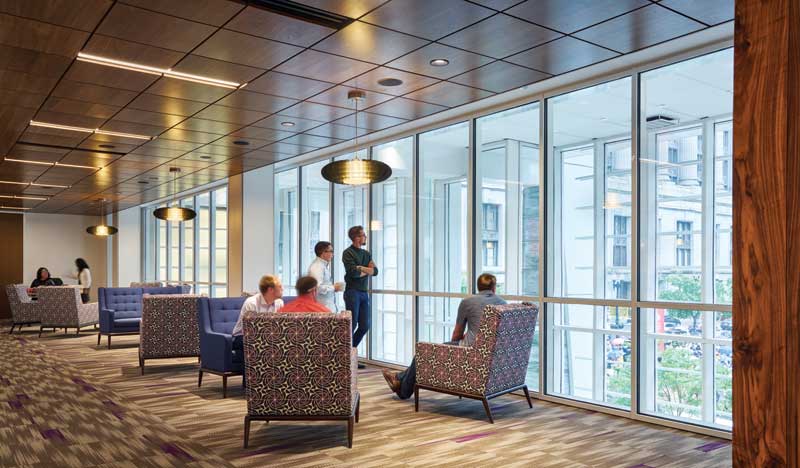 By David Squires
For decades, fire-rated glass meant one thing—small, wired-glass lites. Common throughout Canada, these installations are usually windows within doors, or narrow sidelights or transoms. The crisscross wires give this glass a distinctive institutional appearance, as it is frequently used in schools, hospitals, and other public buildings.
Today, fire-rated glazing comes in many forms, including prominent curtain wall installations such as expansive storefronts, and large multi-storey glazed curtain walls. Fire-rated curtain walls defend against the spread of flames and smoke, and protect against radiant and conductive heat transfer, while allowing design professionals to create visually open, light-filled spaces.
What makes up a fire-rated curtain wall system?
Fire-rated curtain walls are carefully engineered and manufactured systems including fire-resistive glass, framing, and other components designed and confirmed through testing to work together.
The fire-resistive glazing used in fire-rated curtain wall systems is usually made of layers of low-iron float glass with an intumescent interlayer. Such multi-laminate products are available with fire ratings of up to 120 minutes, and pass mandatory fire and hose stream tests.
Fire-rated curtain wall frames typically comprise narrow-profile steel back mullions; there is the option for either outside pressure plates or frame-free silicone glazed exterior finishes. As with the multi-laminate glazing, the frames are available with fire ratings of up to 120 minutes, and 
protect occupants and property against heat transfer during a fire.
All parts of the assembly—glass, frames, and other components—must meet the minimum fire rating for the entire system, in accordance with the National Building Code of Canada (NBC). This ensure the curtain wall system provides the targeted level of fire-resistance.
Test standards and applications
There are fire-rated curtain wall systems tested to stringent Canadian and U.S. standards, and classified/labelled by Underwriters Laboratories of Canada (ULC). Canadian test standards include:
CAN/ULC-S101, Fire Endurance Tests of Building Construction and Materials;
CAN4-S104-M, Fire Tests of Door Assemblies; and
CAN4-S106-M, Standard Method for Fire Tests of Window and Glass Block Assemblies.
Fire-rated glazed curtain walls are available with 45-, 60-, and 120-minute fire ratings, can be used in interior and exterior applications, as the assemblies are air- and water-pressure tested and approved for the rigours of exterior use.
Architects specify fire-rated curtain wall systems to meet key design objectives for both new construction and  for  building retrofits, such as the provision of visual connectivity between adjacent interior spaces, and bringing daylight deep into buildings. Example installations include:
storefronts;
atriums;
visually open, light-filled stairwells;
glazed separations between public and private spaces in office buildings; and
building façades for structures in close proximity to one another.
A notable North American project demonstrating the dual fire-resistive and light access traits of fire-rated curtain walls is the renovation of the Grant Thornton Tower in Chicago. The architect, VOA Associates, wanted to open up a 25.6-m (84-ft) long two-hour, fire-rated drywall partition to allow visual access to a two-storey lobby below, as well as out to the street. To accomplish this, the team replaced the partition with approximately 76.3 m2 (821 sf) of two-hour fire-resistive curtain wall frames and glass.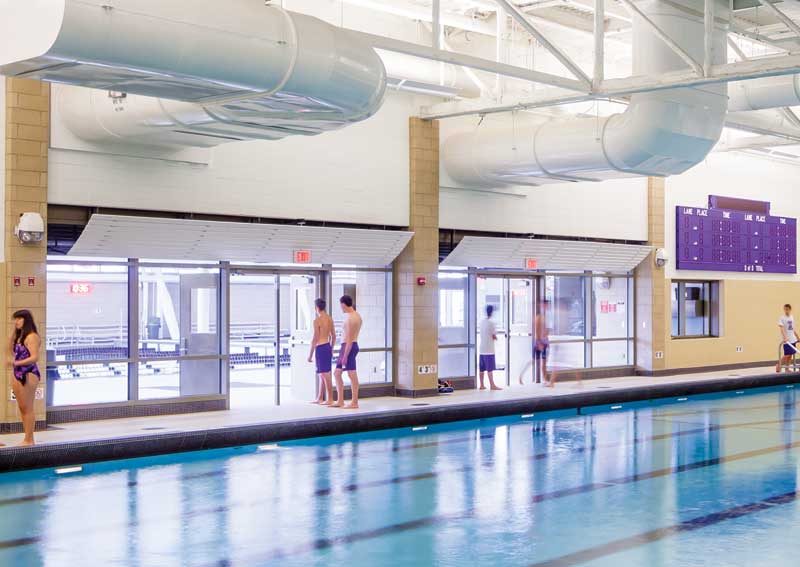 Design considerations
Fire-rated curtain wall systems offer a range of performance and esthetic options that enable substantial design flexibility.
Glass
The multi-laminate, fire-resistive glazing typically used in fire-rated curtain walls allows for unrestricted glazing areas in locations where total glazing exceeds 25 per cent of wall area (for 60- and 120-minute applications). This allows for large glazed areas to open up sightlines and allow in natural light.
Unlike the relatively limited lite sizes of traditional wired glass, such transparent, fire-rated wall panels allow for a large exposed area per piece of glass. For example, the available sizes for one UL-listed, 60-minute, multi-laminate glazing product widely available in Canada is 1600 mm wide by 3000 mm high (63 x 118 in.) for 27 mm 
(11/16 in.) or thicker glazing, with a maximum exposed area of 4.8 m2 (7434 si) in a captured system. As with any fire-rated glazing, it is important to review product charts for application guidelines.
In addition to fire safety, multi-laminate products offer high levels of impact resistance; they are able to safely withstand impact comparable to a fast-moving adult. With this level of safety, fire-rated curtain walls are suitable for use in areas with foot traffic, such as schools, gymnasiums, and hospitals.
Frames
There are North American fire-rated curtain wall frames that incorporate precision European engineering, providing a sleek, modern alternative to traditional hollow metal frames. Design professionals can specify such frames in a range of finish options, which helps match the fire-rated curtain wall to non-rated frames used in other parts of the building.
One popular finish option is durable stainless steel, which matches the bright, contemporary esthetic of stainless steel used in other building finishes. For a splash of colour, designers can specify factory-painted, fire-rated curtain wall frames in virtually any colour. In one example, the design team for Mill Brook Elementary School in Concord, New Hampshire, specified purple powder-coated fire-rated framing for a glazed stairwell.
Some fire-rated curtain walls can offer smooth, monolithic appearance of a structural silicone-glazed assembly. Once installed, a proprietary fire-rated toggle retention system features an uninterrupted surface appearance that provides up to 120 minutes of fire resistance for interior and exterior applications. (The toggle retention system is a concealed mechanical fastening system that holds the glazing unit to the curtain wall frame assembly in lieu of using
structural silicone.)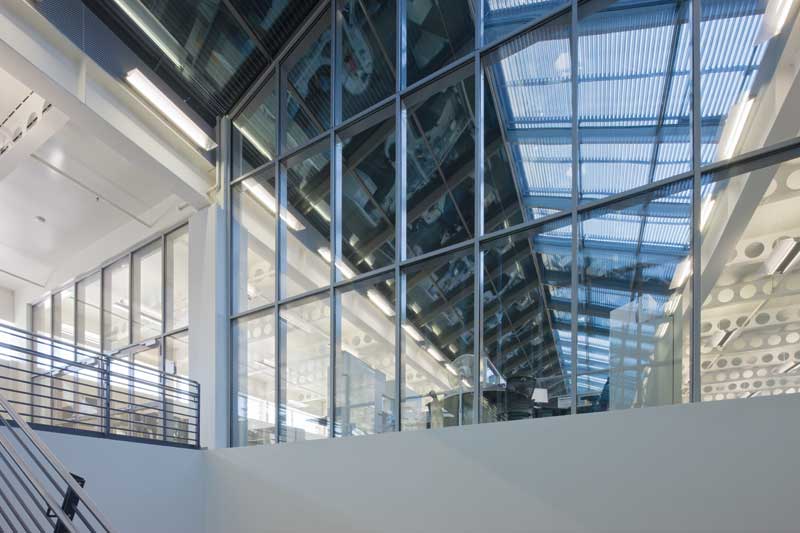 Manufacturers also offer fire-rated doors that integrate with fire-rated curtain wall systems. Available as full-lite doors in single-leaf or double-leaf designs, these work well in storefronts and stairwells, with glass sizes far exceeding the historic limitations of traditional wired glass.
Other performance factors
Beyond the factors already discussed in this article, two other criteria to consider when specifying fire-rated curtain walls for exterior applications are energy efficiency and deflection under wind load.
Energy efficiency
As multi-laminate, fire-rated glass products are thicker than standard window glass, they can help reduce heat flow. For applications where an energy-efficient curtain wall is crucial, designers can specify fire-rated insulated glass units (IGUs). In such assemblies, low-emissivity (low-e) glass can be incorporated for energy performance. Additionally, the narrow, steel frames in fire-rated curtain walls can help lower the potential for heat transfer through the framing.
Deflection under wind load
The deflection of exterior curtain wall frames under wind load is typically limited to L/175 or 19 mm 
(3/4 in.), whichever is lower, for spans less than 4 m (13 ½ ft.); it is L/240 for greater spans (L equals span length between anchor points). These limits are intended to prevent sealant failure of insulated glass units resulting from mullion deflection.
For fire-rated curtain wall systems, glass might impose more stringent limits on the framing, such as L/300. As the steel used in fire-rated curtain wall framing has a modulus of elasticity three times greater than aluminum, it can more easily meet these deflection limits without increasing the frame profile size. It can also reduce the need to reinforce the frame members. It is important to confirm system requirements with the manufacturer.
Conclusion
As daylighting grows in popularity with building owners, and as visibility is important for occupant well-being and security, design professionals are incorporating more glazing in their buildings. At the same time, many of these applications are also required by building codes to provide a fire rating. Today's fire-rated curtain wall systems can fulfil a wide range of esthetic and performance needs, providing designers with exceptional flexibility to achieve their visions.

David Squires is sales manager for Technical Glass Products (TGP), a supplier of fire-rated glass and framing systems, and other specialty architectural glazing. He has more than 10 years of experience in the glass and architectural glazing industry within Eastern Canada, and serves as a director on the Atlantic Provinces Glazing Association board. Squires can be reached at david.squires@fireglass.com[1].
Endnotes:
david.squires@fireglass.com: mailto:david.squires@fireglass.com
Source URL: https://www.constructioncanada.net/bringing-down-the-curtain-on-fire-specifying-fire-rated-curtain-walls/
---