Bright Lights, Big City Savings: A Toronto landmark's facelift
by mdoyle | February 3, 2014 11:30 am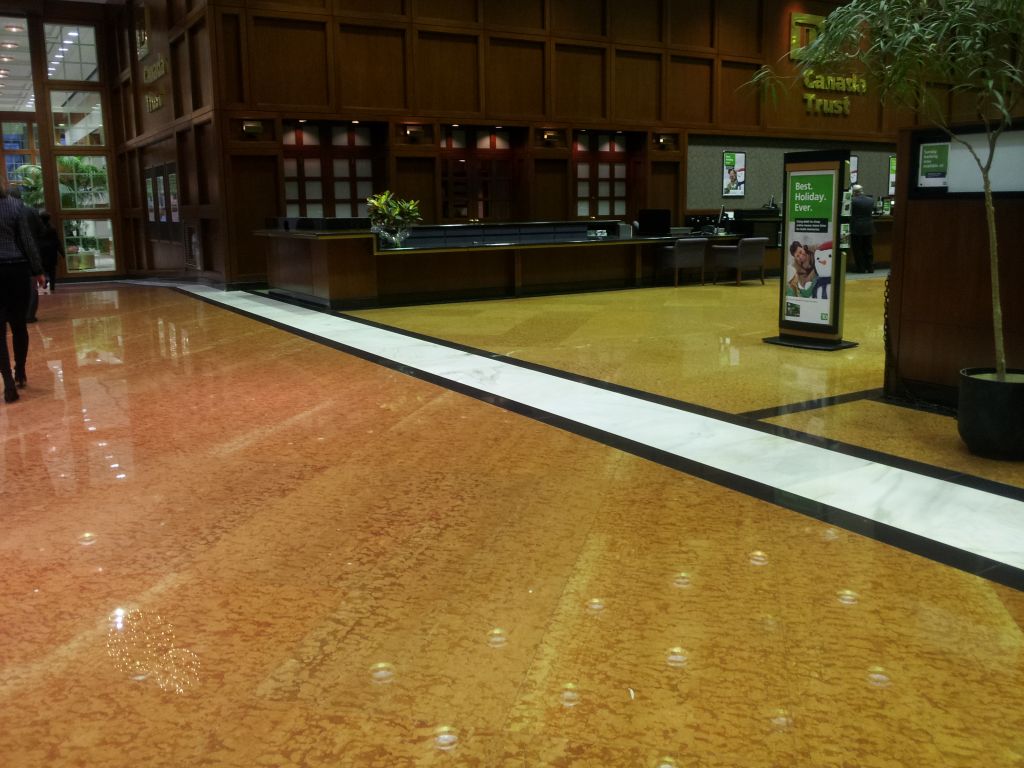 Downtown Toronto landmark Brookfield Place—known for its lobby's marble floors and walls, luxurious wood trim, and bronze light fittings—recently underwent an award-winning lighting retrofit.
After several years of consideration, Brookfield Office Properties saw an opportunity to accentuate the inherent beauty of the original architectural design of its banking hall created by Toronto-based design firm Bregman & Hamann Architects.
The old mercury-vapour lighting system posed a number of problems. It was expensive to operate, was not environmentally friendly due to the bulbs' contents, and the overall quality of light was below current industry expectations. The mercury-vapour lamps burned at different light intensities throughout their lifecycle, creating poor light levels and casting greenish-yellow colour over the wood panels and marble floors. The general effect was inconsistent lighting that fostered a lethargic and dated look.
Lighting upgrades were needed in various lobbies, offices, retail spaces, and the bank hall. Energy reduction and the replacement of mercury-vapour technologies were the main focus for the 4162-m2 (44,810-sf) space. However, it was critical the retrofit project be completed without damaging the existing architecture.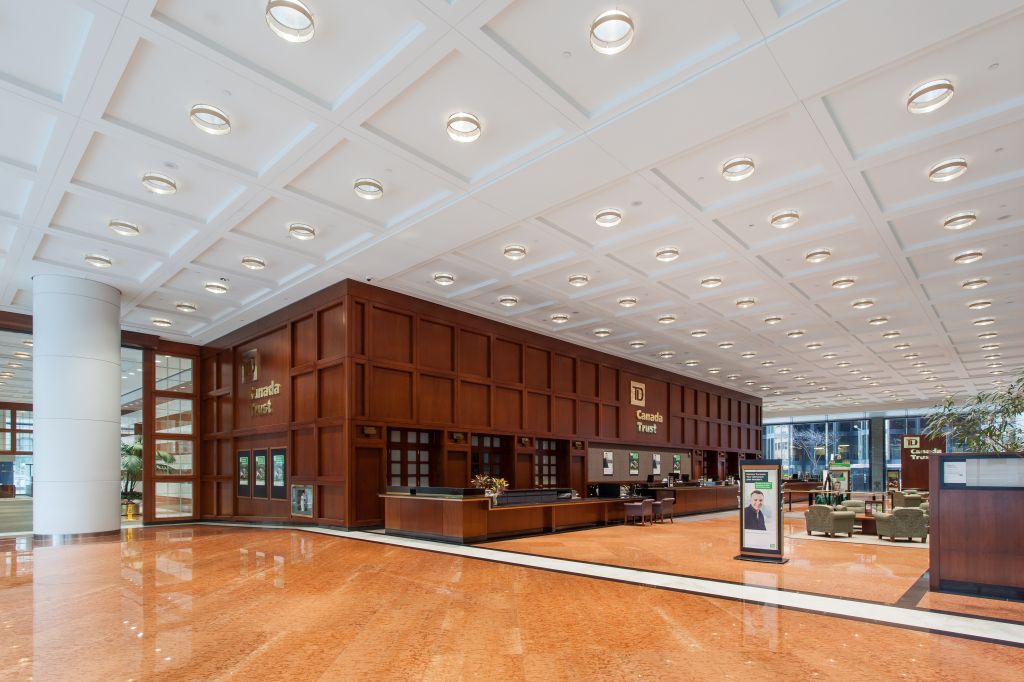 After careful review with the consultants at Marcel Dion Lighting Design, along with a Toronto-based lighting manufacturer, Brookfield chose a ceramic metal halide lighting solution that would improve the light quality and significantly reduce energy costs. Custom reflectors had to be created for each of the 627 light fixtures to maximize the light produced from each lamp.  The metal halide lamp, combined with the custom reflectors, ballast, and mounting brackets, yielded energy savings—equating to approximately $60,000 annually. The luminaire lamp and ballast operate at 12.4 W/m2 (1.16 W/sf) compared to 44.5 W/m2 (4.1 W/sf) used by the original mercury-vapour system.
The new lighting system highlights the marble's esthetic, the wood, and the original light fittings. The original mercury-vapour lamps had a colour rendering index (CRI) of 50 compared to the new ceramic metal halide lamps that have a CRI of 92.
Expressed as a rating between 0 and 100, CRI describes how a light source makes the colour of an object appear to the human eye and how well subtle variations in colour shades are revealed. A higher rating indicates a superior colour rendering ability—the sun, halogen, and incandescent lights have a rating of 100 on the CRI.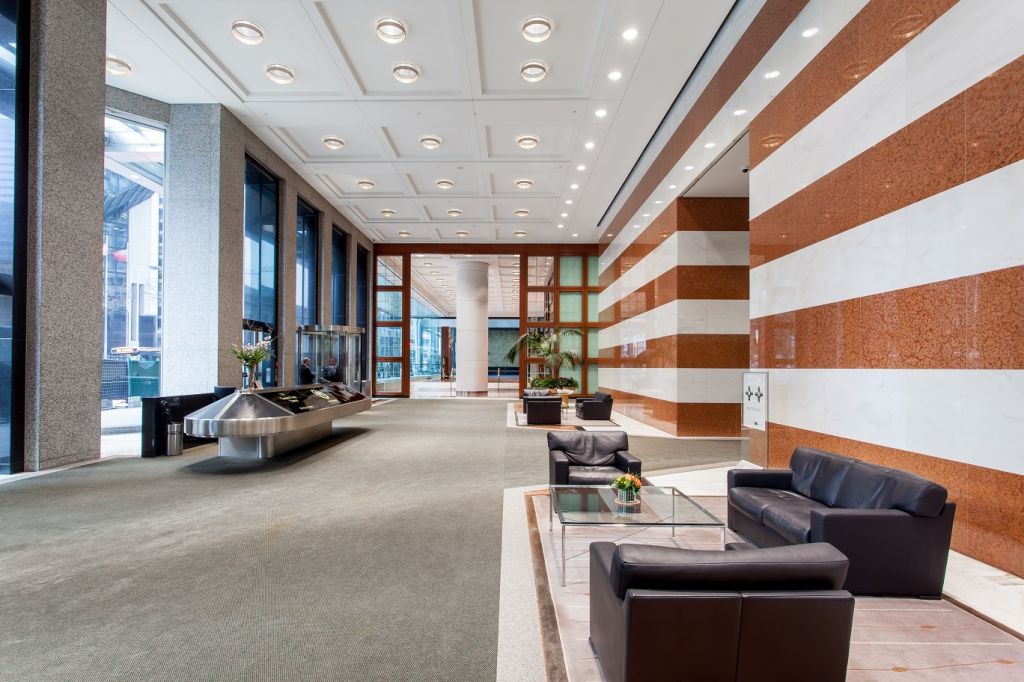 The Brookfield Place installation comes as Natural Resources Canada (NRCan) is working to implement new performance regulations for mercury-vapour ballasts that would set at a minimum efficiency standard of 95 per cent. Mercury-vapour lamps are not regulated at this time; still, as the ballasts are phased out, it becomes necessary to switch to a more efficient, mercury-free alternative. Additionally, Environment Canada is currently working on regulations to limit the amount of mercury in lamps.
The new standards for mercury content are a work in progress. However, lighting and property management companies are reacting to the expected standards before compliance becomes mandatory.
The new lighting system created for Brookfield Place has recently won several awards including an Energy and Environmental Design Award from the Toronto Chapter of the Illumination Engineering Society (IES). More recently, the system won the national 2013 IES Illumination Award of Merit.
Gerald Lue has been in the lighting industry for more than 30 years and is president at Toronto-based lighting and design company Illumineer Ltd. He helps develop and hone new standards for the advancements in lighting technology, safety, and performance and Illumineer participates in more than 60 lighting standard committees for Canadian Standards Association (CSA), Underwriters Laboratories (UL), and International Electrotechnical Commission (IEC). They are also Silver Sustaining Members of the Illuminating Engineering Society (IES) and a member of both the Canada Green Building Council (CaGBC) and Standards Council of Canada. Lue can be contacted by e-mail at info@illumineer.ca[4].

Endnotes:
[Image]: http://www.constructioncanada.net/wp-content/uploads/2014/06/2012-11-28-16.16.06.jpg
[Image]: http://www.constructioncanada.net/wp-content/uploads/2014/06/IMG_0559.jpg
[Image]: http://www.constructioncanada.net/wp-content/uploads/2014/06/IMG_0546.jpg
info@illumineer.ca: mailto:info@illumineer.ca
Source URL: https://www.constructioncanada.net/bright-lights-big-city-savings-a-toronto-landmarks-facelift/
---