Bollard Protection: Specifying a solid strategy for campus safety
by Elaina Adams | October 1, 2012 2:09 pm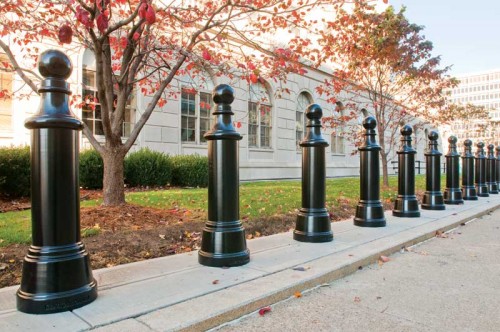 By Brad Done
Universities and colleges often function similarly to small towns or communities. Architects and planners have their work cut out for them as several Canadian campuses have seen an increase in the construction of many of the facilities and amenities found in typical cities. Along with learning centres and student living quarters, post-secondary institutions now include:
shops;
banks;
restaurants/pubs;
large sports venues; and
business offices.
These rejuvenated campuses or communities have brought with them an increased strain on each institution's infrastructure and a call for heightened safety and security (i.e. asset protection) on roads and in parking areas. Higher foot and bicycle traffic levels also make campus planning demands unique.
With diverse facility types, increased numbers of visitors, and unique traffic flow requirements, architects are tasked with finding ways to incorporate security and safety measures wherever possible. When planning or revitalizing campuses, precautionary measures should be taken to ensure student safety and prevent damage to institutions and businesses. Planning for traffic control and management is necessary.
One strategy being put into action is the use of bollards, as they can play a pivotal role in ensuring safety and security when implemented in architectural planning for campus life.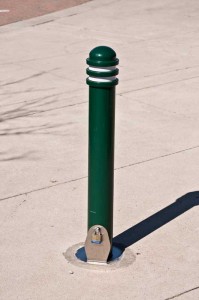 Bollards defined
Bollards are short posts, usually 914 to 1321 mm (36 to 52 in.) high. They are specified as protective barriers, to give demarcation to an area, or to control vehicle and pedestrian traffic flow. Basically, bollards are a simple way for an institution to communicate its traffic management plan and flow expectations.
Since each campus has specific needs, bollards can be used in different plans to suit each institution's requirements. The type of bollard and its composition should be dictated by its intended role in the institution's architectural design. Surrounding any facility, several types of bollards are often seen. The following are the common functions of bollards on college and university campuses.
Traffic bollards
Bollards can manage both vehicular and pedestrian traffic. They are an efficient means of communicating the expected route people, bicycles, cars, and trucks must take.
On roadways
Flexible bollards can bend 90 degrees on impact to reduce damage to vehicles. This makes them a suitable choice for areas where cars may swipe or hit them directly. Although flexible bollards provide no impact resistance, they do act as a visual deterrent, stopping vehicles from taking the incorrect route.
Often seen during the approach to a toll booth, flexible bollards often separate traffic where travellers must remain in their lane. These bollards keep cars from switching lanes close to the structures. Used in similar functions, flexible bollards can separate bicycle and car lanes at dangerous curves, keep cars in place near campus stadiums, and ensure cars safely navigate through designated paths in large parking lots.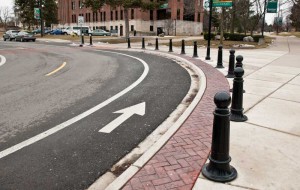 In parking areas
Bollards constructed from cement-filled steel pipes are often placed in campus parking lots to protect pedestrian walkways and ticket machines. Cars and trucks regularly misjudge turns and cut close to sidewalks. Strong, immovable bollards stand guard to absorb any accidental impact. These 'bumper posts' can be enhanced by adding bright-coloured security sleeves. The plastic sleeve is an inexpensive, low-maintenance way to increase the bollard's visibility and protect it from the elements.
At access points
Campus stadiums and buildings often restrict vehicle access down the driveways, laneways, alleys, or small roads surrounding them. Bollards that are removable or retractable (i.e. they telescope into the ground) can be installed across the thoroughfares, spaced close enough together that a car cannot fit through. They deter the general public from entering restricted areas, but can also be removed or collapsed to allow temporary access for maintenance, delivery, or emergency vehicles. The locking mechanisms can be quickly opened by authorized personnel, but the bollard does deter and discourage vehicles from trying to get through uninvited.
Retractable or removable bollards should be considered where seasonal access is granted or restricted for public vehicles. Parks often use them to close off areas in winter and re-open them in spring. Similarly, retractable and removable bollards can allow access to sports fields during the season and then restrict access in the off-season.
The choice between retractable or removable bollards can be as easy as determining whether there is an adequate storage location for them once removed. If storage space is unavailable, then retractable bollards may be a suitable choice.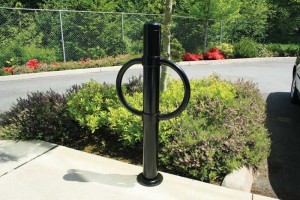 Safety bollards
Safety bollards are not only a visual deterrent, but they also serve to prevent vehicles from accidentally breaching pedestrian areas. When used in safety applications, bollards must offer high levels of impact resistance to protect pedestrians from possible injury. Incorporating safety bollards into a campus traffic management plan also:
alerts pedestrians on a sidewalk they are approaching a road;
keeps small motorized vehicles off vegetated areas, sidewalks, and walking paths;
deters students from driving vehicles close to dormitories and residences when loading and unloading;
protects pedestrians near shops where they may be placing phone calls, window-shopping, or accessing bank machines; and
designates the safest path for students to take (e.g. keeping pedestrians at a safe distance from buildings where there may be an increased risk of ice-slide from the building's roof).
When specified in safety applications, bollards are often 'fixed'––permanently set in place. When using retractable or removable bollards in a safety application, it is important to note the bollards provide no impact resistance and therefore act only as a visual deterrent.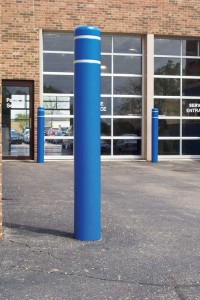 Security bollards
Security bollards prevent vehicles from damaging institutions and businesses. Found near buildings and structures, they serve the active purpose of asset protection. Security bollards provide high levels of impact resistance and anti-ramming support.
Generally, security bollards are cement-filled steel posts that can look industrial and unattractive from a design standpoint. Security, however, does not have to equal the loss of an institution's design value. Decorative bollard covers made of iron, steel, aluminum, stainless steel, or even plastic can be fit over security posts to enhance their esthetic appeal.
On many campuses, providing building security while matching architectural style can be a challenge. Bollards are available in a wide array of design options to cover all function and design requirements. Options and colours can be specified to match the design of campus types from historical to contemporary.
Bike-parking bollards
Increasing fuel costs, rising tuition fees, and a growing social consciousness have given a boost to the amount of bicycles found on Canadian campuses. An increase in student biking raises an institution's need for bicycle parking. Here, bollards can show their versatility by performing a dual function––traffic management and bicycle storage. To protect an institution's landscape, installing bike-parking bollards can also help prevent cyclists from locking their bikes to trees, signposts, and fences.
As well as serving a community need, these types of bollards also provide campuses with an opportunity to promote healthy lifestyles and reinforce green initiatives. A bicycle storage system created with bike-parking bollards can show an institution's commitment to improving air quality and reducing traffic congestion.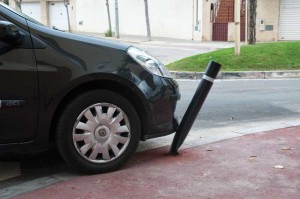 Bike-parking bollards are constructed and operate in a simple manner. Putting a spin on the classic bollard, decorative arms are added to a standard bollard to create one that allows for bike parking. Either chains or U-locks attach the bike to the stand through the bollard's arms, making it impossible to slide them off. The arms are made from steel, which makes them difficult for would-be bike thieves to cut.
Landscaping bollards
Signs reading "keep off grass" can be easily overlooked and unsightly. As well as being more esthetically pleasing, a row of decorative landscape bollards with an ornamental chain is more pronounced. Landscape bollards can help restrict access on campus green areas, gardens, and parks.
Postsecondary institutes are often decorated with outdoor works of art, fountains, and statues. Here, landscaping bollards can be used for historical preservation. Bollards placed around landmarks will create a visually protective perimeter to keep visitors and vehicles from venturing too close.
Installation tips
Before installing bollards, their function and surface type on which they will be placed should be considered. Using the correct bollard for the intended function aids in the implementation of a successful traffic management plan.
Metal bollards can be quite heavy, depending on the model and material selected. Taking precautions ahead of time and having everything needed for installation will prevent workers from being injured and product from being damaged.
Bollards can be installed on new or existing concrete with various installation hardware. All required hardware should be reviewed before installation.
Landscaping bollards should be placed on a standalone footing (using an embedded anchoring system) when either brick paving or garden surface surrounds them.
Before installing removable or retractable bollards, one must determine the installation of locking mechanisms, the need for receiver covers, and whether the covers need to be flush with the ground. When setting the receivers, all receiver covers should face the same direction to create consistency in the line of view.
The proper resources should be available to lift bollards into place or onto their mountings. The installation steps are fairly simple, but the bollard's weight can be an issue. Extra hands should be available to prevent injuries and avoid damage to the product.
Bollard bases should be correctly aligned using a chalk line. This is a critical step in creating a uniform look in a bollard row.
All parts should be kept in their packaging until the exact moment of installation and metal bollard surfaces should be protected during installation. Bollards constructed from metal are generally given a strong, long-lasting, powder-coat finish. This finish must be protected from scratches, scrapes, and chips to ensure the proper life of the bollard.
If during installation any powder-coated parts must be set down, they should be placed on packaging foam or another non-abrasive material.
Powder-coated parts should never be slid or dragged across an asphalt or concrete surface.
Touch-up paint should be used to repair abrasions or scratches that occur during installation. This protects the bollard rom possible rusting.
Conclusion
Across Canada, recent upgrades and revitalization projects have created increased strain on campus infrastructures. Heightened calls for safety and asset protection mean planning for increased traffic levels is necessary. Often overlooked, bollards are a clear way to communicate an institution's traffic flow expectations.
There is a bollard available to facilitate the application of every traffic management plan and to match the esthetic design of every campus. Choosing the correct bollard for the correct function will ensure the design integrity of an institution is maintained and protect students, buildings, and businesses.
Brad Done is the vice-president of sales and marketing at Reliance Foundry. He has more than 25 years of experience in the foundry industry, serving in positions ranging from technical to managerial. Done can be reached via e-mail at brad@reliance-foundry.com.
Endnotes:
[Image]: http://www.constructioncanada.net/wp-content/uploads/2015/11/Security-Bollard-Covers.jpg
[Image]: http://www.constructioncanada.net/wp-content/uploads/2015/11/Removable-Bollards.jpg
[Image]: http://www.constructioncanada.net/wp-content/uploads/2015/11/Overview.jpg
[Image]: http://www.constructioncanada.net/wp-content/uploads/2015/11/Bike-Parking-Bollard.jpg
[Image]: http://www.constructioncanada.net/wp-content/uploads/2015/11/Plastic-Post-Covers.jpg
[Image]: http://www.constructioncanada.net/wp-content/uploads/2015/11/Flexible-Bollards.jpg
Source URL: https://www.constructioncanada.net/bollard-protection-specifying-a-solid-strategy-for-campus-safety/
---