Biophilic design and flooring: Nurturing a connection to nature
January 31, 2020
by Amy Costello, PE, LEED AP, WELL AP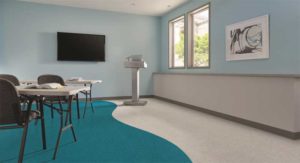 When asked about their favourite spaces, the majority would reply with someplace outdoors. Yet, many people spend most of their time inside. So, it is no wonder there is a growing emphasis on biophilic design that strives to connect the indoors with nature and the outdoor environment. Along with other components of construction and interior design, flooring can play an integral role in building connections between indoor spaces and the natural world, thereby supporting the well-being of those inside.
The idea of being one with nature is not new, but recognizing and quantifying benefits associated with being connected to it is an evolving concept. The influences and appreciation of nature span the centuries from great civilizations like the Inca Empire, whose artistic forms mimicked nature, to the Egyptians whose art valued and reflected nature. Today, biophilia can be viewed as a complement to sustainable architecture, which decreases the environmental impact of the built world but does not address human reconnection with the natural world.
The term 'biophilia' is derived from Greek and means love of life, but it was not until 1984 when Harvard University ecologist Edward O. Wilson penned Biophilia, the term began to be commonly used to express the innate tendency of humans to seek connections with nature (Read Biophilia: The Human Bond with Other Species, published in 1984 by the Harvard University Press.). Wilson once said, "Nature holds the key to our esthetic, intellectual, cognitive, and even spiritual satisfaction. So, the more direct connections people have with nature, the better."
Many may contend good designers and architects mimic nature intuitively. For example, early 20th century architect Frank Lloyd Wright designed structures that were in harmony with humanity and the environment, a philosophy he called organic architecture (Read An Organic Architecture: Architecture of Democracy (1939) by Frank Lloyd Wright.). He intuitively incorporated nature in his designs such as Fallingwater, a home built over a waterfall in western Pennsylvania in 1935. By entwining the home's design so closely with the waterfall and surrounding landscape, Wright included one of three concepts of biophilic design: nature in space (Consult 14 Patterns of Biophilic Design (2014) by W.D. Browning, C.O. Ryan, and J.O. Clancy, published by Terrapin Bright Green, LLC.). The other two concepts are nature of space and nature equivalents.
Nature in space
Nature in space introduces visual and/or non-visual natural elements into the built environment. Examples of natural elements include air, light, sounds, water, and vegetation. Some elements, such as water, can be both visual and non-visual, as the sight and sounds of water can invoke feelings of relaxation. Flooring can help bring elements of nature into a space in a variety of ways from providing the look of wood or stone to reflecting sunlight.
Nature of space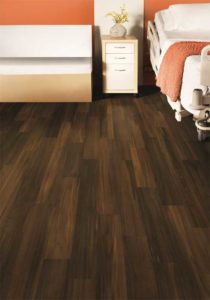 Nature of space incorporates spatial configurations found in nature (overlooks and enclosures) into a space. These spatial configurations are often innate or instinctive, and are associated with the desire for safety. Nature of space usually includes
four patterns:
prospect;
refuge;
mystery; and
risk/peril.
Prospect is simply a viewpoint or vantage point providing an unimpeded view over a distance. Tracing this concept back to evolutionary roots, such a vantage point may prevent people from 'sneaking' up on a person and may allow people to know who or what is coming.
Refuge or retreat is a place where one feels at home and safe. The concept of a 'man cave' or the family 'den' come to mind and conjures up the innate desire for safety and security. The theory of prospect and refuge are the result of work by Grant Hildebrand, who evaluated Frank Lloyd Wright's textile block houses for spatial patterns, to determine why they were so well-liked by both the owners and public.
Hildebrand argued Wright's work evoked a positive sense of well-being in observers because the distinct pattern of enclosure and outlook served as an architectural manifestation of humans' lingering biological needs. He demonstrated how these patterns—prospect and refuge—can either positively or negatively affect people's perception of how safe an environment appears. Considering Fallingwater, he said, "We are invited to savour danger from a haven of safety" (Get more information from The Wright Space: Patterns and Meaning in Frank Lloyd Wright's Houses by Grant Hildebrand [University of Washington, 1991].).
Today, the concept of refuge/retreat can be reinforced through flooring patterns. For example, an open-concept elementary school featured multi-use areas for special instruction sessions. To set these areas apart, a dark grey border of vinyl composition tile (VCT) was used, with light greys, greens, and blues inside the border. The result clearly defined the specific learning area, without obstructing it with shelves or walls.
In health care applications, there is an ongoing trend to move away from institutional design and instead to create a more residential, home-like feel. Designing an environment to help patients feel more at ease is in line with the concept of refuge. Resilient flooring can support these efforts, offering the ability to create vinyl plank or sheet flooring with incredibly realistic wood visuals and textures, coupled with durability and moisture resistance that allow it to be installed in places where traditional hardwood is infeasible.
The third pattern associated with nature of space is mystery, which is the "promise of more information, achieved through partially obscured views or other sensory devices that entice the individual to travel deeper into the environment" (Consult 14 Patterns of Biophilic Design (2014) by W.D. Browning, C.O. Ryan, and J.O. Clancy, published by Terrapin Bright Green, LLC.). This pattern can be introduced into a design by creating obscured views or pathways.
Flooring designs can play into this idea of 'mystery,' pulling people farther into a space. In the earlier elementary school example, paths of colourful flooring tiles were used as a wayfinding system. Each grade was assigned a colour, and students could follow the lines on the floor to their classrooms. In addition to guiding students through the school, it also served as a source of comfort or reassurance, making a new space seem a little less mysterious for children.
The final pattern—risk/peril—introduces a danger, but provides a reliable safeguard, such as a balcony or a fireplace. A good example, as noted by Hildebrand, is the view of the waterfall below Fallingwater, from the safety of its cantilevered terraces. Flooring can be used to reinforce this idea of safeguards. Consider the change in type of flooring in front of a fireplace, for example, or lines or colour changes in flooring to illustrate a safe path to walk.
Nature equivalent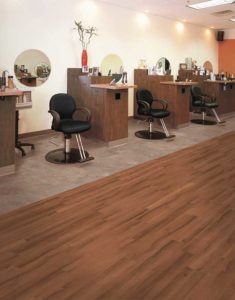 Nature equivalents address organic, non-living, and indirect evocations of nature. Objects, materials, colours, shapes, sequences, and patterns found in nature, manifest as artwork, ornamentation, furniture, decor, and textiles in the built environment. Mimicry of shells and leaves, furniture with organic shapes, and natural materials that have been processed (e.g. wood planks or granite tabletops) provide an indirect connection with nature. While they are real, they are only analogous of the items in their 'natural' state.
Flooring can evoke nature equivalents in a wide range of ways. For example, advances in printing and embossing technologies can create luxury vinyl tile or sheet with highly detailed and realistic wood or stone visuals. Other designs might feature patterns of nature, such as those mimicking geological striations. The materials can also provide a tie to the natural world, such as bio-based flooring, made with limestone and rapidly renewable materials.
Benefits of biophilic design
Biophilic design is believed to offer benefits both to the physical health of occupants and to the economic well-being of owners. Evidence-based design research in a health care setting has shown patients exposed to a nature view of water and trees demonstrated less anxiety, required fewer strong doses of pain medication, and had improved recovery outcomes compared to patients who were exposed to abstract pictures and control groups given no pictures (For more information, read the "Effects of exposure to nature and abstract pictures on patients recovering from heart surgery" by R.S. Ulrich, O. Lundén, and J.L. Eltinge, abstract published in Psychophysiology in 1993.).
Human health and well-being is very important for obvious reasons, but from a building owner's perspective, it is important because the salaries of the people who work in the building dwarf any other expense. Mounting evidence-based research demonstrates the positive benefits of biophilic design. One report showed employees in environments with natural elements reported a 15 per cent higher level of well-being and they were found to be six per cent more productive and 15 per cent more creative overall (Read Human Spaces: The Global Impact of Biophilic Design in the Workplace by Cary Copper [2015].). Biophilic changes can help employers reduce absenteeism and also support employee productivity and retention. In health care settings, it is estimated providing patients with views to nature can shorten hospital stays, potentially saving more than $93 million annually (Consult the Economics of Biophilia by W.D. Browning et. al, Terrapin Bright Green, LLC, 2012.).
Looking at just one aspect of this, consider the health, productivity, and economic benefits from daylighting. Good daylighting techniques include:
configuring buildings properly;
elongating structures along an east–west axis;
locating critical visual tasks near the building's perimeter and workstations and computer screens perpendicular to windows;
bringing the light in high;
admitting daylight from more than one side of a space;
controlling direct sunlight; and
using light-coloured interior surfaces.
By ensuring the best use of daylight within a space, designers can not only help reduce the need (and related cost) for lighting from electricity, but also help building occupants maintain continuity of their circadian rhythms, or 'built-in clocks,' and regulation of sleep cycles.
Flooring can play a very key role in supporting daylighting. Choosing light-coloured flooring will reflect more daylight and act as a light shelf to drive sunlight farther into a space (Read Energy Saving Potential of High Reflective Flooring Material for Sustainable Interiors by R.G. Mistrick [2014].). Thanks to today's wide range of flooring options, colours, and finishes, there are many ways to achieve these benefits without worrying about glare or a plain white floor that may show dirt and wear.
Sustainable buildings and biophilic design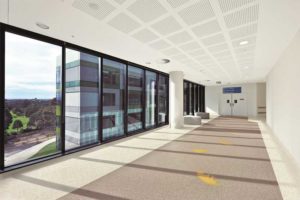 Elements of biophilic design have been incorporated into sustainable building rating systems for years. The Leadership in Energy and Environmental Design (LEED) program incorporated elements of biophilic design into their first version in 1999 with the inclusion of credits for indoor environmental quality (IEQ) for daylight and views. The WELL standard encourages biophilic design through two related features. The first, Feature 88, requires the development of a biophilic plan to address how the WELL building incorporates nature and nature-inspired patterns into a space, as well as how it provides opportunities for human-nature interactions both within the building and in the site space external to the structure. The second, Feature 100, Quantitate Biophilia, encourages project teams to include water features, plantings, and access to outdoor areas.
Biophilic design creates buildings connecting to nature both inside and outside and can potentially increase health and wellness, as well as increase productivity and reduce human resource costs. While biophilic design is becoming increasingly popular and many designers and sustainable building rating systems have adopted its concepts, research empirically demonstrating the biophilic hypothesis in buildings is still being gathered.
Flooring supports biophilic design by replicating colours and textures found in nature, and by creating graduated transitions commonly seen in nature. Whether flooring designs are inspired by nature or made from natural elements, they can help to nurture a connection to the outdoors.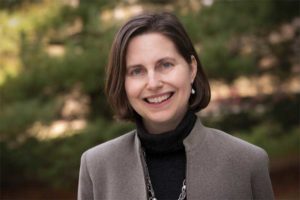 [5]Amy Costello, PE, LEED AP, WELL AP, is the sustainability manager at Armstrong Flooring. She is on the United States Green Building Council (USGBC) board of director's advisory council, and chairs the USGBC indoor environmental quality (IEQ) technical advisory group and ASTM's sustainable manufacturing subcommittee. Costello received her master's degree from Virginia Commonwealth University. She can be reached at aacostello@armstrongflooring.com[6].
Endnotes:
[Image]: https://www.constructioncanada.net/wp-content/uploads/2020/01/Armstrong-Flooring-ColorArt-Medintone.jpg
[Image]: https://www.constructioncanada.net/wp-content/uploads/2020/01/Armstrong-Flooring-Rejuvenations-Timberline.jpg
[Image]: https://www.constructioncanada.net/wp-content/uploads/2020/01/Armstrong-Flooring-Parallel-LVT.jpg
[Image]: https://www.constructioncanada.net/wp-content/uploads/2020/01/Armstrong-Flooring-Accolade.jpg
[Image]: https://www.constructioncanada.net/wp-content/uploads/2020/01/AmyCostello_03.jpg
aacostello@armstrongflooring.com: mailto:aacostello@armstrongflooring.com
Source URL: https://www.constructioncanada.net/biophilic-design-and-flooring-nurturing-a-connection-to-nature/
---