Better floor performance starts with a solid subfloor system
November 22, 2019
By Cory McCambridge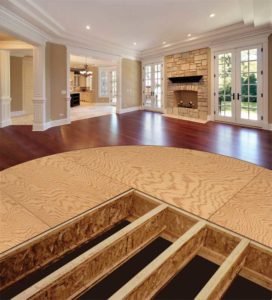 Beautiful hardwood floors are an investment expected to last a lifetime. To ensure the best long-term performance and appearance, careful attention must be paid to subfloor installation and the mitigation of moisture risks.
Proper installation starts with specifying the right subfloor materials. A variety of floor framing and wood structural panel products can be used in floor construction. To select the appropriate products and floor design, it is important to consider the predicted loads, structural requirements, and compatibility with the finished floor requirements.
Quality through and through
In residential projects, hardwood flooring is most commonly installed over a single layer of tongue-and-groove combined subfloor-underlayment or sheathing-grade panels. Plywood and oriented strand board (OSB) panels certified by APA-The Engineered Wood Association are manufactured to meet performance criteria for specific construction applications. OSB panels are manufactured in conformance with the Canadian Standards Association (CSA) O325, Construction Sheathing. Plywood panels are certified to CSA O151, Canadian Softwood Plywood, CSA O121, Douglas-Fir Plywood, or CSA O153, Aspen/Poplar Plywood. Section 9.23.15.5 of the National Building Code of Canada (NBC) specifies minimum panel thicknesses for these products at common joist spacing.
Span rating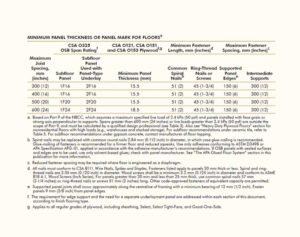 Panels certified to CSA O325 are manufactured with span ratings of 406, 508, 610, 813, and 1219 mm (16, 20, 24, 32, and 48 in.). Some manufacturers may offer panels with similar thicknesses but different span ratings, so it is important to specify the panel thickness as well as its span rating. The Canadian portion of the APA trademark indicates the product span rating for roof applications (R) as well as floor applications (F). To determine if the panel can be used at its maximum rated span without requiring edge support or a layer of underlayment it is important to note the numbers preceding the letter(s) 'F' or 'R'. If a number 1 is present, the panel may be used at its maximum rated span without requiring edge support or a layer of underlayment. If a number 2 is present, the panel will require edge support or a layer of underlayment at its maximum rated span. It is important to note all subfloor panels should be installed continuous over two or more supports with the strength axis perpendicular to supporting members. Failure to do so can lead to soft spots, uneven appearance, buckling, or squeaks. For more information on Canadian plywood recommendations, please read APA's R300 publication, Engineered Wood Floor Systems: Construction Guide for Canada.
For improved stiffness and to help eliminate floor squeaks when hardwood flooring is installed, spans reduced from the maximum are advisable. The use of 19/32, 5/8, or thicker performance category wood structural panels (WSPs) as a subfloor material when joists are spaced at 406 mm on center (o.c.) is also recommended. For wider spacing, thicker panels should be used (Figure 1).
Glued floor system for solid performance
The APA glued floor system is based on thoroughly tested gluing techniques and field-applied construction adhesives that firmly and permanently secure a layer of WSPs to supporting members. This increased bond between the subfloor and its supporting members improves floor stiffness and overall performance by helping to reduce squeaks, floor vibration, bounce, and nail-pops. Floor performance can be enhanced further by gluing tongue-and-groove joints.
Following these eight steps during the installation of a glued-floor system will result in the best results:
Snap a chalk line across joists 1.2 m (4 ft) in from wall for panel edge alignment and as a boundary for spreading glue.
Spread only enough glue to lay one or two panels at a time or follow specific recommendations of glue manufacturer. Wipe away any water, dust, and debris from joist surface before gluing.
Apply a continuous line of glue about 6 mm (1/4 in.) in diameter to framing members. Use a serpentine pattern for wider areas.
Apply two lines of glue on joists where panel ends butt to ensure proper gluing of each panel end.
After first row of panels is in place, spread glue in groove of one or two panels at a time before laying next row. Glue line may be continuous or spaced, but avoid squeeze-out by applying a thinner line than on joists, about 3 mm (1/8 in.) in diameter.
Tap the second row of panels into place using a block to protect groove edges. Do not force panels together beyond the point of the tongue contacting the end of the groove.
Stagger end joints in each succeeding row, where possible. A 3-mm space is recommended between panels at end joints and along edge joints in non- tongue-and-groove panels.
Complete all nailing of each panel before glue sets by standing on the panel over the joist next to the nailing point to ensure a tight connection. Panels might deflect if weight is placed between joists and may not be securely fastened to supporting members. Check the glue manufacturer's recommendations for allowable open time and be sure to pay attention to any restrictions for cold or hot weather.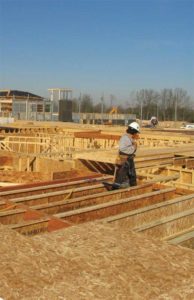 Glue-nailed subfloor panels up to 19 mm (3/4 in.) thick should be fastened with 63-mm (2 1/2-in.) common nails, 50-mm (2-in.) ring-thread nails, or screws spaced 150 mm (6 in.) o.c. along panel edges and 300 mm (12 in.) o.c. along intermediate supports. For subfloor panels thicker than 19 mm, and for nailed-only subfloor installation, it is recommended to check APA's Engineered Wood Construction Guide (Form E30) for fastener size and spacing recommendations.
It is advisable to only employ adhesives conforming to ASTM D3498, Adhesives for Field-gluing Plywood to Lumber Framing for Floor Systems, or APA specification AFG-01, Adhesives for Field-gluing Plywood to Wood Framing, with a glued-floor system. If OSB panels with sealed surfaces and edges are to be used, one must only employ solvent-based glues. (It is important to check with the panel manufacturer and always follow its specific installation recommendations.)
Preparation of subfloors for installation of wood flooring
Both the subfloor and hardwood flooring are sensitive to moisture. Most hardwood flooring is delivered with a moisture content of less than 10 per cent. If installed over a subfloor with high moisture content, expansion and buckling of the hardwood flooring may occur as it absorbs moisture from the subfloor. Once the hardwood flooring loses some of the excess moisture it can lead to gaps between hardwood flooring boards along the tongue-and-groove joints, ultimately leading to squeaks or noisy floors. This reaction to moisture can occur regardless of the panel type used for the subfloor.
If the subfloor has become wet during construction, it should be allowed to dry prior to the installation of hardwood flooring. A hand-held moisture meter can be used to check the condition of the subfloor and levels should be within a range that is consistent with recommendations of the hardwood flooring manufacturer. Moisture content measurement results will vary depending on the panel and meter type. To ensure accurate results, it is important the moisture meter be calibrated before use. Calibration should be conducted in accordance with the equipment manufacturer's recommendations.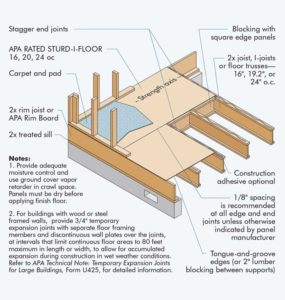 The National Wood Flooring Association (NWFA) recommends that the moisture content differential between the flooring and the subfloor sheathing be no more than two per cent in boards 76 mm (3 in.) and wider and no more than four per cent with narrower flooring boards.
For homes with crawlspace floors, the builder should ensure the space is well drained, ventilated, and dried before hardwood flooring is installed. Additionally, a 6-mil polyethylene (PE) vapour retarder should be installed with seams tapered over the ground in the crawlspace before the area can begin to adequately dry and prior to installation of the hardwood flooring.
It is advisable to inspect the subfloor for flatness. When necessary, the builder may need to install extra blocking or fasteners to flatten uneven areas. The subfloor must be checked for squeaks or loose panels and refastened as necessary before the installation of the hardwood flooring.
The subfloor should also be checked for smoothness along joints between panels. Any ridges at panel ends or edges should be sanded smooth prior to installation of the hardwood flooring. Most flooring manufacturers require the subfloor to be flat within 3 mm in a 2-m (6-ft) radius or within 6 mm (1/4 in.) in a 2.4-mm (8-ft) radius.
Hardwood flooring installation
It is best to follow the recommendations of NWFA for handling, storing, acclimatizing, and installing hardwood flooring. Where possible, hardwood flooring boards should be oriented perpendicular to floor framing for maximum stiffness. APA, in co-operation with NWFA, has created the following checklist for floor installers to ensure the long-term performance of the system.
Floor installer's checklist
Be sure to have a vapour barrier membrane in place on the crawlspace ground and ventilate/condition the space or basement prior to wood floor installation.
Consider methods to remove excessive moisture from the framing/floor sheathing and the rest of the interior of the building prior to installing the flooring (such as using an auxiliary dehumidifier in the short term).
Follow the recommended fastener schedule or consider augmenting the attachment by spacing the fasteners at closer intervals.
Make sure the length and diameter of the flooring fasteners meet or exceed flooring industry or the manufacturer's recommendations. Manufacturers typically recommend a minimum length of fastener. The greater the length of the fasteners' embedment in the wood subfloor and/or the larger the shank diameter of the fasteners, the greater the fastener withdrawal capacity.
The recommendation for fastening of flooring boards is often within 25 to 76 mm (1 to 3 in.) of end joints. Keeping fasteners within 25 to 50 mm of end joints will better stabilize movement.
Consider using approved adhesive in conjunction with the recommended fastener schedule for flooring being installed with a liquid vapour retarding system to control moisture migration.
In some situations, it may be necessary to build in expansion rows within the flooring system. This may include gaps within the floor, T-moulding transitions, cork, or other methods.
Meeting acoustic performance requirements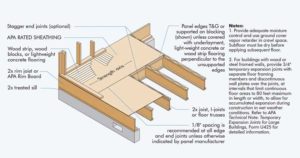 Lightweight concrete and gypcrete toppings are frequently installed over engineered wood floor framing systems in multifamily and commercial construction. Such composite floor systems are typically constructed as fire-rated assemblies with code-compliant fire and acoustic performance.
In recent years, the WSP industry has developed all-wood floor systems using single- or double-layer floor sheathing meeting both fire and acoustic performance requirements without the use of concrete or gypcrete topping.
These all-wood floor systems employ thick subfloor sheathing, such as a single layer of 1 1/8 performance category panel or double layers of 19/32 performance category top layer over 23/32 performance category base layer. Conventional light-frame floor construction is typically constructed with a single layer of 23/32 performance category floor sheathing. All-wood floor systems have the advantage of speedy construction because they eliminate construction delays caused by the installation of lightweight concrete or gypcrete topping. Additionally, these floors are stiffer than conventional light-frame floors.
In supporting the development of all-wood floor systems without lightweight gypcrete or concrete topping, APA conducted a series of acoustic tests for code compliance based on sound transmission class (STC) and impact insulation class (IIC) ratings. Detailed descriptions for STC and IIC ratings are provided in APA Design/Construction Guide: Noise-Rated Systems (Form W460). The double-layer floor assembly (19/32 performance category top later over 23/32 performance category base layer) provides similar acoustic performance to the single-layer (1 1/8 performance category) floor assembly.
Floorcovering material options
A variety of floorcovering materials are available (see Table 1 in APA form T230 for STC and IIC ratings). For vinyl and quarry tiles and hardwood flooring, a sound mat should be installed between the floorcovering and sheathing.
Cushioned vinyl
Vinyl sheet flooring with 3.5 mm (138 mils) in minimum thickness and 2.6 kg/m2 (0.53 psf) in minimum weight.
Vinyl tile
Minimum thickness of 5 mm (197 mils) and 11 kg/m2 (2.21 psf) minimum over 5-mm sound mat.
Quarry tile
Minimum thickness of 12.5 mm (1/2 in.) and 27 kg/m2 (5.6 psf) minimum weight attached to a 5-mm sound mat using thin-set mortar.
Hardwood flooring
Minimum thickness of 9.7 mm (382 mils) and 5.5 kg/m2 (1.12 psf) in minimum weight over 5-mm sound mat.
Carpet and pad
Minimum thickness of 1.2 kg (44-ounce) carpet with 11 mm (433 mils) and 2.7 kg/m2 (0.56 psf) in minimum weight over a foam rubber pad of 9.5 mm (374 mils) in thickness and 2.3 kg/m2 (0.48 psf) in weight.
Sheathing options
WSP floor sheathing meeting the code requirements should be installed perpendicular to the I-joist framing. It is not required to glue the floor sheathing to the I-joist framing. However, the designer may require the floor sheathing to be glued to the I-joist framing for increased structural performance.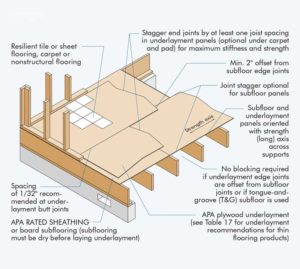 For the single-layer floor system, 1 1/8 performance category tongue-and-groove floor sheathing should be used with fasteners at 150 mm o.c. or less in the sheathing perimeter and 305 mm (12 in.) o.c. or less in the field.
For the double-layer floor system, the base layer of 23/32 performance category tongue-and-groove floor sheathing should be used with fasteners at 150 mm o.c. or less in the sheathing perimeter and 305 mm o.c. or less in the field. The face layer of 19/32  performance category may be square edged, and should be laid over the base layer sheathing (staggered in accordance with APA Engineered Wood Construction Guide [Form E30]) with fasteners at 150 mm o.c. or less in the sheathing perimeter and 305 mm o.c. or less in the field.
Prefabricated wood I-joists of 241 mm (9 1/2 in.) in depth minimum, with a flange size of 28.5 mm (1 1/8 in.) in thickness by 45 mm (1 3/4 in.) in width minimum, at a maximum joist spacing of 610 mm (24 in.) o.c.
A 89-mm (3 1/2 in.) thick R-13 fibreglass batt insulation should be installed in the joist cavities with the exception of the assembly covered by cushioned vinyl, in which a layer of 76-mm (3-in.) thick mineral wool 45 kg/m3 (2.8 pcf) insulation should be installed instead.
RC-1 resilient channels 0.43-mm (17-mils) thick should be installed perpendicular to the bottom of the I-joist flanges at 406 mm o.c. with 31.5 mm (1 1/4 in.) Type W drywall screws.
Two layers of 15.5 mm (5/8 in.) Type X gypsum boards complying with ASTM C1396, Standard Specification for Gypsum Board, should be attached perpendicular to the resilient channels with 25 mm and 40.5 mm (1 5/8 in.) Type S drywall screws at 305 mm (12 in.) o.c. for the base and face layers of gypsum boards, respectively.
Properly prepping concrete subfloors
APA-rated WSPs can also be used over concrete slab floors in both commercial and residential applications. Three methods of application are usually considered in this scenario:
structural panels installed over sleepers on top
of concrete;
over rigid foam on top of concrete; or
directly over concrete itself.
The success of all three application methods depends heavily on the establishment of a proper vapour retarder. For new construction where a wood floor over a concrete slab is contemplated, a 6-mil PE vapour retarder should be installed underneath the concrete slab. For remodeling work it is best to install a vapour retarder over the existing slab. It is important to remember wood products installed between the vapour retarder and the slab should be pressure-preservative-treated.
Installing WSPs over sleepers
Installing WSPs over sleepers is the most straightforward and cost-effective method of application over a concrete slab. In this method, APA-rated subfloor underlayment tongue-and-groove panels, Exposure-1, are placed across 50 x 100-mm (2 x 4-in.) sleepers (installed flatwise), which can be spaced to match the span rating of the panels. There are several advantages to this system.
The sleepers can be attached to the concrete floor with construction adhesive and/or fasteners, thus providing a nail base for the combination subfloor underlayment. This method minimizes the reduction in headroom to a little over 50 mm, and allows the combination subfloor underlayment to be applied in a conventional manner using deformed shank nails and subfloor adhesive. It is advisable to use a construction adhesive meeting ASTM D3498.
The vapour retarder, when used above the slab, can be placed over preservative-treated sleepers or under untreated sleepers. When the vapour retarder is applied over the concrete slab floor, but under the sleepers, the sleepers must be mechanically fastened to the slab.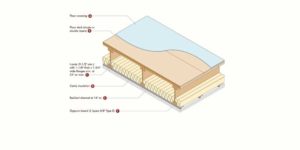 Foam or fibreglass batt insulation can be installed between the sleepers to ensure a warm floor.
The sleepers can be leveled to accommodate cracks and/or unevenness in the existing concrete floor.
The use of sleepers installed with mechanical fasteners eliminates the need for a number of different adhesive systems to accommodate the various materials and surfaces to which they must bond (panel to foam, foam to concrete, panel and sleepers to concrete, etc.).
It is advisable to ensure adequate spaces are maintained between panel ends and edges and between panels and walls. This is especially important for below-grade slabs where excessive moisture is a concern.
Installing WSPs over rigid foam insulation board
The second method is to apply the panel over minimum 25-mm rigid foam insulation board. The advantage of this system is it results in a resilient floor with good insulating properties and uniform stiffness. Square edges of adjacent panels should be backed with plywood splice plates to prevent differential deflection due to concentrated loads at panel edges. Structural panels with performance categories of a least 15/32 (these panels are generally available square-edged, and the minimum thickness for tongue-and-groove panels is normally 19/32) are recommended to distribute concentrated loads and prevent crushing of the foam. A double-layer floor system may be used with square-edge panels, with top and bottom layer joints staggered. This eliminates the necessity to use tongue-and-groove panels or splice plates. As with any floor construction, it is important to achieve proper spacing between the panels.
When a vapour retarder is used beneath the slab, the floor system may be applied with adhesives. Separate adhesive systems might be required to attach the plywood to the foam and the foam to the concrete slab. Care must be used in selecting an adhesive system to ensure the adhesive bonds to the concrete and/or floor panels and not react adversely with the foam. In some regions, WSPs with foam insulation bonded to one side may be available.
Pressure must be applied to the floor system through the use of weights or temporary floor-to-ceiling compression struts and bearing blocks to ensure a good glue bond.
It is recommended to avoid overdriving mechanical fasteners as this can cause localized crushing of the foam or spalling of the concrete floor. Heavy loads in the area of fasteners may cause 'nail popping' if the foam compresses under the applied loads. This can cause squeaks and may damage floorcoverings. A double-layer floor system (plywood underlayment installed over subfloor panels) can be used to minimize 'nail-popping' problems. This also eliminates the need to use tongue-in-groove panels or edge splice plates.
Conclusion
Engineered wood products offer dependable performance and design flexibility in a variety of structural floor systems. Their consistency and uniform performance deliver strong, level, and squeak-free floors, meeting the expectations of builders and occupants alike.
To download any of the free publications listed in this article, please visit www.apawood.org.
Cory McCambridge is an engineered wood specialist representing APA – The Engineered Wood Association in Canada. Based in Mississauga, Ont., he is an architectural technology graduate of Algonquin College and has more than a decade of architectural and structural design and analysis experience. He can be reached at help@apawood.org[8].
Endnotes:
[Image]: https://www.constructioncanada.net/wp-content/uploads/2019/11/NWFA_PlywoodFinal.jpg
[Image]: https://www.constructioncanada.net/wp-content/uploads/2019/11/Figure-1.jpg
[Image]: https://www.constructioncanada.net/wp-content/uploads/2019/11/IMG_1473.jpg
[Image]: https://www.constructioncanada.net/wp-content/uploads/2019/11/E30_Fig1.jpg
[Image]: https://www.constructioncanada.net/wp-content/uploads/2019/11/E30_Fig5.jpg
[Image]: https://www.constructioncanada.net/wp-content/uploads/2019/11/E30_Fig6.jpg
[Image]: https://www.constructioncanada.net/wp-content/uploads/2019/11/T230_Fig1.jpg
help@apawood.org: mailto:help@apawood.org
Source URL: https://www.constructioncanada.net/better-floor-performance-starts-with-a-solid-subfloor-system/
---