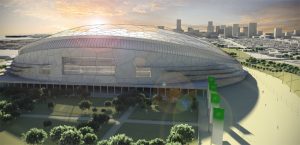 Design practice BDP has acquired stadia design specialist, Pattern. With this acquisition, BDP seeks to strengthen its capabilities in the sports sector.
"Our international reach and interdisciplinary approach, combined with Pattern's stadia and arena design expertise creates a significant player in the global sports sector and will result in the creation of some of the world's most experiential and inspiring places to visit, watch, and support the best sporting action," said John McManus, BDP's chief executive.
Founded in 2009 by Dipesh Patel, Pattern developed a portfolio of high-profile sports and entertainment projects. The firm won a series of international competitions and major commissions in North America, Europe, Middle East, and the United Kingdom.
Pattern's experience complements the work completed by BDP at sporting venues including Wimbledon All England Lawn Tennis Club and Aintree Racecourse. Most recently, BDP Quadrangle was appointed to lead the design of the new broadcast facility in central Toronto, dedicated solely to Sportsnet's coverage of the National Hockey League (NHL).
Pattern's 40 studio of architects, technologists, computational designers, and support staff will operate as BDP Pattern and continue under the direction of Dipesh Patel, who becomes a principal at BDP.
"Our project designs are based on deep research, high-tech design, and simple implementation. We have been fortunate to use this ethos designing of some of the best stadia in Canada, Peru, and China and we have recently secured approval for a major Premier League soccer stadium in the United Kingdom," said Dipesh Patel. "By being part of this global interdisciplinary practice with multiple office locations, our teams will be able to enter new markets and manage a much higher workload."