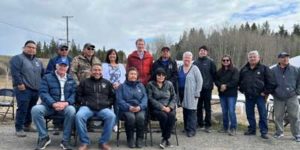 The Cultural Spaces in Indigenous Communities Program has provided $4 million in funding towards constructing a cultural centre and museum in 108 Mile Ranch, British Columbia, which will serve each of the four Northern Secwepemc te Qelmucw Nations and the Esk'etemc First Nation.
The Northern Secwepemc Cultural Society is leading the project to build a permanent cultural centre and museum to display Northern Secwepemc history. The centre will serve as a safe space for community members to share traditional knowledge and culture through a variety of programs, including Secwepemc language revitalization.
The need for safe, culturally relevant spaces was identified in the final report of the National Inquiry into Missing and Murdered Indigenous Women and Girls, which called for all Indigenous women, girls, and 2SLGBTQQIA+ people to be provided with barrier-free, permanent, and meaningful access to their cultures and languages. Indigenous communities have also expressed the need for these spaces as a key component of self-determination.
This investment is part of the Federal Pathway to Address Missing and Murdered Indigenous Women, Girls, and 2SLGBTQQIA+ People—the Government of Canada's contribution to the national action plan.