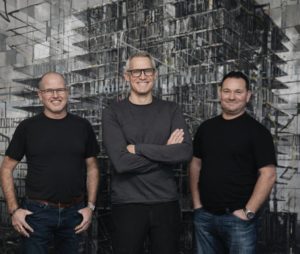 Vancouver Island-based architecture firm dHKarchitects (dHKa) has announced a new ownership team.
Architects Rob Whetter and Glenn Hill have joined Charles Kierulf as partners, as former principal and co-founder Peter de Hoog steps away from an ownership role.
The company is responsible for designing the region's Selkirk Waterfront, Mattick's Farm, and Sayward Hill. Many residential towers in downtown Victoria were also designed by the firm, including a new development at 1400 Quadra St.
While dHKa has a wide range of specializations, from custom luxury homes to resorts, the company has expanded in recent years into the residential care and affordable housing sectors.
The company has also grown to accommodate 22 employees, located between a Victoria office on Fort Street and a second location in Nanaimo, which opened in 2014. The growth of the mid- and north Island led dHKa to create the second office, to handle projects in areas such as Parksville, Port Alberni, Tofino, and beyond. Recently, dHKa designed several larger multi-family residential projects in Ladysmith, Nanaimo, and Parksville.
Although de Hoog is stepping back from ownership, he remains a key senior member of dHKa, which he founded with Kierulf in 2001. With 35 years of experience, de Hoog has been a pivotal figure in the architectural landscape of Vancouver Island and the success of the firm.