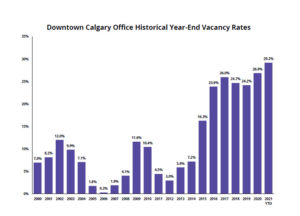 Avis Young, a commercial real estate agency, released the second quarter results of its Calgary, Alta., Office Market Report 2021, revealing record-high office vacancies in the city.
The report said the overall office vacancy has reached 26 per cent in the second quarter of this year, which is the most the city has ever recorded. In downtown Calgary, office vacancy increased to 29.2 per cent in the second quarter, which is up from 28.9 per cent in the first quarter and 25 per cent in the fourth quarter of 2020, making it a new peak vacancy for the city's downtown office market.
With the ongoing evolution in the energy industry sparking a substantial wave of merger and acquisition activity, Calgary is expected to have more than 14 million sf (1,300,642 m2) of vacant space in its downtown office market alone before the end of 2021, resulting in a vacancy rate above 30 per cent.
Energy and the related engineering sector will continue to make up the predominant share of occupants in downtown Calgary, even though the amount of space they occupy has shrunk. In the 10 years between 2012 and 2021, this group has shrunk from occupying 57 per cent of downtown Calgary to 32 per cent. However, when factoring in the vacancy today and its occupancy shares in downtown, they have shrunk from 58 per cent to 45 per cent—still leaving them as the dominant occupant.
Almost 288,000 sf (26756 m2) was given back to the market as available space in the second quarter, bringing the total for the first six months of 2021 to just more than 100,000 sf (9290 m2) below the total negative absorption for all of 2020.
Out of 653 office buildings tracked, there are 17 empty buildings across Calgary: five in the downtown market, three in the Beltline area, and nine in the suburbs.