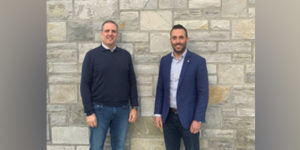 Atwill-Morin Group's Les Carrières Ducharme has appointed François Lussier, a well-known figure in the quarrying industry and the construction community in Quebec, as their new general manager (GM).
Lussier, who has held similar positions for several years, including for DJL Construction Inc., holds a DEC in civil engineering, and has to his credit numerous training courses and seminars in the field of crushing and screening of aggregates given by the Quarry Academy, a major educational seminar whose goal is to disseminate knowledge on the total production flow of quarry operations.
Similarly, Lussier has acquired SEEQ expertise, which is the first application dedicated to process data analysis, and under the aegis of the Regroupement professionnel des producteurs de granulats, he is committed to the promotion of innovative techniques in the exploitation of deposits, the improvement of material control and quality, and the regulation of the use of recycled materials.
"It is an honour for me to have the privilege of taking the helm of Les Carrières Ducharme, which has earned its credentials in the construction sector and in the world of architects over the past 60 years, as a natural stone quarry operator in Canada and the United States," said Lussier.