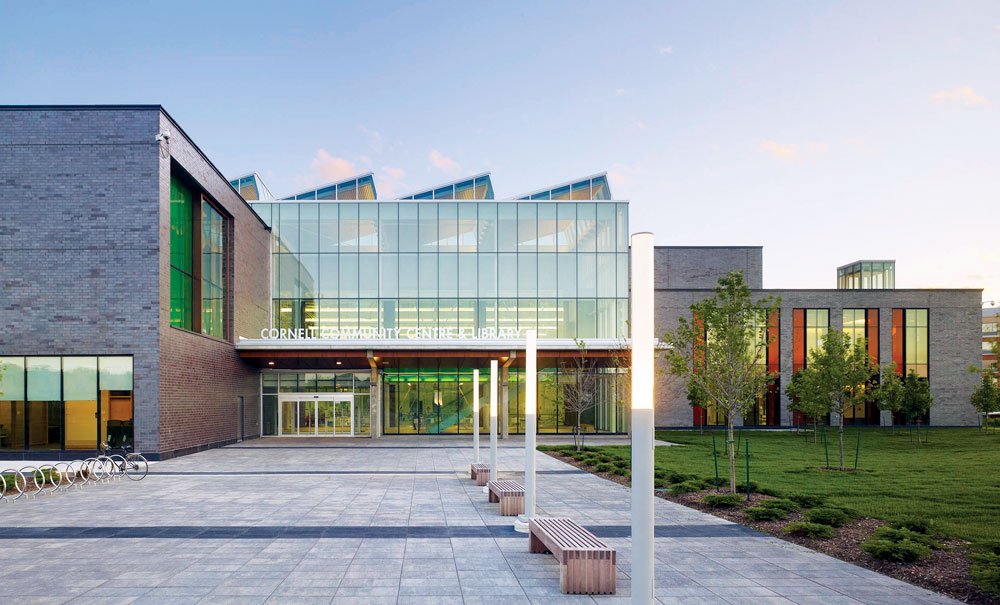 Five Ontario buildings have been selected by MasonryWorx as the best contemporary masonry buildings in the province.
Projects are chosen based on uniqueness, trendsetting use of masonry products, and how they demonstrate what brick or concrete blocks can achieve.
"From energy efficiency and fire protection, to curb appeal and higher resale values, there are many reasons why builders and homeowners choose masonry for their infrastructures and homes," said Judy Pryma, president of MasonryWorx. "While there are many worthy choices, our top five are examples that have set the bar for masonry construction in Ontario."
One winner, Cornell Community Centre and Library in Markham opened its doors in December 2012. It is 11,984 m² (129,000 sf) and features sleek, modern brickwork, large windows, and houses a fitness centre, indoor playground, library, living wall, swimming facility, three gyms, and more.
A private residence in London was constructed with block normally used in more industrial projects. The modern, monotone look is captured with white block in an elongated format. Large, prominent windows at the back of the house overlook the Thames River. A second London home was awarded for its design, style, and sophistication. The innovative model inspired other homes and developments in the area.
Another residential project, Moore Park, replaced a common-model 1924 home in Toronto. It has a stone exterior and contemporary design, and added a unique flare to its neighbourhood with its stone and wood finishes.
Finally, the Fraser Mustard building in Toronto has a less traditional design with the use of multiple colours and its long, linear shape. Builders engaged with students and the public for design choices. Brick letters on the exterior representing schoolwork is its unique feature.
To learn more about the projects, click here.
Construction Canada has featured numerous technical articles related to masonry. To see a piece on arches, click here. Other recent stories include looks at the sustainability of clay brick (and environmental product declarations [EPDs]) and thin veneer alternatives to full-brick assemblies.