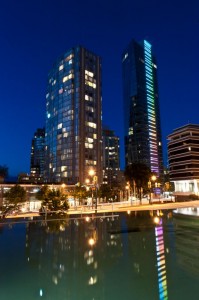 A condominium building is brightening up Vancouver with the city's largest ever light art project. The ever-changing display of light-emitting diodes (LEDs) continually shifts between colours and designs with the time of day.
Reliance Properties' West Pender Place condominium development overlooking Coal Harbour will feature the 24-hour display. Designed by Dutch lighting artist, Tamar Frank, the computerized system extends 120 m (394 ft) high up the concrete face of the west tower and 30 m (98 ft) up the face of the east building.
"It incorporates inspiration from Vancouver surroundings including water and mountains and will provide an ongoing light show to become a major feature on the Vancouver skyline," said a Reliance Properties' representative. "The feature is unique to Canadian architecture."
The lighting feature took two years to design and implement. Using more than 600 LED lights, it contains 40 different preset colour combinations to ensure the design changes several times an hour.