Archive our online articles by creating a personalized favourite list
by | February 9, 2016 11:45 am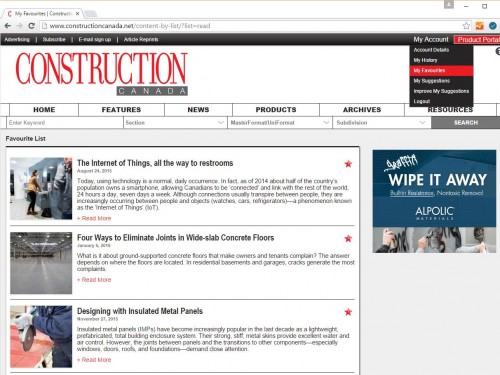 Construction Canada is pleased to introduce a new way to personalize your experience at Constructioncanada.net[1].  Now, you can save the articles that matter most to you, quickly and easily, with a personal favourite list.
Simply click on the star icon to add or remove items, and then look for "My Favourites" under "My Account" to view your list. Create an easily accessible library of LEED-related reads or a digital collection of concrete concepts; save articles to help save you when it comes to code-compliance conundrums.
Registration is required to access this feature, so if you haven't already done so, sign-up for your free account today and start creating your own article archive.
Endnotes:
Constructioncanada.net: http://www.constructioncanada.net
Source URL: https://www.constructioncanada.net/archive-our-online-articles-by-creating-a-personalized-favourite-list/
---