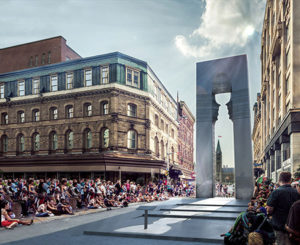 Four teams have been shortlisted for the 2020 Venice Biennale in architecture.
The Canadian Council for the Arts is also doubling its previous investment to enhance the international profile of Canada's representation. It is making a contribution of $500,000 toward the 2020 exhibition and acting as commissioner.
The Azrieli School of Architecture & Urbanism from Ottawa proposes to explore "fluid boundaries" and thresholds of Canada to foster a critical position on the country's responsibilities to inland bodies of water. Ja Architecture Studio in Toronto will look at "lightness" and the boundaries of the architectural imagination while connecting it to broader national issues such as ecology, regionalism, colonization, and settlement.. Common Accounts from Toronto will examine "after life" and the prospect of humanity's demise under threat of environmental collapse. T B A + David Theodore in Montréal will probe "imposter cities" and the complex identity of Canadian architecture by exploring the portrayal of the built environment onscreen.
The 2020 Venice Biennale of Architecture is an international platform for engagement with critical conversations about contemporary architecture.