Architecture firm to expand Nanaimo Airport
by maz_atta | August 30, 2021 10:38 am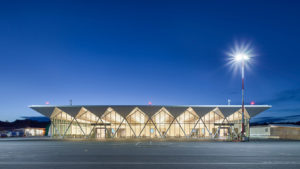 Architecture and design firm Office of McFarlane Biggar (OMB) will provide another expansion to British Columbia's Nanaimo Airport.
Completion of the first phase of the masterplan increases the passenger departure lounge space and provides dedicated passenger security. The architectural solution includes an elegant modular building design that can be easily and seamlessly repeated to accommodate future expansions.
The new design is inspired by the regional landscape, geology, mining, and forestry industries, as well as aeronautical structures from the period of distinguished pilot Raymond Collisaw, after whom the original terminal is named.
The new Nanaimo Airport aims to create a memorable and meaningful community gateway for central Vancouver Island visitors and residents, which reflects its past and speaks to confidence in its future.
Nanaimo Airport's recent Terminal Expansion Project, which was approved in 2016 by the Nanaimo Airport Commission Board of Directors, fulfilled three critical priorities for the Commission: regional economic development; economic stimulus through infrastructure construction; and meeting escalating demand for air service through the next decade.
The groundbreaking for the terminal expansion project was held on April 17, 2018, and the project was completed in February 2020.
The airport is expected to triple in size by 2035. This project was completed in association with Checkwitch Poiron Architects Inc.
Endnotes:
[Image]: https://www.constructioncanada.net/wp-content/uploads/2021/08/MA_Nanaimo-1.jpg
Source URL: https://www.constructioncanada.net/architecture-firm-to-expand-nanaimo-airport/
---