Architectural zinc roofing considerations
May 23, 2019
by Richard Strickland and Peter Gatto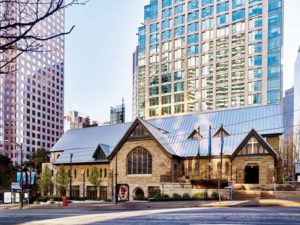 Proper specification, design, and installation of a zinc roof can provide an esthetically appealing, cost-effective, durable system capable of lasting for up to 80 years. To realize the full potential of a zinc roof, it is important to understand not only project-specific conditions, but also the material's composition and colour palette, seam types, attachment, and installation.
Zinc composition, colour, and curves
Zinc is a natural, soft metal. Rolled zinc 'strip' (sheet or coil) is produced by alloying special high-grade, 99.99 per cent pure zinc with small quantities of copper, titanium, and aluminum. The rolled zinc alloy provides improved mechanical properties required for architectural applications, including roofing, roof-edge flashing and trim, gutter systems, façade cladding, and exterior ornamentation.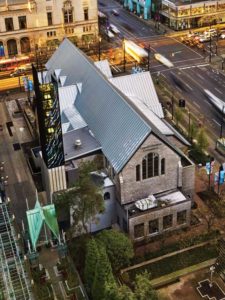 With solid, rolled zinc, no paint, varnish, or sealants are required. It resists corrosion, and the run-off is non-staining and non-toxic. It requires minimal maintenance, and if scratched, it self-heals. The key to this durability and to zinc's unique appearance is its patination. Just as copper ages from shiny orange to powdered green, zinc develops its distinctive patina from bright silver to matte blue-grey or graphite-grey, based on the alloy composition.
In North America, ASTM B69-16, Standards Specification for Rolled Zinc, is the primary reference for this material. Two types of rolled zinc are outlined in this standard. Type 1 is the most common architectural zinc alloy; and Type 2 contains slightly more copper than Type 1. This alloy results in a natural patina generally darker in colour than Type 1. The actual colour of the patina is specific to the micro environment.
To minimize variations, zinc roof specifications may note, all material should be provided from the same manufacturer as a single batch.
When a roof's design calls for rolled zinc to be curved into a radius, zinc-appropriate tooling and practices should also be specified. To avoid causing fractures or micro-cracks in the zinc, qualified fabricators use bending equipment with a radius, that must be at least 1.75 times the material thickness.
To achieve specified appearance and performance, one must be aware zinc manufacturers are not synonymous with system suppliers, fabricators, or installers of zinc products. Specifying an experienced zinc manufacturer can offer a high-level of knowledge and service through design, specification, and installation.
ZINC ROOFING IS A NATURAL CHOICE FOR TORONTO WATERFRONT TRAIL PAVILLION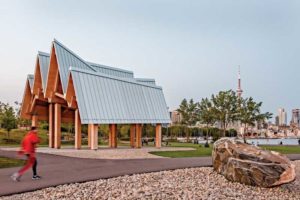 A steeply sloped, zinc-clad roof is the architectural focal point of a new, open-air pavilion at the Trillium Park and William G. Davis Trail at Ontario Place in Toronto. The opening of the park and waterfront trail marked the first milestone of the province's plan to revitalize and transform the iconic landmark into a vibrant, year-round attraction.
Approximately 600 m2 (6458 sf) of proprietary blue-grey zinc, double-lock standing seam panels clad the four sections of the steep roof. The 0.8 mm (31 mils) zinc panels included a factory-applied backside coating, which reduces corrosion arising from design, construction, and workmanship defects. This coating frequently is used for standing seam and interlocking tile roofing applications.
The panels were installed by Semple Gooder Roofing Corporation in Toronto.
"The steep pitch of the roof, as well as some complicated intersections of panels, was definitely a challenge," said Peter Sjourwerman, manager of Semple Gooder's architectural cladding division. "But we have been working with zinc for more than 20 years and can pretty much fabricate anything. For example, we custom-fabricated a radius ridge cap with concealed fasteners for the pavilion in our shop and made all of the custom flashings onsite."
Sjourwerman is a believer in zinc as a long-lasting material.
"It may last more than 100 years, but it definitely needs to be installed properly," he said.
Design for Trillium Park was led by landscape architects LANDinc of Toronto in consortium with a diverse multidisciplinary team, including West 8 of New York and Blackwell Structural Engineers of Toronto.
"The pavilion sits at the end of a performance lawn as an object in space that is meant to create some curiosity and wonder and be a potential meeting place for small events and gatherings," said Patrick Morello, principal of LANDinc.
Bruce Gilchrist, project manager and designer with LANDinc, continued, "No material other than zinc was considered for the roof of the pavilion. We sought out zinc for its naturally weathering patina, which will develop over time."
The park pavilion's design also included the use of heavy timber to reflect the industrial connections to natural materials at the turn of the 19th century. An ongoing challenge was to sustain an open gathering space within the pavilion amid the wind forces imposed on the roof faces from Lake Ontario.
"LANDinc architect-of-record Christopher Wallace explored numerous structural options to achieve a limited number of columns that connect to footings embedded in bedrock," Gilchrist said. "Due to the intersecting roof forms created by Adriaan Geuze of West 8, the greatest challenge was co-ordinating the work of each trade at the connection points. A virtual and physical 3D printed model was constructed by LANDinc and further evaluated to assist in the fabrication of each material section on the structure."
Construction of the pavilion was completed by A-Con Construction of Bolton, Ont., working under Toronto-based general contractor (GC) Urbacon. The project team's design and construction to revitalize Trillium Park and William G. Davis Trail at Ontario Place has received numerous accolades, including a 2018 National Award of Excellence from the Canadian Society of Landscape Architects (CSLA).
The opening of the park was the result of a three-year design consultation process, which included public workshops and consultations. The high-profile project was managed by Infrastructure Ontario and the ministry sponsored by the tourism, culture, and sport ministry.
At the opening celebration, the then minister of tourism, culture, and sport, Eleanor McMahon remarked, "This new public park and trail brings the beauty of Ontario's natural landscapes to the heart of downtown Toronto. In a city this size, it is important to have resources like this one for people to enjoy."
William G. Davis, former Premier of Ontario (1971–1985), added, "I am pleased to see a new era begin for Ontario Place and I am honoured by the beautiful trail that now bears my name. When Ontario Place opened in 1971, it was designed to be a place that everyone in the province could enjoy—a place that would show Ontario's potential. Forty-six years later, that potential is our reality—a province that is inclusive, innovative, and a place that people from around the world are proud to call home. Once again, Ontario Place will be a gathering spot for the people of this province to come together."
Zinc roof seam profiles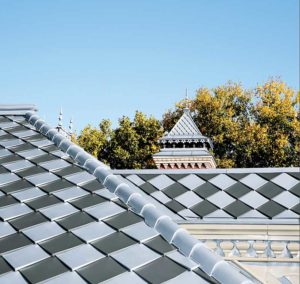 Roof slope and scale, local weather conditions, and warranty requirements influence the seam type selection. Double and single locks describe seam joints between roof panels upstanding 25 mm (1 in.) or 38 mm (1.5 in.) from the draining plane. A raised seam height can emphasize the roof as a design element and have a functional purpose in Canada's snowy climate. It is important to take caution as ice can deform and bend seams in the roof's valleys. To avert this, tapered panels assume an ideal seam direction into and out of a valley, and provide a distinctive visual pattern.
Vertical, standing seam profiles with mechanical lock connections are the most common zinc roofs. Flat seam profiles rely on gravity and at least a 4:12 slope to maintain weathertightness.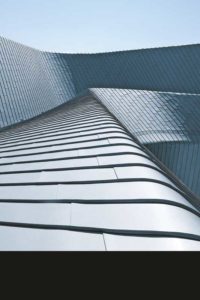 Further, low-profile zinc shingles and interlocking or overlapping tiles applied parallel to the eave present a familiar esthetic. They involve a technically easier installation method than vertical joints and are always applied as a 'dry-joint' roof system without solder or sealant. Tiles can be small. They provide good wind resistance, but cannot offer the same level of weather protection as a vertical seam.
For vertical seam profiles, vertical joints are attached to one vertical side joint, overlapped, and closed on the opposite side. The soft metal simplifies the task of hand-seaming or power-seaming zinc panels. Long panel lengths can make this design more vulnerable to oil-canning (panel waviness), panel disengagement, and wind uplift. Accommodating longer panels, taller seams, and those with added capillary breaks offer better water and wind resistance.
Folding the zinc, rather than relying on J-channels and sealant, to close the vertical seam panel end is a fail-safe detail. Requiring 'folded' zinc detailing eliminates the needs for cuts, rivets, sealant, or solder at the ridge termination or at the head flashing details.
Specifications outlining seam style, height, panel widths, and closures will reduce confusion and the potential for errors. A general specification recommendation for water-check folds at the top of the lap and staggering of traverse seams should also be prescribed.
ZINC ROOFING PROTECTS HERITAGE OF VANCOUVER CHURCH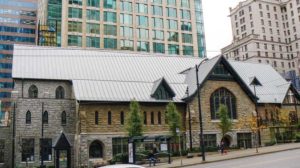 Completion of a reroofing project at Vancouver's historic Christ Church Cathedral[7] marked the culmination of a massive four-phase, 22-year renovation plan. The cathedral—built originally in 1894—was the city's first church, and began with a cedar shake roof. Through the years, various additions and modifications were undertaken, but none contributed significantly to the historic structure's long-term sustainability.
In 1995, a formal plan was implemented to make the cathedral structurally sound and meet seismic stabilization requirements. Esthetic and acoustical upgrades, along with basic functional improvements, were also included in the multi-phase plan.
Replacement of the roof—the final stage of the extensive renovation project—became something of a modern marvel in Vancouver. The entire building was completely enclosed in a massive scaffold and covered with a giant tarpaulin to protect it from the weather as the existing roof was removed. The scaffolding reached 30 m (100 ft) high to allow use of a travelling gantry crane for moving materials to all areas of the roof.
Approximately 1115 m2 (12,000 sf) of proprietary blue-grey zinc panelling was installed using a traditional batten-seam profile. Installation of the panels was done by TEK Roofing of Vancouver, B.C.
"I am an old-school guy, and everything we do is traditional," said Terry Kellogg, TEK's president. "The panels are literally all hand-formed. No machines were involved other than our breaks."
TEK Roofing specializes in the fabrication and installation of natural metals. Its crew on this project ranged from 10 to 20 individuals, depending on the work being done. Kellogg worked alongside his crew for nearly two months of the job, which took nine-and-a-half months in total. TEK spent five months levelling the entire substrate and four-and-a-half months installing the underlayment and zinc panels, focusing on the dormers and other intense detailing for the last two.
A major issue that had to be resolved before the new zinc roof could be installed was achieving a level and true substrate. During the many years since it was originally built, the structure had settled and shifted considerably. Further, the construction methods employed more than a century ago were not nearly as exact as those used today.
"We were surprised at how bad the structure was when we opened the building up," said Ian Birtwell, a parishioner and volunteer project manager who functioned as liaison with the church. "The connections to walls were very poor, basically gravity connections. That is the way they built in those days. And the roof ridgeline dipped 150 mm (6 in.). We used a laser system to create a computerized 3D model that revealed the high and low spots so that we could get a totally flat roof."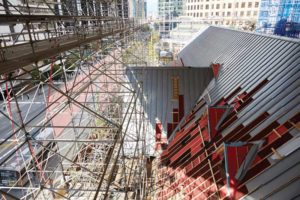 Kellogg was quick to give credit to another company involved in levelling the structure, Pacific Building Envelope Maintenance (PBEM).
"PBEM, based out of Vancouver, did a lot of the framing, working under the supervision of our superintendent," said Kellogg. "PBEM was very instrumental in getting us a level roof. It was a tough, tough job. They added a huge amount of structural steel. We could not have done it without them."
The general contractor (GC) on the project was Scott Construction Group of Burnaby, B.C. Architectural design was provided by Vancouver's Proscenium Architecture & Interiors. Renovation of the historic building was deemed a heritage project, and had to meet certain guidelines for approval.
"Good heritage practice requires that the renovation be respectful of original materials," said Hugh Cochlin, Proscenium's principal. "We gravitated to zinc pretty early in the process. We wanted a durable material that would last forever."
Cochlin said the team expects the product to last 100 years or more, adding that "the Heritage Commission quickly approved our use of it."
Kellogg concurred regarding the lifespan of the zinc, saying "With the pitch of the roof, it is easily a 100-year roof."
Another interesting attribute of zinc that influenced its selection for the project is its ability to repel moss.
"The cathedral is in somewhat of a concrete canyon with high-rises all around, and thus gets very little sun," Birtwell said. "The previous roof was moss-covered. We sometimes joked that the moss was the only thing holding the old building together."
The detailing on the job was complex, with multiple interfacing.
"We had complicated transitions," Kellogg said. "There was no caulking, no screws—all traditional methods. There were lots of pitch changes and elevation changes that made the installation time-intensive. It was definitely a labour of love."
According to Cochlin, all of the details were drawn by hand.
"That is definitely old-school," he said, "but particularly appropriate for a heritage project. We worked closely with TEK Roofing and had many onsite meetings. There was definitely more collaboration with the installer than is the norm today."
Another major aspect of the final-phase renovation was the addition of a highly anticipated bell spire set atop the existing elevator core. The open glass and steel structure housing four custom-cast bronze bells was the last significant architectural addition to the project. The bells were cast in France, and the bell spire glass features a design by Canadian artist Sarah Hall.
"Completion of the project protects the heritage of this historic and much-loved church," said Peter Elliott, dean and rector of Christ Church Cathedral.
Attachment components and practices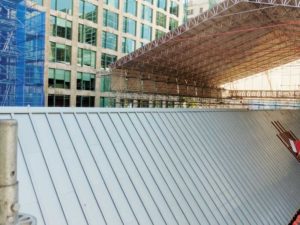 Rolled zinc has a coefficient of thermal expansion that is slightly more than aluminum. In order to allow movement of the zinc roof panel, the preferred attachment method is indirect attachment with concealed clips. These should be fabricated from light-gauge type 304/316 stainless steel.
All attachment components should be fabricated from stainless steel or exterior-grade polymer-coated steel. Fasteners for panel clips are usually #10 screws, at least 25 mm (1 in.) long with an appropriate drill point. Concealed offset cleats used to retain the leading edge of the panel should be corrosion-resistant metal, sized appropriately, and attached with the correct fastening method, often screws. Generally, exposed screws or rivets connecting two zinc profiles should be avoided unless approved in advance by the architect.
Securely attaching panels becomes even more important for lengths greater than 3048 mm (120 in.). All zinc profiles should be 'fixed,' but only for a short distance—every 915 to 1219 mm (36 to 48 in.) is typically recommended. For long panels, one-piece fixed clips should be used with the fixing zone and two-piece sliding clips for the balance of the seam. Locating the fixing zone depends on the roof's slope. Steep slopes require fixing the panels closer to the ridge allowing more downslope movement.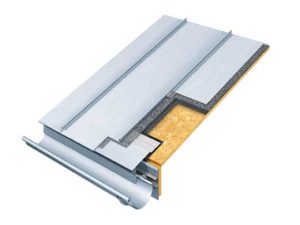 Attachment of all zinc roof panels should accommodate panel movement of approximately 6 mm (0.25 in.) per 3048 mm (120 in.) per 55 C (100 F) temperature change. The total design temperature fluctuation should be only 67 C (220 F). Based on the metal temperature at the time of installation, the contractor should calculate the maximum movement and ensure that panel ends do not disengage or 'bottom out' in extreme conditions. It is important to remember, differences in climate conditions and exposure can also produce different esthetic results.
It is also essential to understand zinc roofs cannot be the primary waterproof barrier. Instead, zinc roof profiles should be applied as a ventilated dry-joint cladding or a 'rainscreen' roof strategy. This design alternative allows for pressure equalization, backside drying, and moisture escape, rather than causing potential damage to the zinc and leaks in the roof.
Above-sheathing ventilation mats should be a requirement of every zinc roof assembly. Use an 8 to 10 mm (0.31 to 0.39 in.) structured underlayment comprised of entangled nylon wire to elevate the zinc panel, creating a capillary break with a 10 mm (375 mils) airspace to help keep the underside of the profile dry. It is advisable to not accept a substitution of this air space and capillary break with a backside paint coating or other barrier strategy.
Self-adhered high temperature roof underlayments are often specified at vulnerable roof conditions where openings in the deck are found. Synthetic felts applied with cap nails can provide fewer seams. Red rosin paper, conventional felt, and any other moisture-holding material also should be prohibited in every zinc application and related specification.
To facilitate moisture drainage from the vented space, the roof panel should have a soft bend past the drip edge (cleat). This open hook promotes water drainage from the end pocket formed by the panel hook. Zinc profile end folds also should be 'soft' with the raw zinc edge parallel to the ground and not closed tight. Final instructions should be confirmed by a licensed engineer.
Excessive use of sealants can plug weep holes, limit airflow, trap moisture, create adverse reactions, or restrict the metal's movement. For any proposed use of tube or tape sealants within laps or other concealed applications, it is advisable to consult the zinc manufacturer.
Further, it is recommended to consider an addition to the shop drawing submittal for engineering calculations that include directions regarding fastening patterns, clip spacing, and added density at the roof perimeter and corners. As always, specify engineering calculations to meet code and project load conditions.
Conclusion
Design and specification by an experienced zinc manufacturing representative and regional fabricator will ensure the project and its zinc roof provide the natural look, lasting performance, and a century of use. At the end of its service life, zinc can be recycled for future use.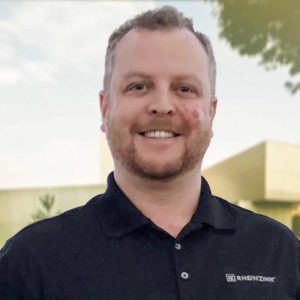 [11]Richard Strickland is a Rheinzink regional sales manager for Canada. Strickland has extensive hands-on knowledge of the metal buildings industry. He can be reached via e-mail at richard.strickland@rheinzink.com[12].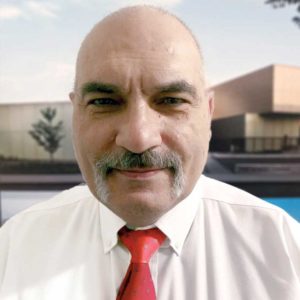 [13]Peter Gatto has been part of the Agway Metals team since 2002. His experience with the company and previous work responsibilities has provided him with extensive knowledge of the metal cladding industry. Since 2004, Gatto has been responsible for the company's zinc products including working closely with Rheinzink America. He can be reached via e-mail at pgatto@agwaymetals.com[14].
Endnotes:
[Image]: https://www.constructioncanada.net/wp-content/uploads/2019/05/RHEINZINK_BC_ChristChurch_MKnowles-6035.jpg
[Image]: https://www.constructioncanada.net/wp-content/uploads/2019/05/RHEINZINK_BC_ChristChurch_MKnowles-5936.jpg
[Image]: https://www.constructioncanada.net/wp-content/uploads/2019/05/RHEINZINK_ON_TrilliumPavilion_GvanRiel-0595.jpg
[Image]: https://www.constructioncanada.net/wp-content/uploads/2019/05/RHEINZINK_Roof-2370-003_A4_RET.jpg
[Image]: https://www.constructioncanada.net/wp-content/uploads/2019/05/RHEINZINK_Roof-2232-020-A5-RET.jpg
[Image]: https://www.constructioncanada.net/wp-content/uploads/2019/05/zinc_P1060348.jpg
Christ Church Cathedral: https://www.constructioncanada.net/employing-zinc-to-protect-and-preserve-a-historic-church/
[Image]: https://www.constructioncanada.net/wp-content/uploads/2019/05/RHEINZINK_BC_ChristChurch_MKnowles-8342.jpg
[Image]: https://www.constructioncanada.net/wp-content/uploads/2019/05/zinc_P1010364.jpg
[Image]: https://www.constructioncanada.net/wp-content/uploads/2019/05/RHEINZINK_Roof-Double_Lock_564D67.jpg
[Image]: https://www.constructioncanada.net/wp-content/uploads/2019/05/RHEINZINK_RichardStrickland.jpg
richard.strickland@rheinzink.com: mailto:richard.strickland@rheinzink.com
[Image]: https://www.constructioncanada.net/wp-content/uploads/2019/05/RHEINZINK_PeterGatto_AgwayMetalsInc.jpg
pgatto@agwaymetals.com: mailto:pgatto@agwaymetals.com
Source URL: https://www.constructioncanada.net/architectural-zinc-roofing-considerations/
---