Quebec City art museum seeking architects for pavilion design competition
by brittney_cutler_2 | April 12, 2022 6:00 pm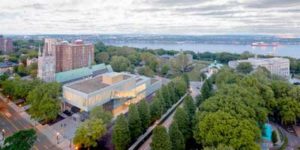 The Musée national des beaux-arts du Québec (MNBAQ) has opened the application process for a new architectural competition to design the future Espace Riopelle pavilion.
MNBAQ invites architects to use their creativity to enrich the 21st century heritage of Quebec's capital city by submitting their application by April 29 at 2 p.m.
The competition will take place in two phases aimed at establishing a dialogue between the architecture firms' teams, MNBAQ, and the Jean Paul Riopelle Foundation, to develop ideas for the project set to be located in the heart of Quebec City's Plains of Abraham.
Phase One of the competition will identify teams with the conceptual and technical capacities to carry out this project. Architects are invited to submit a qualification file, including a conceptual approach and relevant achievements. At the beginning of May, the jury will select four proposals as finalists for Phase Two.
In Phase Two, finalists will be asked to develop their functional solution, while taking into consideration the project's requirements as well as its technical and budgetary constraints. At the end of this phase, the level of progress of the requested sketches will make it possible to finalize the design of the winner's project with MNBAQ and the Jean Paul Riopelle Foundation's team. An integrated design process will also be undertaken. The jury's final choice will be announced at the end of August.
This $42.5 million project will become a reality thanks to a partnership between the Government of Québec, MNBAQ, and the Jean Paul Riopelle Foundation. The province is contributing $20 million for the creation of Espace Riopelle, and patrons from Jean Paul Riopelle Foundation have donated $20 million for the construction of the new pavilion. The MNBAQ has also committed $2.5 million to the project. A fundraising campaign will also be launched  this summer, amongst other activities, to raise funds and promote this large-scale project.
Endnotes:
[Image]: https://www.constructioncanada.net/wp-content/uploads/2022/04/BC_Quebec-F.jpg
Source URL: https://www.constructioncanada.net/architectural-design-competition-launched-for-espace-riopelle/
---