Architects chosen for historic Montréal basilica project
June 8, 2018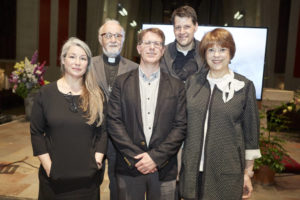 Saint Joseph's Oratory of Mount Royal[2] in Montréal has revealed the winner of a multidisciplinary architectural competition launched last December. The concept behind the winning project incorporates physical, historical, and spiritual elements into the reconfiguration design for the inside of the Basilica's dome and the museum spaces.
The jury has unanimously recommended the project put forward by the following team:
Atelier TAG[3] and Architecture49[4], architects in consortium;
SDK et associés Inc[5], structural engineers;
Stantec Expert-Conseil Ltée[6], electromechanical engineers;
GSM Project[7], visitor experience designers; and
CS Design[8], lighting consultant.
The proposed design features a pathway through the museum and inside the dome, extending the oratory's pilgrimage experience during an ascent that is physical, historical, and spiritual.
"The winning team stood out for their in-depth analysis of the project and the ingenuity of their proposed concept," said jury president Carlo Carbone, architect and professor at UQAM. "They had a clear, well thought out and pertinent approach."
The jury found they had demonstrated a particular attentiveness to the needs of Saint Joseph's Oratory, with their project demonstrating respect for the existing infrastructure and an emphasis on the presentation of the sites.
The proposed architectural layout will take the form of a drapery revealing the oratory's different construction periods, and provide a unifying experience throughout the pathway. The staging, materials, and architecture will work together to guide the visitors through the various stages of the ascent, creating an intimate experience with the space.
"The selected project honours the importance of having a design that aligns with the historic mission of Saint Joseph's Oratory of Mount Royal and finds an exemplary way to achieve the vision of those who first built the basilica," said Father Claude Grou, rector of Saint Joseph's Oratory.
Eighteen teams participated in the two-step selection process. Construction is slated to start in 2020. The project will also create an observatory at the top of the basilica.
Endnotes:
[Image]: https://www.constructioncanada.net/wp-content/uploads/2018/06/1.jpeg
Saint Joseph's Oratory of Mount Royal: https://www.saint-joseph.org/en/
Atelier TAG: https://designmontreal.com/en/directory-designers/atelier-tag
Architecture49: http://architecture49.com/
SDK et associés Inc: http://sdklbb.com/
Stantec Expert-Conseil Ltée: https://www.stantec.com/en
GSM Project: https://gsmproject.com/en/
CS Design: https://designcs.ca/
Source URL: https://www.constructioncanada.net/architects-chosen-for-historic-montreal-basilica-project/
---