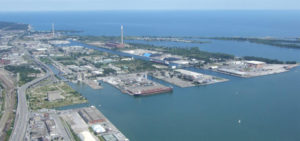 Design and consultancy firm Arcadis will program manage Waterfront Toronto's Port Lands Flood Protection project, an underutilized 405-ha (1000-acre) industrial site in the heart of Toronto. As sub-consultant to the Colliers Project Leaders' $10.4 million contract, Arcadis will also provide onsite technical support and risk analysis. The seven-year project includes construction of new roads, bridges, flood protection infrastructure, and parks.
Portions of the Port Lands site are at risk of flooding, and the soil is contaminated. In the event of an extreme weather event, floodwaters from the Don River could overwhelm surrounding communities.
By creating two new outlets for the river, floodwaters would run into the inner harbour instead of potentially damaging neighbourhoods. This work will involve:
building a 1-km (0.6 mi) river valley that will end at a new mouth for the Don River;
cleaning up polluted land; and
constructing new roads, bridges, utilities, and public trails.
When complete, the waterfront will feature an additional 40 ha (99 acres) of lush greenspace and parkland.
As part of its $2.3 million portion of the overall contract, Arcadis also will support the owner's team to provide technical environmental oversight for 21 project components over the next six years, including river relocation, road and bridge construction, flood resiliency, and earthworks, which involves excavation of more than 1 million tonnes (1.1 million ton) of soil. This includes remediation oversight and risk management of earthworks related to contaminated and excess soil.
"We look forward to helping Toronto realize its vision for transforming the face of the eastern waterfront," said Thomas Franz, president of Arcadis Canada. "We are excited to work with Colliers, Waterfront Toronto, and our city and community partners to revitalize an underutilized industrial area to better serve millions of Canadians and improve quality of life."