Alberta's budget cuts could cause concern for construction
February 6, 2013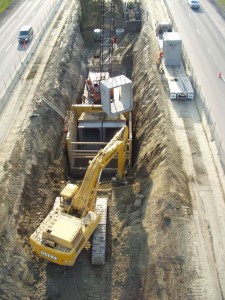 The Alberta construction industry will have to wait until next month to find out what provincial infrastructure projects will be affected by a reduced budget.
Premier Alison Redford informed residents of an estimated $6-billion decrease in oil revenue, which will result in various budget cuts. The unknown direction of the cuts has left construction business owners wary of future projects.
However, Alberta Roadbuilders and Heavy Construction Association's (ARHCA's) Heidi Harris-Jensen, explains projects already in development will likely be safe.
"We are not anticipating the government will delay any projects that they have already committed to, such as Highway 63, NE Anthony Henday in Edmonton, and the Stoney Trail in Calgary," Harris-Jensen told Construction Canada Online. "Since these are alternatively funded, we expect them to go ahead."
Projects that could suffer from the budget due on March 7 include the province's ongoing highway maintenance.
"The biggest concern for our industry is to maintain the existing highway infrastructure, costing $350 to $375 million. The budget for 2012 was about $225 million and we are anticipating this year it will be even less, at around $169 million. This means the highway network will not be maintained in adequate and safe working order," explained Harris-Jensen.
Endnotes:
[Image]: http://www.constructioncanada.net/wp-content/uploads/2014/06/Jarrads-pics-027.jpg
Source URL: https://www.constructioncanada.net/albertas-budget-cuts-could-cause-concern-for-construction/
---