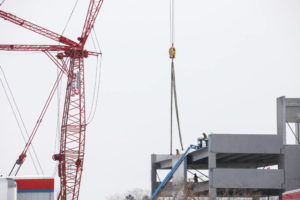 After 13 months of construction, a new long-term care home has been completed in Ajax, Ontario, under the province's Accelerated Build Pilot Program.
Led by PCL Construction, Infrastructure Ontario, Lakeridge Health, and the provincial government, this is the first long-term care project developed under the program. It is also part of the government's $6.4 billion investment to have 30,000 new long-term care beds by 2028, as well as 28,000 upgraded beds across the province.
The Accelerated Build Pilot Program leverages hospital-owned land and accelerated construction techniques to quickly build long-term care homes in large urban areas where scarce and costly land is a significant challenge for prospective developers.
Located on the same grounds as Ajax Pickering Hospital, the new building will provide care and comfort in a modern, safe environment. It will be part of a campus of care at Lakeridge Health to ensure residents have access to the specialized services they need and access to the broader health care system throughout Durham Region.
"Investing in long-term care homes like this new state-of-the-art facility in Ajax will provide a modern and safe environment for residents to get the care they need and deserve, and for the staff working tirelessly in these homes," said Kinga Surma, minister of infrastructure. "This is one of the critical projects our government is investing in, with a budget of more than $148 billion over the next 10 years, to build critical infrastructure projects such as long-term care homes, hospitals, schools, public transit, highways, and other facilities the people of Ontario depend on."
The facility has already started to accept temporary alternative level of care patients, with general long-term care residents scheduled to move in next month.