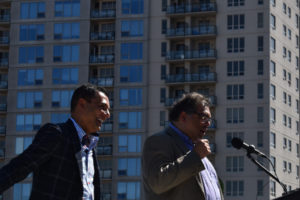 Cube, one of the first office-turned-residential buildings in Calgary is now open. A year ago, the building was an aging office space. Now it houses 65 new rental residences with street-level retail in the city's Beltline community.
The project by Strategic Group had transformed an underused, seven-storey, 4806-m2 (51,733-sf) space into homes for Calgarians.
"Transforming a previously under-utilized office building into a place that more than a hundred people will call home will lead to great outcomes," said Naheed Nenshi, Mayor of Calgary. "This will improve the outlook and opportunity for businesses nearby, will utilize parks and infrastructure that are already in place, and will add to the vibrancy of the neighbourhood."
The repurposed building is also constructed to meet Built Green environmental standards.