Acoustical ceiling with drywall visual offers ideal solution for today's changing spaces
August 26, 2020
Acoustical ceiling with drywall visual offers ideal solution for today's changing spaces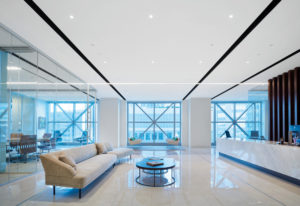 Acoustical ceiling provides seamless appearance of a drywall ceiling along with sound absorbing and sound-blocking performance.
A drywall ceiling imparts a clean, monolithic visual to a space esthetically but offers no benefits acoustically. It is, in fact, a noise creator in the sense it is a hard surface that allows sound to reverberate with no absorption.
To provide acoustics, especially in today's changing work environments when all types of spaces are being reviewed to address post-pandemic needs, ceilings offering both sound absorption and sound blocking are an ideal solution. Sound absorption reduces noise while sound blocking keeps it from travelling into adjacent spaces. Combined, they help create more productive environments, whether seeking quieter spaces or higher levels of privacy.
Esthetics plus acoustics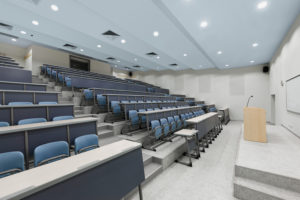 ACOUSTIBuilt™ Seamless Acoustical Ceilings from Armstrong Ceiling Solutions is such a ceiling, providing the look of drywall but performing like an acoustical ceiling.
Finished ACOUSTIBuilt panels offer a smooth, non-directional, monolithic visual to meet the needs of architects, designers, and owners who desire the seamless appearance of a drywall ceiling and also require effective acoustical performance in a space.
The ceiling is part of the Armstrong Total Acoustics® portfolio, offering an ideal combination of sound absorption and sound blocking in one panel. The installed system has a noise reduction co-efficient (NRC) of up to 0.80, indicating it absorbs up to 80 per cent of the sound striking it, and an extremely high ceiling attenuation class (CAC) of up to 46, indicating its ability to insure speech privacy by preventing sound from entering adjacent spaces.
ACOUSTIBuilt ceiling systems are also part of the Armstrong Ceilings Sustain® portfolio and meet the most stringent sustainability compliance standards in the industry today, including Leadershipn in Energy and Environmental Design (LEED) v4, Living Building Challenge, and the WELL Building Standard.
ACOUSTIBuilt ceiling systems are easier to install than acoustical plaster and at a lower cost. Panel installation is quick and easy using Armstrong Drywall Grid. Finishing methods are similar to those of traditional drywall ceilings.
Numerous integrated solutions
To make the design and installation of ACOUSTIBuilt ceilings easier and faster in wall-to-wall or cloud applications, Armstrong offers over 50 pre-engineered, integrated solutions addressing common conditions across the ceiling plane. They include:
shade pockets – a wide variety of Armstrong Axiom® shade pocket options allows seamless integration with a variety of manual and automatic roller shades;
Armstrong Drywall Grid – allows the creation of soffits and slopes of any angle;
diffusers –linear diffusers from Armstrong marketing partner Price® Industries are prequalified for fit and finish;
lighting – a new linear lighting trim kit allow seamless integration from below of lighting fixtures from XAL® and Axis® Lighting, which are specifically designed for fit and finish with Armstrong products;
access panels – Armstrong Plasterform ™ access panels offer a wide variety of shape and size options to fit design needs; and
trims and transitions – Axiom trims, including a new angled knife edge, provide crisp architectural detail for cloud applications or transitions to other ceiling types.
Case studies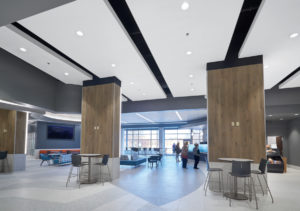 Introduced in 2019, the ACOUSTIBuilt ceiling system has enjoyed quick acceptance as evidenced by the fact that two of the earliest installations were in architecture/design firms.
The Austin (Texas) studio of Perkins and Will that recently moved into new quarters was one of those firms. Interior Design Principal, Lina Murillo, notes her firm was one of the first tenants in the shell space and aimed to retain its open, exposed look. "We wanted a minimal, yet expressive look, nimble enough to move out of current trends to create a modern and timeless space," she says. "To achieve this, we left most surfaces exposed."
An exception is a large, 56-m2 (600-sf), glass-enclosed conference room where Murillo explains esthetics and acoustics were important design elements. "Esthetically, we did not want it to look like a typical office space," she says. "We wanted to create a soft, inviting visual including a ceiling with a clean look."
Drywall was an option, but Murillo notes the firm desired good acoustic performance in the space as well. To provide both esthetics and acoustics, the firm selected ACOUSTIBuilt ceiling panels. "It was our acoustician who initially suggested it," she states. "The product had just been introduced and it fit our needs perfectly. The acoustics in the room are great."
Panel installation was quick and easy using Armstrong Drywall Grid. Finishing methods were similar to those of traditional drywall ceilings. According to project manager Brendan Burke-Phillips of Marek Brothers, the acoustical contractor, installation went smoothly even though it was his crew's first experience with the new product. "It was simple," he says. "No new training was required. There was not much of a learning curve. It was just like installing a normal gyp board ceiling."
Helps control sound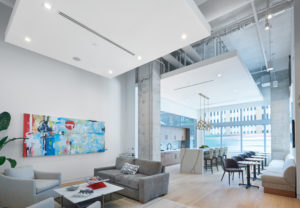 In a similar scenario, when designing its new offices in West Palm Beach, Fla., Spina O'Rourke + Partners knew controlling sound would play a critical role in how well the exposed structure space would function. "The esthetic for the open offices was for the structure to be exposed in some areas and have a clean, smooth drywall ceiling in others, but we were worried about the acoustics," says interior design principal and director Tammy O'Rourke.
Acoustics had been a problem in the architecture and design firm's previous offices which had a similar esthetic. "This is a highly-active space," says O'Rourke. "We knew the same scenario of exposed structure and drywall ceiling would not provide us with the functionality we needed."
Unwilling to compromise the esthetics, O'Rourke selected ACOUSTIBuilt acoustical ceilings. With the ACOUSTIBuilt system, O'Rourke was able to achieve both the esthetics and acoustics she desired for the new space. "It is a perfect fit," she says. "We are able to control the sound and still have the refinement of a drywall ceiling." Nearly 186 m2 (2000 sf) of ACOUSTIBuilt ceilings are installed throughout the interior making a noticeable difference in the acoustics of the exposed structure space.
Helps ensure speech privacy
An ACOUSTIBuilt ceiling cloud installed above the firm's 'business lounge' reduces noise in the busy space. "That is a perfect example of how we used this product to create a space that would be more conducive to having a large group of people at one time and not have an issue of an echo," says O'Rourke.
In the 'living room,' the office space O'Rourke shares with her business partner and CEO Keith Spina, the ACOUSTIBuilt ceiling makes it possible for the two executives to work in the space without disturbing each other. "We would not have been able to do that with a drywall ceiling," she explains. The ceiling also helps ensure speech privacy by preventing sound from entering the adjacent space occupied by the design team. "We are right next to the studio," says O'Rourke, "yet we can have conversations that stay contained in our office area."
"The crisp, finished look is exactly what we wanted," she adds, "and definitely rivals conventional drywall with its acoustic control and true drywall appearance."
Endnotes:
[Image]: https://www.constructioncanada.net/wp-content/uploads/2020/08/Armstrong-Photo-1.jpg
[Image]: https://www.constructioncanada.net/wp-content/uploads/2020/08/Armstrong-Photo-2.jpg
[Image]: https://www.constructioncanada.net/wp-content/uploads/2020/08/Armstrong-Photo-3.jpg
[Image]: https://www.constructioncanada.net/wp-content/uploads/2020/08/Armstrong-Spina-Photo.jpg
Source URL: https://www.constructioncanada.net/acoustical-ceiling-with-drywall-visual-offers-ideal-solution-for-todays-changing-spaces/
---