A Balance Of Power: How power-operated balanced doors provide ultimate accessibility
December 1, 2011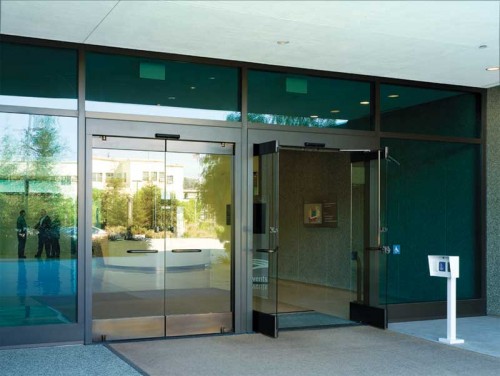 By Mark Graves
Daily, people pass through buildings without much thought regarding the effort needed to open a door. However, many of those in wheelchairs, pushing baby strollers, or carrying multiple packages can sometimes find things more challenging. With a power-operated door, removing the barrier for entry is as simple as tapping a button. While the technology is not new, modern power-operation engineers have designed smarter ways to allow doors to open as easily—and to stay open for as long—as individual users need.
Some power-operated doors also have the capability to be synched to a building's emergency system, allowing them to automatically power open during a fire, and then stay open indefinitely. This facilitates both efficient occupant exit and smoke evacuation/makeup air, making it the safest possible choice.
When this technology is combined with the sophistication and opening ease associated with balanced doors, the entry system becomes a complete machine—simple in its operation, but intricate and precise in its design. In terms of accessibility, ease of use, safety, energy efficiency, and esthetics, few options are more sensible than pairing balanced doors with power-operation.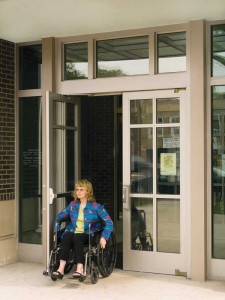 A balanced door employs a unique design in which the fulcrum is placed at one-third the width of the door so one-third of the door leaf recesses into the facility. This creates a more balanced pivot point for superior weight distribution. Among other numerous advantages, this construction allows for heavy doors made of durable materials to be opened effortlessly in spite of external factors like wind and building stack pressure. Its construction sets it apart from conventional butt-,continuous-, and pivot-hinged doors, yet the door offers similar opening space—a critical consideration for accessibility concerns.
Balanced doors are ideal companions for power-operation because they are durable, easily operated, and proven to last (or even outlast) a building's life. A door with power-operation is a long-term investment in accessibility, and it is crucial the door system housing the technology be durable and dependable enough to support and enhance that investment.
Accessibility affords independence
The first and most obvious condition for which a specifier might choose a power-operated door is to provide access to people with disabilities. Power-operated doors allow independence for those with real, physical constraints. Access is a social responsibility that facility managers should not take lightly, and power-operated doors offer a viable response.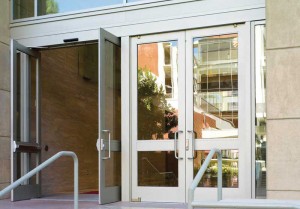 While at this time Canada does not have a national comprehensive set of accessibility guidelines for people with disabilities—at least not in the same capacity as the U.S. Americans with Disabilities Act (ADA) or the U.K. Disability and Equality Act 2010—there are codes that do promote equal access for the physically handicapped. Within the international construction industry, local and provincial regulations, along with forces like the Uniform Building Code (UBC), the International Building Code (IBC), and the Building Officials Code International (BOCI), provide helpful guidelines for builders to achieve accessibility goals.
The National Building Code of Canada (NBC), which forms the basis for all of the provincial building codes, sets forth some guidelines concerning accessibility for entryways. While these guidelines have no legal status until adopted or adapted by provincial agencies, it is important to choose an entryway manufacturer well-versed in the code to ensure entry systems are built to maximum accessibility standards.
Part 3 of NBC is applicable to larger buildings (as defined by Part 1) and outlines "Fire Protection, Occupant Safety, and Accessibility." Though power-operation is not a focus of this part of NBC, it is critical for specifiers investing in power-operation technology to be aware of these guidelines so the entry system's total accessibility is cohesive. Clear-width guidelines, for example, ensure proper space for wheelchair users. Paragraph 3.8.3.3 in the "Barrier-free Doorways and Doors" section reads:
Every doorway in a barrier-free path of travel shall have a clear width of at least 800 mm [31.5 in.] when the door is in the open position (measured from the face of the door at 90 degrees to the outside edge of the frame stop, the projection of exit devices are taken into account).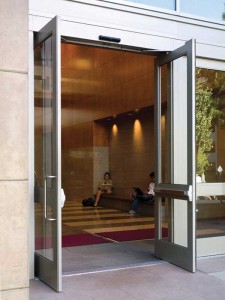 For a single balanced door, it is possible to meet the 800-mm minimum width requirement, provided the door leaf is at least 940 mm (37 in.) with a 1092-mm (43-in.) total frame width. This allows the 102 mm (4 in.) required for balanced hardware, the approximately 25 mm (1 in.) required for door stop material on the opposing side, and the 76-mm (3-in.) door jambs at each side. A pair of doors with a 1981-mm (78-in.) frame (i.e. 914 mm [36 in.] per door) will also provide an 800-mm opening with one door fully open, bringing in similar opening dimensions to a swing or pivot door.
In short, a balanced door will provide the necessary opening space to accommodate access for people with disabilities, allowing power-operation technology to fully facilitate independence for those who need it most.
Easy to open, easy to close
When choosing a power-operation mechanism to accompany an entry system, opening and closing concerns become paramount. Users with disabilities—or even those carrying luggage, handling shopping bags, or pushing delivery dollies—often find it crucial the mechanical opening and closing of a powered door be fluid at all points during operation. The unique design of a balanced door not only ensures this fluidity during powered or manual operation, but also protects electronic mechanisms with its solid construction.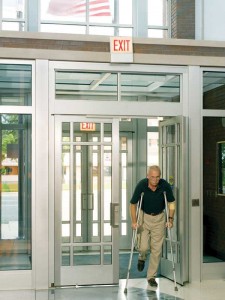 As a balanced door has a more equalized weight distribution, its size, weight, and durability is rendered inconsequential to the ease of opening during manual operation. This occurs because air pressures work with the door (rather than against it), resulting in minimal required pulling force. In other words, when a balanced door is pulled against the forces of air, its entire surface area is not negatively impacted as it is with a conventional door. The air pressure will affect both the strike side and the hinged side (on both sides of the fulcrum), using some of the air's force to assist in opening the door. The same is true when the door closes, allowing for a faster and more energy-efficient closing motion.
Some balanced door manufacturers offer a unique concealed power-operation mechanism that, in addition to numerous other benefits, creates an easier power-operation to manual-operation transition. One type of power-operation mechanism conceals the entire system within a balanced door's header, only revealing a sleek actuating arm when the door is open. This option is much more attractive than using unsightly tacked-on surface-mounted power operators, and leaves the system unexposed to the elements. Unlike floor-mounted operators, which are also concealed, overhead concealed operators protect the electronic components from damaging water leaked in by rain or cleaning.
This type of overhead concealed power-operator is designed such that the actuating arm is not attached to the door. When power operation is selected by the user (from a wall- or post-mounted switch), the door powers open immediately, remaining ajar for a predetermined time, allowing for comfortable passage. When it is time for the door to close, the unattached actuating arm precedes the door's motion into its rest position directly above the door, and is hidden by the header door stop. This allows the door's standard closer spring to close it independently of the arm. The door's next user is then free to operate manually without involving the power system, even if the door has not fully closed. This translates to time savings, energy savings, and protection of the power hardware.
Emergency safety and energy efficiency
A power-operated balanced door system provides critical advantages for building safety. Instead of relying on manual push-operation during quick evacuation, power-operation allows occupants to focus solely on safely exiting a facility through an open door.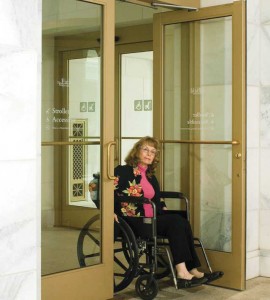 Power operation can even be functionally synched to a building's emergency control system so when triggered (e.g. by a fire pull-station or a security desk mechanism), the door automatically powers open and remains at its 90-degree hold-open position until manually reset. This facilitates safe human traffic and requires little or no manual operation, which is useful in an emergency situation. In the case of a fire, this system also provides continuous external transfer of smoke and influx of makeup air—a safety requirement mandated by many provincial building codes.
Owing to the solid construction of a balanced door, a power-operated entry system of this kind is extremely durable. With a conventional door, the system's entire weight is hung off the frame, including bulky surface-mounted power-operators. Over time, screw holes elongate, causing screws to come loose and the door to pull away, resulting in sag and drag. With a balanced door, the leaf is not connected to the frame, so the door's weight is transferred to the bottom arm, down to the floor box, and eventually down to the floor, which is much more capable of bearing weight than metal hinges.
Likewise, the power-operating actuating arm is not connected to the frame, and is therefore not worn down by manual operation. For these reasons, a balanced door system lasts much longer than a conventional hinged system, and much better suits power operation.
The overhead concealed power-operator found in some balanced doors is considered a low-energy operator, which helps to satisfy building codes without the need for additional safety devices required for high-energy operators, saving construction time, money, and energy. Unlike other power options, like sliding doors, a balanced door only opens when prompted and closes consistently and fully, without flutter or unintended re-opening. If operated manually, the door need not use electricity at all, resulting in huge energy savings over a facility's lifetime. Also, unlike sliding doors, manual operation will not be inhibited in the case of electronic failure, avoiding the headache of an inaccessible entry system before repair.
Furthermore, a power-operated balanced door can be superior to powered sliding doors in retrofit construction or for building in tight spaces because the doors do not require extra lateral space for recessing. All extra space requirements for a balanced door are vertical (to accommodate for the concealed power components in the header) or, in small part, depth into the facility (to accommodate for the internal leaf projection). These extensions are typically much easier to make room for, especially when fitting a new door into the space of a previous entry system.
Solid investment in the future
For specifiers of any new or retrofit construction project, universal accessibility needs to be a priority to build a successful, functional facility for the long term. Power operation is a worthwhile investment in usability, code adherence, and meeting real, physical needs. A balanced door offers a durable and sustainable encasement of this investment. The system offers an attractive and functionally complementary design. This type of entryway is ideal for any high-traffic facility or any building intended to last a long time. After all, to serve its purpose, a door must be accessible.
Mark Graves is the president of Ellison Bronze Inc. He has more than 30 years of experience in the general construction, architecture, and manufacturing industries. Graves has spent 25 years of his career manufacturing custom balanced doors with Ellison. He can be reached via e-mail at mgraves@ellisonbronze.com.
Source URL: https://www.constructioncanada.net/a-balance-of-power-how-power-operated-balanced-doors-provide-ultimate-accessibility/
---