$8.5M facility to expand Ontario college's sports and rec offerings
by brittney_cutler_2 | June 21, 2022 4:43 pm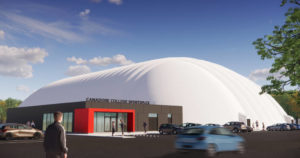 Construction of a multi-use recreation facility will allow Canadore College to expand its academic, sports, and wellness programs.
The 7597-m2 (85,000-sf) dome on the Commerce Court campus in North Bay, Ontario, will support year-round athletic activities. The facility has been designed in consultation with community user groups and is rooted in a long-standing need for covered turf and hard court surfaces.
There will also be an attached 576-m2 (6200-sf) clubhouse, complete with change rooms, reception, and dedicated instructional/meeting space.
"The facility will also provide a foundation for an expansion of varsity and recreational sports for all ages and is envisioned as a community recreation hub to build off of other regional sports initiatives," says George Burton, the college's president and CEO. "The facility will feature artificial turf, hard court, and a myriad of other features to support maximum usability and community-facing support."
The estimated cost of the sports complex is $8,565,000. It will create additional opportunities for the college and the region and can double as the largest event space in the area to help attract sports activities and other tourism to the region. Canadore anticipates the facility will open by September 2023.
Endnotes:
[Image]: https://www.constructioncanada.net/wp-content/uploads/2022/06/BC_SportsFacility.jpg
Source URL: https://www.constructioncanada.net/8-5m-facility-to-expand-ontario-colleges-sports-and-rec-offerings/
---