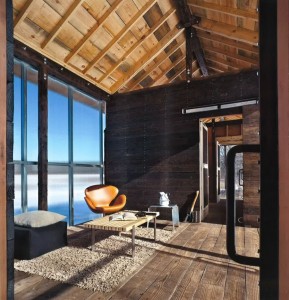 A pavilion, a house, and a footbridge were the Canadian winning projects in the 2010 Wood Design Awards.
This year's winners included:
• Bodega Residence, Cutler Anderson Architects (Bodega, Calif.)–Honour;
• Tallgrass Prairie Pavilion, David J. Agro (Walsingham, Ont.)–Honour;
• LightFold: One Kearny Lobby, IwamotoScott Architecture (San Francisco, Calif.)–Merit;
• House in Frogs Hollow, Williamson Williamson (Grey Highlands, Ont.)–Merit;
• Arthouse at the Jones Center, Lewis.Tsurumaki.Lewis Architects (Austin, Texas)–Citation; and
• Footbridge of Dreams, StructureCraft Builders (Princeton, B. C.)–Citation.
Out of 103 entries, 15 projects were selected as winners. The jury said all of the projects displayed innovative uses of wood as a building material and they all push the boundaries of conventional wood building practices and highlight the special qualities, versatility, and sheer beauty of wood as a building material.
Bernadette Johnson, executive editor for Wood Design & Building (published by the Canadian Wood Council), told Construction Canada Online the competition is the only North American-wide program that specifically recognizes achievements in wood building and wood architecture as a whole.
"Our goal is to celebrate wood building innovation and the many diverse qualities of wood—beauty, durability, cost-effectiveness and sustainability, and to inspire the continued use of wood."
For a full list of winners, visit www.cwc.ca/Events/BuildingAwards.