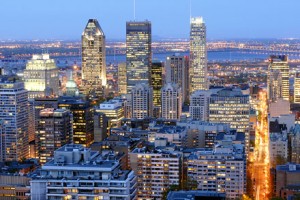 A new study ranks Canada 11th out of the world's 12 major economies when it comes to issues related to energy efficiency.
The "International Energy Efficiency Scorecard," published this month by the nonprofit American Council for an Energy-efficient Economy (ACEEE), rated the United Kingdom at the top, followed closely by Germany, Italy, and Japan. The United States placed ninth, while Canada managed to surpass only Russia.
ACEEE examined 27 criteria (most falling under the "Buildings" category), ranging from energy efficiency research spending and national productivity to product labelling and transportation metrics. Both 'policy' (e.g. national energy savings targets) and 'performance' (e.g. actual energy consumption) metrics were used to measure a country's overall efficiency.
Canada particularly suffered in the rankings because it lacks a mandatory program for building energy labelling/disclosure, and consumes a substantial amount of energy per residential and commercial floor space area. The country was also hurt in the building codes category, explained Sarah Hayes, one of the report's authors.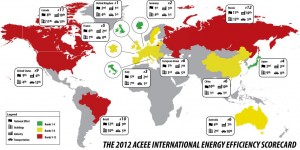 "The building codes metric is scored based on the presence of a mandatory national code addressing areas [such as] insulation, windows, and lighting," she told Construction Canada Online.
"In cases where the authority to implement codes is with the regional or local governments, we award credit if a significant majority of areas have adopted the codes," Hayes said. "For example, in the United States, 38 states have adopted the national model codes, so the country gets credit."
The score for Canada's building codes is based on a couple of different sources, she explained. The primary source cited is a 2009 Pacific Northwest National Laboratory (PNL) report for the U.S. Department of Energy (DOE), which stated very few provinces had adopted the national codes. Since then, updated national model codes have been developed, with most provinces and territories committing to incorporate them into their local codes, though this has not yet happened.
 Ken Elsey, who sits on several advisory committees with the Canadian Standards Association (CSA) as well as the Building Code Conservation Advisory Council for the Ontario Building Code (OBC), is optimistic about changes to that provincial code (which came into effect January). It has moved all new construction to Energy Star standards, which is especially important given Ontario represents the country's most significant number of new housing starts.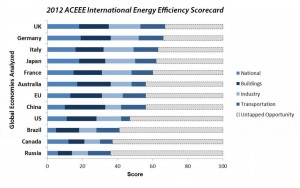 "Granted, national codes remain an issue—Canada has not taken energy efficiency seriously yet," he told Construction Canada Online, "but it seems to be hitting our chequebooks more, and that will certainly attract further attention."
Elsey also took a balanced view of the ACEEE report.
"It is a difficult undertaking. We had looked at it in my work on the International Electrotechnical Commission (IEC) Energy Efficiency Committee, but figured it would be too difficult to give a fair assessment of each country because of so many different factors, climate being only one," he explained. "The Canadian Energy Efficiency Alliance (CEEA) has initiated its National Report Card, and I know it is starting to receive input from the provinces, territories, and federal government. I think it will make a fairer comparison of where Canada is on energy efficiency, but I won't disagree we have a long way to go as compared to the rest of the Western World."