In this Edition
Looking to honour outstanding Canadian engineers

Engineers Canada, a national organization regulating the practice of engineering in the country, is seeking nominees for its annual awards program, which celebrates the projects and achievements of engineers and engineering students in nine different categories. Nominations are open until January 19.
+ Read more
Recognizing the best in Ontario landscape design

The Landscape Ontario Horticultural Trades Association (LOHTA) recently announced the winners of its 45th annual Awards of Excellence. Judges honoured nearly 300 landscape construction, maintenance, and design projects for their originality, innovation, and effectiveness of design. Wentworth Landscapes was the sole winner in this year's Theme Gardens category.
+ Read more
Continent's tallest hybrid timber tower receives green light

Terrace House in Vancouver has received its official building permits to begin construction in the city's Coal Harbour neighbourhood. Designed by Shigeru Ban, the 71-m (233-ft) structure is set to become North America's tallest hybrid timber tower, surpassing the University of British Columbia's (UBC's) 18-storey Brock Commons.
+ Read more
Seeking creativity in Toronto design-build competition

The City of Toronto has launched Everyone is King, an outdoor design-build competition. Mayor John Tory invited design professionals, architects, local businesses, students, and community groups to submit concept proposals for installations along King Street. Applications must be submitted by January 30. Winning projects will be installed in spring.
+ Read more
Interweaving sustainability and learning at Mohawk College

When the doors of Mohawk College's Joyce Centre for Partnership and Innovation open to students this fall, they will be greeted by 8920 m2 (96,000 sf) of solar-powered state-of-the-art labs, workshops, open study spaces, and lecture theatres, along with a new paradigm for sustainable building and learning in North America. The building in Hamilton, Ont., is one of the first net-zero-energy institutional buildings in the region.
+ Read more
CSC President: Specifying the correct standard
CSC's President, David Boyle, makes a case for employing ASTM E1745, Standard Specification for Plastic Water Vapour Retarders Used in Contact with Soil or Granular Fill under Concrete Slabs, for vapour barrier materials used under concrete slabs.
+ Read more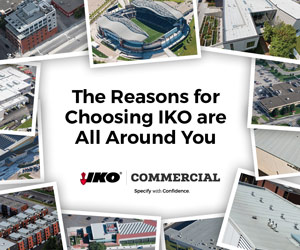 Top Trending
Getting to the bottom of moisture management
Both gravity and temperature can create misunderstandings resulting in improper or inadequate moisture management design for the exterior building envelope. It is given moisture will enter the building envelope and will need to be drained. This has become more and more the accepted practice, and in many cases, it is code-mandated. Unfortunately, the liquid moisture gets drained to the bottom of the wall with little thought given as to how it will get out. This article presents pragmatic solutions to getting the moisture out at the bottom.
+ Read more
The single-ply skinny on EPDM
With evolving building codes, changing weather patterns, and emerging sustainability needs, demands on commercial roofing installations are ever-changing. Single-ply roofing membranes have become a popular choice for projects seeking to meet affordability, waterproofing, ozone resistance, and thermal shock durability needs. Ethylene propylene diene monomer (EPDM) is one of the most prevalent, fastest-growing options for low-slope commercial and industrial roofs, both in retrofit and new construction projects. Find out how EPDM helps improve overall building performance and efficiency.
+ Read more
View the Latest issue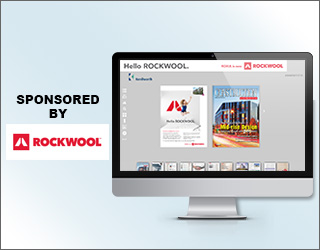 Calendar

January 22-26
World of Concrete
Informa Exhibitions
Las Vegas, Nevada
Las Vegas Convention Center
www.worldofconcrete.com

January 29-February 1
Sprayfoam Convention & Expo
Spray Polyurethane Foam Alliance
Mobile, Alabama