News Briefs
Southpark on Whyte awarded first LEED Gold for multi-family project
A mixed-use Edmonton development, Southpark on Whyte, has received LEED Gold certification, becoming the first LEED V4 multi-family project in the city.
» Read More
DEMO-CASTS ON DEMAND
BIM Designer - A MorInnovative way to BIM
Morin Demo-Cast
Data visualization: Seeing the information in your project model
Vectorworks Demo-Cast
Ontario government investing $18.5 million for building repairs
The Ontario government is investing $18.5 million to support building repairs and renovations to 198 community agencies that deliver critical social and community programs across the province.
» Read More
HDR obtains new design principal, Matthieu Grady
Matthieu Grady has joined HDR as design principal based in the firm's Vancouver, British Columbia, studio. Grady has more than 21 years of experience working for firms around the world.
» Read more
Feature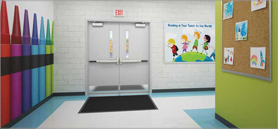 Basics of door hardware
Door hardware specifications can be confusing and tedious. Just the thought of having to recall door hardware terminology, code requirements, and best practices is overwhelming.
» Read more
| | | |
| --- | --- | --- |
| | | News |
Missed this from the web?