IN THIS EDITION
| | |
| --- | --- |
| | From Ottawa to Edmonton, cities are exploring bylaws to help protect neighbouring sites when a construction project gets underway. The concern is always the impact of the project on its surroundings—by having bylaws related to vibration, municipalities can protect themselves from risk, placing the responsibility on builders and their clients. What do you need to know? |
| | |
| --- | --- |
| | The Canada Building Information Modelling (BIM) Council is delving into the challenges building owners face when going down a BIM-enabled project delivery process and transitioning to BIM-enabled asset life cycle management. At its recent Toronto meeting, the group also recognized industry leaders. |
| | |
| --- | --- |
| | "Tapping the Future," CSC's competition sponsored by the association's Toronto and Grand Valley Chapters, has launched for Ontario design students. Find out more about this year's edition of the contest, from registration to cutting-edge technology being used to the project—Kitchener's Catalyst 137 building. |
| | |
| --- | --- |
| | Winners have been announced for the American Sports Builders Association (ASBA) annual awards, with plaques presented to a pair of Canadian projects. One of these, Gerard Filion Secondary School in Longueuil, was deemed the year's best outdoor track facility. |
| | |
| --- | --- |
| | Late last year, the Paris Agreement came into force with the COP22 meeting in Morocco. One signatory is Canada, which has joined the global community in striving to keeping the global temperature rise this century below 1.5 C (2.7 F). An attendee offers his perspective on what this will mean for design/construction professionals and the building industry. |

NEWS
On Thursday, January 26, the Vancouver Island Chapter of CSC is hosting a luncheon discussion on polished and decorative concrete toppings.
+ Read more
The Calgary Chapter of CSC will be holding its Connections Café trade show and networking event on March 9 at the Calgary Elks Lodge & Golf Club.
+ Read more
It was an interesting 2016—some markets saw steady growth, while others entered one of the worst recessions they have ever experienced.
+ Read more
Exhibitor registration has opened for the CSC Building Expo—the new name for the Toronto Chapter's annual No Frills Show event.
+ Read more
LATEST JOB POSTINGS
+ View or post more job listings here
TOP TRENDING ARTICLES
Adoption of the North American Fenestration Standard (NAFS) has resulted in big changes in the fenestration industry. However, does this signal changes for exterior wall materials as well? NAFS is a voluntary standard/specification that harmonizes Canadian and American fenestration standards. It primarily addresses the performance and quality of windows, doors, and skylights. Portions of the standard addressing aluminum finishing, however, also apply to the framing and infill of curtain walls.
+ Read more
In the early 1990s, there were mixed opinions about what could, and what should not, be done with exterior insulation and finish systems as an exterior cladding. Today, the situation is much clearer. As sustainable design and green construction continue to grow in mainstream prominence, a particular advantage of EIFS is being cited—its lower impacts over the building lifecycle cost, mainly because it has a smaller ecological footprint compared to other traditional claddings.
+ Read more
VIEW LATEST ISSUE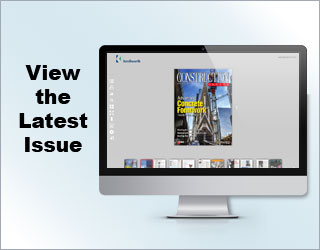 CALENDAR