Why hydronic heating in poultry barns can be beneficial for your chickens!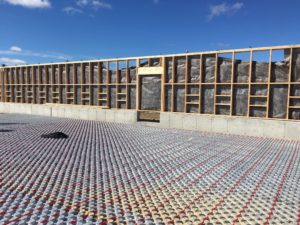 It is necessary to heat poultry barns, especially for the development and weight gain of broiler chickens, which are raised specifically for the food industry. The heat is adjusted according to how the chickens grow, and typically starts out warmer for newly hatched chickens and gradually decreases over a period of five weeks. Throughout this process and until the chickens are ready to enter the market, the barn temperature needs to be maintained properly. This is also important because a chicken's appetite is associated with the temperature. Chickens tend not to eat if it is too cold or too hot, but a consistent, evenly distributed temperature stimulates their appetite and activity, which is essential for their development.
Using an in-floor hydronic heating system has many benefits. Even heat distribution consistently warms the barn closer to the ground where the chickens are. Hydronic heat also has no energy loss through ducts or irregular airflow, which, in turn, is more energy efficient and economical to operate. Hydronic systems can be used with a variety of boilers including wood, oil, natural gas, or solar heaters. In-floor heat can also reduce the amount of poultry bedding needed on the interior floors of the barn. Although hydronic systems can have a greater cost of construction, they are a good investment for farmers wanting to save on operating/heating costs and the long-term total cost of ownership, and, in turn, provide a better quality, healthier chicken with lower CO and humidity levels!
Amvic Inc. recently provided the Ampex insulated crosslinked polyethylene (PEX) panel for a poultry barn in Drayton, Ont. Details are below!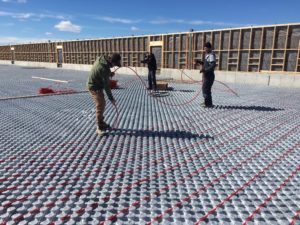 Project overview
Project Name: Hubert Poultry Barn
Project Type: Agriculture
Location: Drayton, Ont.
Size: 2453 m2 (26,400 sf)
Floors:1 storey
Amvic Installer: Gleeson Plumbing Inc.
Amvic Product: Ampex panel for hydronic radiant heating
The Amvic advantage
Durability
Speed and ease of installation
Eliminates breakage and replacement
Less labour required
Significantly lower operational costs
Customer confident in their investment
Healthier living for livestock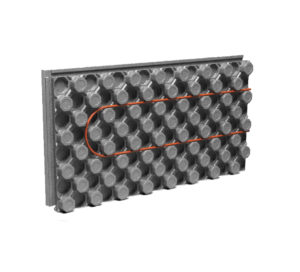 Q. What is the major benefit of using hydronic radiant heating for agricultural applications?
A: The benefits of using hydronic heating for agricultural applications, specifically poultry barns, is that hydronic heating provides lower humidity levels, lowers CO levels and in turn equals better health for the birds.
Q. Why did you choose Amvic's Ampex insulated PEX panel?
A: We have used other PEX panels before but the Ampex panel by Amvic is easy to install, and it is easier to walk in the tubing, especially since poultry barns are fairly large. We also like that the panels are sturdy, which allows the concrete guys to work on the panels after it is laid without causing any damages.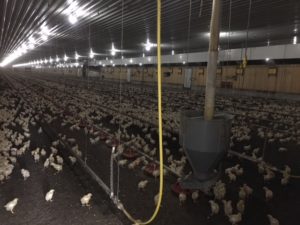 We use hydronic heat for poultry barns because it is beneficial in this application to heat closer to the ground where the chickens are, allowing a consistent temperature in the space it is most needed, without needing to heat the entire room. Hydronic heat is also healthier for the birds, which, in turn, provides a better-quality chicken. With the Ampex insulated PEX panel, owners can also reduce the amount of poultry bedding required on the interior floor of the barn. Hydronic heating lowers the operating cost and provides a better return on the growth and sale of the chickens.
We were able to walk in the piping for this particular 134 x 18-m (440 x 60-ft) barn in efficient time and we were able to have other trades walk on the laid panels without affecting the already installed tubing, or the panels itself. Overall this was a great project and we look forward to using the Ampex panel in future poultry barns.
– Brandon Gleeson, Gleeson Plumbing Inc.
 About the Ampex panel
Ampex is an insulated panel used for hydronic radiant floor (slab) systems both for interior and exterior applications. It is available in a range of compressive strengths and thermal resistance values to meet the needs of most projects. The combination of moulded expanded polystyrene (EPS) insulation with high impact polystyrene (HIPS) film makes for a strong and resilient panel. The panel combines rigid insulation, a vapour barrier, and PEX tubing locking mechanism into a single solution that significantly reduces installation time. It is ideal for installation in basements, driveways, garages, workshops, and barns.
Learn more at www.amvicsystem.com/products/ampex..
All information listed in this section was submitted by Amvic Inc.
Kenilworth Media Inc. and Construction Specifications Canada (CSC) cannot assume responsibility for errors of relevance,
fact or omission. The publisher nor CSC does not endorse any products featured in this article.

Control the content you see on ConstructionCanada.net!
Learn More.