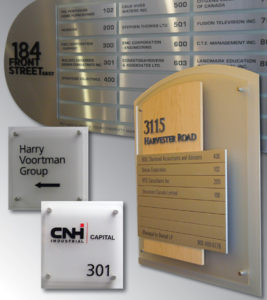 When it comes to developing interior signage for a commercial building the most important choice is a well-designed system of modular informational signs.
Wayfinding, departmental, directional, or organizational signage enables customers and employees to navigate the space with ease. The easier it is for a customer or employee to accomplish what they are there for, the more likely they are to rely on that convenience in the future.
The main purpose of informational signage is to tell customers and employees where to go and what to do. Informational signage needs to be concise and easy to read so clients can understand the message at a glance. Large, bold fonts in highly-visible colour schemes best accomplish this goal.
When creativity is used as the foundation of a wayfinding system one realizes another benefit to signs. It offers a fluidity and intuitiveness to the space and reinforces the brand. Once building owners and facility managers start installing informational signage, it becomes clear the space is arranged in an orderly fashion with some rhyme or reason behind decision-making. Not only does this benefit customers and employees, but also makes the internal structure more organized.
Visit SignsAlive.com and let us help you find your way.
All information listed in this section was submitted by Signs Alive.
Kenilworth Media Inc. and Construction Specifications Canada (CSC) cannot assume responsibility for errors of relevance,
fact or omission. The publisher nor CSC does not endorse any products featured in this article.