West Block renovation includes access products from BILCO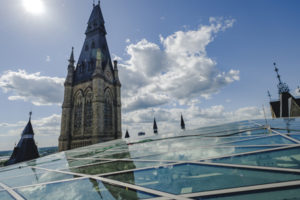 by Thomas Renner
One of the most complex, historic, visible, and expensive projects in the history of Canada will finally close when Parliament Hill's West Block officially opens in January 2019. The $836-million, seven-year renovation successfully fused a building constructed in 1865 with the amenities required for today's businesses, and also used the most up-to-date technology and practices.
The project includes access products from BILCO Canada. Headquartered in London, Ont., BILCO Canada contributed customized aluminum roof hatches and prime painted galvanized steel hatches. BILCO, an international leader in the manufacturing of specialty access products, contributed customized aluminum roof hatches and prime painted galvanized steel hatches. They were installed by Heather and Little and Covertite as part of a roofing project that took two years to complete.
"The hatches were a bit harder to install mostly due to the complexity of the design,'' said Brian Marshall, project manager for Heather and Little. "They were installed on a sloping roof in a near vertical position."
BILCO roof hatches provide safe and convenient access by installation of an interior ladder or service stair. They also provide an accessible way to install or remove equipment from a building. Marshall said his team also installed fire-rated floor hatches to gain access to attics and mechanical space, as well as BILCO's LadderUP® Safety Posts to help ensure safety for workers entering and exiting the roof hatches.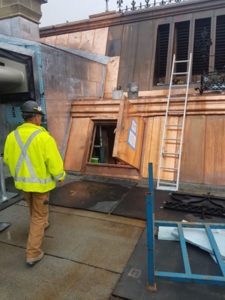 LadderUP® Safety Posts provide easier, safer ladder access through roof hatches and floor access doors. A post is permanently mounted to the top of any fixed ladder, providing a firm handhold while allowing the user to enter or exit safely.
West Block was last renovated in the 1960s. Since then, there have been dramatic changes in technology, standards, and even requirements for communication and safety within the West Block.
"All the expectations and standards of operating and working in a Parliamentary office building changed," said Georges Drolet, a partner in the architectural firm EVOQ, one of the teams involved with the renovation. "From comfort expectations, security concerns, energy efficiency targets and hazardous materials management to universal accessibility standards, broadcasting and public engagement programs, and so on—all this added to the wear and tear of a building erected more than 100 years earlier."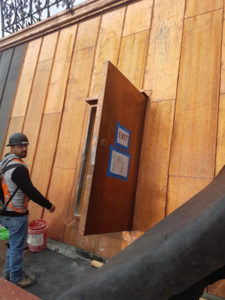 Drolet said architects and construction teams faced multiple issues, including:
excavating in proximity and under the historic masonry of a loadbearing structure;
establishing seismic reinforcement;
concealed routing of mechanical and electrical systems;
inserting new elevators;
working within tight existing spaces;
removing asbestos; and
meeting lighting and acoustic requirements for the debating chamber within an open, previously exterior space.
Architects also had to be sensitive to the building's history. Parliament Hill is classified as a Federal Heritage Building. Some of its compelling features are a mansard copper roof, Gothic detailing, and Nepean sandstone and iron cresting. It was classified as a Heritage Building because of its important historical associations, architectural quality, and environmental impact.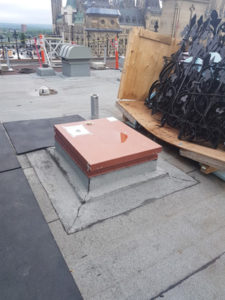 Drolet said the project at West Block carefully integrated high technical standards of technology, such as building systems and communication networks, within the heritage structure while enhancing the historic character of the building and its site. Architects also created new spaces outside the footprint of the heritage structure. Drolet said all renovations done on designated federal heritage buildings have to comply with the Standards and Guidelines for the Conservation of Historic Places in Canada.
"Those guidelines provide very clear and detailed methodology to manage change within historic structures and sites in order to maintain their integrity,'' Drolet said. "It is not always easy but there are recognized ways to achieve it. Designing brand new buildings is not easy either. In the case of a historic site, architects set maintaining historical integrity as one of the project priorities from the start. This ensures construction is planned accordingly and keep the goal on everyone's radar until the end of the construction."
Thomas Renner can be reached at trenner@catalystmc.com.
All information listed in this section was submitted by Bilco Company.
Kenilworth Media Inc. and Construction Specifications Canada (CSC) cannot assume responsibility for errors of relevance,
fact or omission. The publisher nor CSC does not endorse any products featured in this article.

Control the content you see on ConstructionCanada.net!
Learn More.