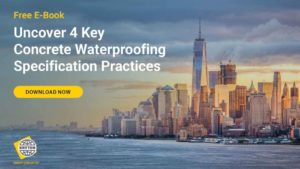 With today's climate becoming more volatile, you want to make sure your concrete waterproofing specifications provide permanent, reliable results. To help, we have produced our latest e-book that goes into the four key practices you need to know to make that happen. Download our Free E-Book Today!
Here is a sneak peek of what you can expect:
An in-depth look at how to fulfill all stages of the waterproofing process
Insight into why it's time to move on from external membranes
Links to relevant case studies, articles, and more
All information listed in this section was submitted by Kryton International Inc.
Kenilworth Media Inc. and Construction Specifications Canada (CSC) cannot assume responsibility for errors of relevance,
fact or omission. The publisher nor CSC does not endorse any products featured in this article.