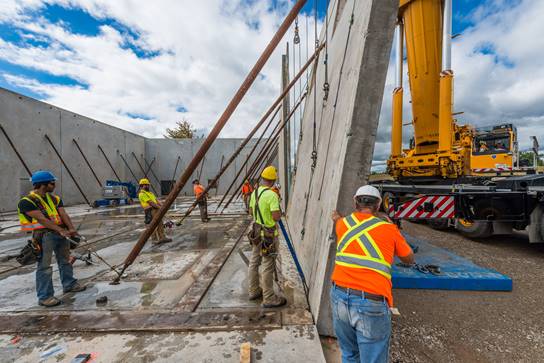 Tilt Wall Ontario and Dayton Superior have teamed up for a tilt-up construction awareness campaign. With the changes that have occurred in the Ontario construction sector over the course of the last number of years, the time for tilt-up concrete in the province is ripe. Timely delivery of projects and compliance with the new energy code requirements are easily achieved with the proven technology of site-cast tilt-up construction.
Although tilt-up is not a new building method and uses one of the oldest building materials known to man, it is still virtually unknown in the Ontario marketplace. Over the course of the past 15 years, its use in both the Western and Maritime Provinces has greatly increased—now, it is time for Ontario to get on board!
Already used in more than 200 projects in Ontario, tilt-up concrete construction is a cost-effective, efficient, building solution with almost limitless design potential. Join Len Overbeek of Tilt Wall Ontario and Sean van Rassel of Dayton Superior for a half-day seminar on tilt-up construction. They will share their hands-on industry experience with this dynamic building method, explain why it is an elegant solution for today's building envelope requirements, and answer all your tilt-up questions. For more information, visit https://tiltwall.ca/seminar-series.
All information listed in this section was submitted by Tilt Wall Ontario Inc.
Kenilworth Media Inc. and Construction Specifications Canada (CSC) cannot assume responsibility for errors of relevance,
fact or omission. The publisher nor CSC does not endorse any products featured in this article.