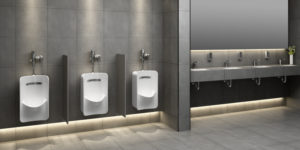 The American Standard promise
For over 150 years, American Standard's commitment to quality, reliability, durability, and design has been unwavering. So too has American Standard's dedication to keeping communities healthy and safe. Now is no exception. With a lineup of advanced, long-lasting, and stylish products that offer hands-free sensor operation and superior cleaning innovations, American Standard is here to help wave goodbye to germs and bacteria in public restrooms.
Outfitting a public restroom used to be about convenience and durability. While those priorities remain, added to them with the ongoing Covid-19 pandemic, is the health, wellbeing, comfort of users, and how best to protect them from spaces that can be breeding grounds for germs and bacteria.
As people adjust to re-entering public life, peace of mind in public restrooms isn't going to be found using levers, handles, and buttons, but instead with the ease and cleanliness of sensor-activated faucets, toilets, flush valves, and soap dispensers. Thanks to the award-winning design and innovation found in American Standard's commercial lineup, cross-contamination from high-touch surfaces can be history.
The Covid-19 effect
Public restrooms will never be the same. There is a clear before and after. Before Covid-19, touch-free products were considered a nice-to-have amenity. Now, with the rampant spread of the virus, touch-free technology in public restrooms is essential. This global pandemic has changed the design, the perception, and the use of public restrooms forever.
The cleanliness and hygiene of public restrooms is under the microscope of everyone who uses them; users are expecting increased cleanliness, sanitation, and functionality in restrooms, and American Standard is here to help you answer that call today.
Touchless restroom fixtures
The need for public restrooms isn't going to disappear. The reality is, crowds of people will continue to require access to and the use of facilities when out and about.
Designers, engineers, and business owners/managers can improve hygiene and safety, increase user confidence, ease of maintenance, convenience, and cost savings, with touchless technology in public restrooms.
Whether installed from the start or retrofitted with touchless fixtures in shared and public spaces, American Standard can help people resume their normal lives again by eliminating areas of concern in public restrooms: germ-ridden surfaces. Along with optimized sensors to eliminate water waste, and low flow options, American Standard has developed the touch-free technology to better public safety, wellness, and hygiene.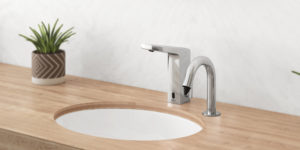 American standard commercial faucets
It's scientifically proven an increase in handwashing lessens the transmission of Covid-19. So, it should come as no surprise there is a demand to make handwashing safer, more accessible, hygienic, and pleasurable for each user. As well, touchless faucets not only eliminate points of contact, and thus the spread of germs, but also makes it easier and more efficient to wash hands, minimizing time spent in the public restroom.
Commercial faucets from American Standard are designed specifically for high-volume use and dependable longevity, year after year. With several options to fit all your needs, including sensor faucets, single control faucets, widespread faucets, and metering faucets, with American Standard you don't have to sacrifice beautiful design for superior quality, functionality, water efficiency, and ADA compliance.
Advanced technology
Proximity sensor-operated commercial faucets
American Standard's proximity sensor-operated faucets are built to withstand the rigors of commercial installations. Engineered to utilize state-of-the-art technology, hands-free faucets are the solution when cleanliness, functionality, design, sustainability, and savings are considerations.
American Standard SmarTherm Technology
Exclusive to American Standard, the SmarTherm Safety Shut-Off is an advanced technology which integrates a thermostatic hot water temperature limiter into the sensor faucet. SmarTherm is ASSE 1070 certified and automatically protects users from scalding in case of a hot water surge or a cold water interruption. The clean, integrated design houses all the electronics of the unit neatly in the faucet spout, meaning there is no hard-to-reach or unsightly control box below deck.
Additional benefits include:
Easy installation and maintenance – installed from the top, the faucet parts are easily accessible and serviceable
Above-deck mixing allows for the user to manually adjust temperature, including an adjustable hot limit stop, and red and blue indicators
A removable mixing handle means that the installer can set the temperature and remove the handle to prevent user adjustment, and
Hygienic, touch-free operation
Built to last
For exceptional service and low maintenance options, select one of American Standard's faucets with the revolutionary PWRX 10-year battery system. American Standard commercial faucets provide value worth your investment, time, and trust.
American Standard flush valves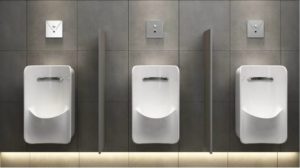 Proximity Sensor-Operated Flush Valves
American Standard proximity sensor-operated toilet and urinal flush valves offer durable, dezincification-resistant brass construction outside and clog-resistant technology inside to ensure on-site dependability and a significant reduction in maintenance, even in the most demanding locations. Sensor operation allows for hands-free use, providing peace of mind.
PWRX 10-Year Battery System
American Standard's PWRX 10-Year Battery System reduces the downtime and maintenance costs associated with changing batteries. Other benefits include:
The piston flush valve saves labor by automatically closing upon loss of power or water pressure, never needing to be reset
The fully mechanical manual override can flush the valve without power
Adjustable sanitary flush cleans the fixture and maintains the trap seal
Frequency and duration are adjustable with optional remote control
Stadium flush (urinals only) automatically switches to water-saving mode during periods of heavy use, and
Propriety dezincification-resistant brass alloy
Not doing a new build? Fear not because you can transform conventional commercial bathrooms of old into present day, safe, and hygienic hands-free hubs. American Standard's infrared sensor-operated gear actuators convert manual flush valves into automatic operation valves by replacing manual flush valve handles. As well, the added benefits of American Standard's retrofit sensors are:
• Installation is fast and easy, as the unit can be installed on the existing flush valve without turning off the water
• An angled sensor delivers a reliable flush, even with toilet seat in a raised position
• Electronic courtesy flush button
• Optional sanitary flush feature provides an automatic flush after 24 hours of non-use
• An LED object detection indicator blinks when a user or object is detected
• A green LED user in view indicator flashes 3 times after user is detected for five seconds,
• An LED low battery indicator flashes yellow when batteries need to be replaced,
• Battery replacement is easy as water does not need to be shut off to change batteries, and
• Sensors can be installed left or right-handed and the kit includes installation tools
American Standard commercial sinks
Handwashing has increased dramatically with the emergence of highly transmissible Covid-19, and public restrooms need to be equipped to allow people to wash safely; sink materials are essential to supporting public restroom cleanliness and maintenance, and smooth, nonporous materials can help prevent the growth of bacteria and mold.
Infection control
In addition to touchless faucets and toilets, how is American Standard keeping users safe in public restrooms? American Standard's commercial sinks have deep, sloped basins that reduce splashing, have offset, non-pooling drains that won't overflow, and are coated in exclusive EverClean Antimicrobial Technology.
EverClean Technology
American Standard's exclusive EverClean Antimicrobial Technology provides a hygienic and cost-effective solution for commercial facilities. This surface helps to inhibit the growth of stain and odour-causing bacteria, mold, and mildew. American Standard has the best selection of high efficiency commercial fixtures with exceptional performance and integrated antimicrobial surfaces.
Institutional and utility solutions
Infections in hospitals may cause as many as 90,000 deaths annually. To prevent it, hospitals must develop an infection control plan by having a rigorous cleaning/disinfecting procedure and utilizing products that can help to prevent the spread of germs. With its unique basin design, the ICS Sink reduces droplets and splashes. There is also no level surface for users to place objects.
American Standard commercial warranty
Extended commercial warranty: Math that makes sense
Powerful things happen when your flush valve and chinaware are designed together. Engineered systems from American Standard combine fixtures and flush valves that were designed together to deliver superior performance while using less water.
Purchase any American Standard commercial fixture and flush valve combination to receive an extended five-year warranty.
Stay safe with American Standard
With a lineup of high quality, durable, and stylish sensor-activated faucets, toilets, flush valves and soap dispensers, American Standard is here to help us all wave goodbye to the spread of germs and bacteria in public restrooms.
Go touchless with American Standard
Learn more at www.americanstandard.ca/hands-free-commercial
All information listed in this section was submitted by Lixil Group.
Kenilworth Media Inc. and Construction Specifications Canada (CSC) cannot assume responsibility for errors of relevance,
fact or omission. The publisher nor CSC does not endorse any products featured in this article.

Control the content you see on ConstructionCanada.net!
Learn More.