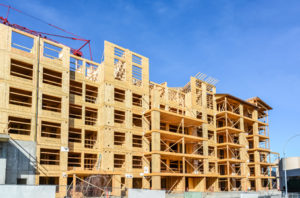 Wood is remarkable. It is the only building material that is renewable and offers both flexibility and design freedom. Building codes in the past restricted the height of wood-frame construction, but the growing demand for sustainable materials has changed this. Now, more and more architects and builders are choosing wood for their commercial projects.
However, as wood buildings get taller some concerns arise relating to fire safety, construction moisture, and energy requirements. The answer is continuous insulation (ci) on the exterior made up of noncombustible stone wool. By integrating stone wool into the building envelope and wall assemblies, the design team can maintain its creative vision while averting these concerns.
The design possibilities are endless when pairing wood construction materials with noncombustible stone wool insulation. From traditional styles to the ultramodern, one can design a safe, long-lasting, energy-efficient building that pushes the boundaries of creativity.
For more information on designing mid-rise wood structures and noncombustible COMFORTBOARD™ and CAVITYROCK® stone wool insulation products, visit rockwool.com/fire-safe-design.
All information listed in this section was submitted by Rockwool.
Kenilworth Media Inc. and Construction Specifications Canada (CSC) cannot assume responsibility for errors of relevance,
fact or omission. The publisher nor CSC does not endorse any products featured in this article.