Owens Corning® Thermafiber® mineral wool insulation provides fire resistant, thermal, and acoustical solutions, perfect for commercial builds.
Why choose mineral wool insulation?
Mineral wool offers:
70 per cent recycled content;
noncombustible;
easy to cut and install; and
secure cavity fit.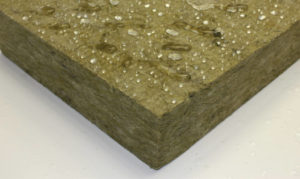 Thermafiber® Rainbarrier® insulation
Thermafiber® RainBarrier® products are designed for exceptional performance in rainscreen and cavity wall construction applications. RainBarrier® 45 (standard density) and HD (high density) provide energy-saving continuous insulation (ci), fire protection, and acoustical control while efficiently draining water from a wall cavity system. RainBarrier® products are noncombustible and suitable for use with common z-girt, wall-tie, and clip cladding attachment solutions with open or closed joint façades.
Thermafiber® Firespan® insulation
Thermafiber® FireSpan® 40 and 90 is designed to provide enhanced fire protection in curtain wall and perimeter fire containment systems, with thermal and acoustical properties.
To learn more about Thermafiber® mineral wool insulation, visit thermafiber.ca.
All information listed in this section was submitted by Owens Corning.
Kenilworth Media Inc. and Construction Specifications Canada (CSC) cannot assume responsibility for errors of relevance,
fact or omission. The publisher nor CSC does not endorse any products featured in this article.