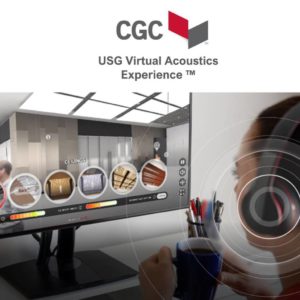 Acoustics matters: Designing in harmony with acoustics
Whether it is a result of controlling costs, demanding faster work, or compressing schedules, acoustics are often overlooked or devalued in the design of a building to accommodate visual esthetics and other traditional design imperatives.
Read the Blog Article.
Hear the Difference
The Virtual Acoustics Experience™ informs design decisions by providing an audio and visual representation of a rendered space with options to swap out ceiling applications.
Read the Blog Article.
Build Sound Knowledge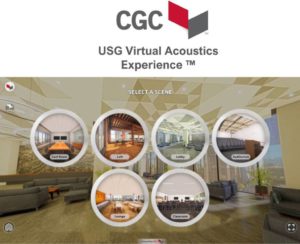 Come in and explore consolidated acoustic resources including key definitions, building codes, and thought leadership.
Visit the Acoustics Page.
All information listed in this section was submitted by CGC.
Kenilworth Media Inc. and Construction Specifications Canada (CSC) cannot assume responsibility for errors of relevance,
fact or omission. The publisher nor CSC does not endorse any products featured in this article.