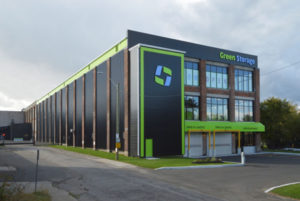 We invite you to view our curated collection of case studies in steel construction and design. Chosen from among the many buildings and projects that feature our steel, our collection is updated biannually from our premium publication, Steel Design.
In this edition, we feature four outstanding case studies, showcasing insulated metal panels (IMPs), prepainted steel roofing and cladding for sub-arctic climates, steel in the Granite® Deep Mat on Galvalume®, and steel construction for a net zero energy-efficient building.
Grand Quai du Port de Montréal, Québec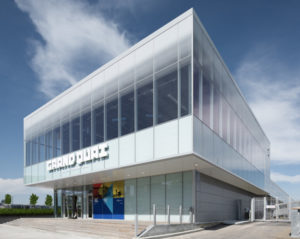 Provencher_Roy restored the old Alexandra Pier and transformed it into an exceptional river walk, which was integrated into the existing pedestrian network built up over the past few decades along the side of the Saint Lawrence River. The Iberville Passenger Terminal, built in 1967 on the pier, was also completely renovated with modern facilities, thus providing a very favourable impression to arriving cruise passengers. The pier is now named Grand Quai du Port de Montréal. Read more on page 3.
Fox Lake Cree Nation School, Manitoba
Located in Gillam, the building massing utilizes stepped, sloping roofs which avoid valleys and the possibility of water or snow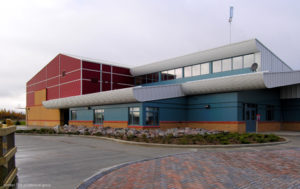 coming down on entry points. The high gymnasium volumes act as a backdrop to the rest of the building and the curved roof edges soften the school's rooflines and add a dynamic sense of movement. Read more on page 6.
Wolfville Library, Nova Scotia
In 2017, it was determined the original shingles on the railroad station, now the Wolfville Library, had reached the end of their service life. FMB Architecture I Design, the architect chosen for the re-roofing, elected to use a diamond shape roof tile made from ArcelorMittal Dofasco's pre-painted AZM150 Galvalume® steel in the Granite® Deep Mat paint system. Read more on page 9.
Green Storage, Ontario
Significant challenges were experienced in turning a structure in Hamilton that was built 100 years ago into a state-of-the-art, energy-efficient building that will be Net zero on electricity and heating/cooling. Read more on page 18.
View current and past issues of Steel Design here (English and French available).
All information listed in this section was submitted by ArcelorMittal Dofasco.
Kenilworth Media Inc. and Construction Specifications Canada (CSC) cannot assume responsibility for errors of relevance,
fact or omission. The publisher nor CSC does not endorse any products featured in this article.