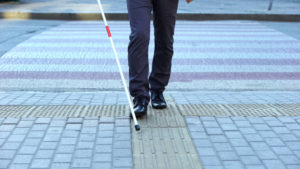 A new standard for accessible homes
People living with disabilities need easy access to food, hygiene, and rest areas in their homes. However, current design and construction guidelines and codes for accessible dwellings vary by jurisdiction across Canada, and their requirements tend to be limited, which can make it difficult for people with disabilities to find a home meeting their specific needs. In addition, most traditional homes were not designed with accessibility in mind, making alterations to existing homes challenging.
Policymakers and consumers have identified a need to provide more housing stock that is accessible, affordable, and adaptable for older adults and people with disabilities. The new CSA Group standard CSA/ASC B652:23, Accessible Dwellings, is intended to assist in the design, construction, or alteration of homes so they can accommodate the needs of their residents. The standard provides guidance for a variety of dwellings—from detached houses and duplexes, townhouses, and row houses, to apartments and condominiums. Its provisions are also suitable for short-term and visitable dwellings, such as hotels, dormitories, or care facilities.
The first edition of the standard leans on industry experts and people with lived experiences of disability to provide evidence-informed guidance and best practices for the design of various elements of accessible homes, including ramps, landscaping, parking, garages, and other exterior elements.
The standard specifies area allowances for rooms and spaces in houses to accommodate a person using an assistive mobility device, as well as knee and toe clearances and addresses accessibility features of different rooms. It also provides best practices for home operating controls, such as door handles and locks, light switches, buttons for appliances, faucets, etc. These best practices cover the position of controls, their operability, and functionality.
CSA/ASC B652 also provides requirements for floors and ground surfaces, with additional considerations for people with different disabilities, for example, people with limited vision, environmental intolerances, or those using assistive mobility devices.
A separate clause of the standard is dedicated to the illumination of accessible dwellings and addresses general (ambient) illumination and task lighting.
Find more information about the new requirements and recommendations of CSA/ASC B652:23 on the CSA Store.
Helping designers and builders apply the standard for accessible dwellings
To help home builders, contractors, and accessibility consultants apply the requirements and recommendations of CSA/ASC B652:23, CSA Group is developing a new interactive PDF tool. This tool will help assess the needs of individuals with physical, sensory, or cognitive disabilities and optimize the design of private homes when building, renovating, or retrofitting them.
Focusing on specific areas of the home, the tool will highlight specific requirements, recommendations, and considerations that may impact and improve its accessibility. Stay tuned for more updates on the tool. Subscribe to the CSA Group newsletter.
Research identifies future standardization opportunities
Accessibility standards will continue to play an important and necessary role in building a barrier-free Canada. A report from CSA Group, A Canadian Roadmap for Accessibility Standards, reviewed the current standardization landscape and identified areas where new standards and harmonization of accessibility provisions across Canada would help remove existing barriers to accessibility. For example, CSA Group's research recommended the development of a comprehensive national standard for accessible indoor and outdoor recreational and green spaces that would address the visual, physical, sensory, and cognitive needs of their users. Standards for wayfinding and navigation systems, especially in complex environments within transportation facilities, health care settings, and public pedestrian spaces, can also help remove barriers created by unclear signage and lack of continuous paths of travel.
To learn more about CSA Group accessibility standards, visit our website.
 Notes
¹ Canadian Survey on Disability Report, Statistics Canada, 2018
² Zallio, M., Clarkson, P.J., Inclusion, diversity, equity and accessibility in the built environment: A study of architectural design practice, Building and Environment, Vol.206, 2021
CSA Group always strives to provide up-to-date and accurate information. However, no representation or warranty, expressed or implied, is made that this information meets your specific needs, and any reliance on this information is at your own risk. Please contact CSA Group for more information about our services.
©2023 Canadian Standards Association. All rights reserved.
All information listed in this section was submitted by CSA Group.
Kenilworth Media Inc. and Construction Specifications Canada (CSC) cannot assume responsibility for errors of relevance,
fact or omission. The publisher nor CSC does not endorse any products featured in this article.

Control the content you see on ConstructionCanada.net!
Learn More.