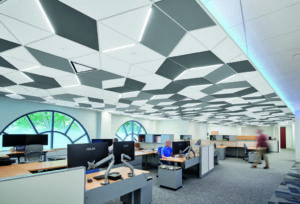 As a result of ongoing growth, Hourigan, a fully integrated construction/development firm based in Richmond, Virginia, recently expanded its corporate headquarters by moving into an additional floor in the building it occupies. The new floor houses corporate suites as well as a myriad of office spaces.
According to Audrey Sweeley, interior designer for the architectural firm of Price Simpson Harvey (PSH+), "The company was looking for something dynamic and interesting in its new space. They were looking to do something different that would stand out and make it a signature space."
To meet that objective, Sweeley and her design team in collaboration with the Armstrong ProjectWorks Design & Pre-Construction Service chose a Calla Shapes for DesignFlex ceiling, a ceiling portfolio that features the use of different shapes in the ceiling design. Measuring nearly 167 m2 (1800 sf) in size, the Hourigan ceiling features four different shaped panels: triangles, left parallelograms, right parallelograms, and trapezoids. In addition, three different colors were used: white, light grey, and dark grey.
There are no 90-degree angles in the entire ceiling. All the panels are standard and were shipped within three weeks. Even though the ceiling is totally flat, the combination of multiple shapes and colors gives the appearance of a three-dimensional ceiling.
Pre-designed panel pattern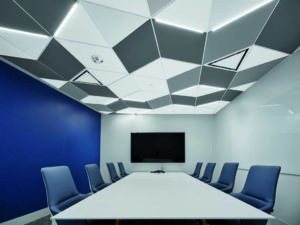 The PSH+ design team selected the panel pattern for the ceiling design from one of dozens of pre-designed patterns available in an online DesignFlex Pattern Gallery. The design team then selected its own color palette. The team also decided to install T-Bar Flex linear lighting from Armstrong lighting partner JLC-TECH. Pre-qualified for fit and finish, the light-emitting diode (LED) lights replace T-bar cross tees in the suspension system, thereby seamlessly integrating into the ceiling design.
Sweeley notes the ceiling was originally not an important factor in the overall design, but once the design team started looking at different concepts, it became the focus of the space.
"We went from an all-white traditional ceiling to all-grey and finally to the addition of colors. In the end, we wanted something dramatic and fell in love with it," she says.
Design service provides drawings
To aid Sweeley and her design team, the Armstrong ProjectWorks Design & Pre-Construction Service became involved. The complimentary service offers a complete design-to-installation package for its DesignFlex ceilings, MetalWorks Torsion Springs Shapes ceilings, and numerous other mineral fibers, fiberglass, and specialty ceilings.
Ceiling design and visualization, takeoffs and quotes, and installation details are all included in the package. According to ProjectWorks Design Specialist, John Lutz, the Service's mission is to bring a customer's design to life and to aid the contractor on how to build the ceiling.
"We want the designer to see the reality of the ceiling before installation ever happens," says Lutz.
For the Hourigan ceiling, ProjectWorks provided a full set of drawings for the PSH+ design team and a full takeoff for the distributor, all within 48 hours.
"The drawings were especially helpful because they allowed us to see how the ceiling would look and work in the space," says Sweeley.
Acoustics an important factor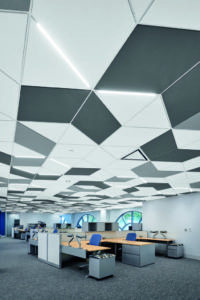 In addition to aesthetics, Sweeley notes acoustics was another important factor.
"It is  a large open area that houses corporate suites as well as offices," she says. "As a result, sound absorption and speech privacy were needed, especially in the conference rooms."
Calla Shapes for DesignFlex ceilings feature Total Acoustics performance, meaning they provide an ideal combination of sound absorption (NRC 80) and sound blocking (CAC 35) in one panel. They are also part of the Armstrong Sustain portfolio that meet today's most stringent industry sustainability standards. These ceilings are also included in the new 24/7 Defend portfolio of ceiling and wall products that contribute to healthier, safer spaces and cleaner air.
Drawings help facilitate installation
In terms of installation, Greg DeBlock, vice-president of Benchmark Contracting, says even though it was his firm's first installation of a DesignFlex ceiling, everything went smoothly.
"It wasn't a case of just dropping square ceiling panels into the grid," he says. "It was a little slower than normal because of the different shapes and colors involved. However, the drawings ProjectWorks provided showing the position of each panel and color helped greatly. We weren't left to scratch our heads as to where all the parts and pieces went."
Looking back on the ceiling, Sweeley says both she and the client are quite pleased.
"I think it makes the space sing," she says. "It makes a unique, exciting difference. They wanted a wow factor and this provided that for them."
(For more information about the complimentary Armstrong ProjectWorks Ceiling Design and Pre-Construction Service, visit armstrongceilings.com/projectworks.)
All information listed in this section was submitted by .
Kenilworth Media Inc. and Construction Specifications Canada (CSC) cannot assume responsibility for errors of relevance,
fact or omission. The publisher nor CSC does not endorse any products featured in this article.

Control the content you see on ConstructionCanada.net!
Learn More.