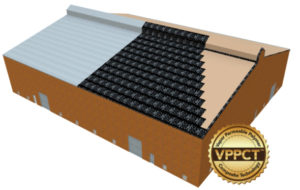 SlopeShield Plus® Self-Adhered (SA) is a revolutionary roofing underlayment for metal, tile, and cedar shake roofing applications. Designed for roof slopes of 2:12 and above, SlopeShield Plus SA represents an advancement in performance that combines exceptional water and air holdout capabilities as well as vapor permeability.
Traditional versus new
Traditional roofing underlayments offer liquid-water holdout but lack drying capacity (non-permeable) so they inherently trap moisture, reducing insulation performance and accelerating sheathing decay, potentially causing premature roof assembly failure.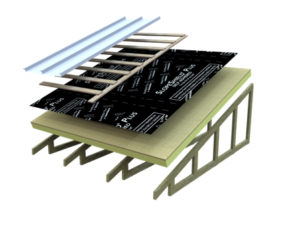 SlopeShield Plus Self-Adhered's high drying capacity and black colouration (which absorbs heat from the sun when exposed during construction), accelerates the drying process of the underlying materials. This combination helps to mitigate moisture—for the life of the building—which would otherwise be trapped by a non-permeable roofing underlayment.
SlopeShield Plus SA benefits
It offers many advantages including:
● walkability and excellent traction for installation crews;
● primerless application;
● exceptional water and air holdout;
● high drying capacity (vapor permeability, 30 perms);
● long exposure times: 180 days before final roofing material application; and
● suitable for all climates and geographic locations, including extreme temperature areas.
Details, submittal package, and samples

View details, order a sample, or download a submittal package and join the SlopeShield Plus SA revolution.
All information listed in this section was submitted by VaproShield.
Kenilworth Media Inc. and Construction Specifications Canada (CSC) cannot assume responsibility for errors of relevance,
fact or omission. The publisher nor CSC does not endorse any products featured in this article.