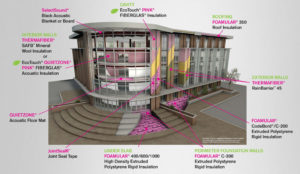 Using Owens Corning® EcoTouch® PINK® FIBERGLAS® Insulation, FOAMULAR® rigid foam insulation and Thermafiber® mineral wool insulation helps provide a durable, energy-efficient building enclosure. Look to Owens Corning products for energy-efficient, acoustically sound, and cost-efficient solutions in institutional, commercial, and industrial buildings.
Highlights of the products include:
Interior Walls – QUIETZONE® noncombustible acoustic insulation;
Under Slab – FOAMULAR® 300/400/600/1000 high-density extruded polystyrene (XPS) rigid insulation;
Perimeter Foundation Walls – FOAMULAR® C-300 XPS rigid insulation;
Exterior Walls – Thermafiber® RainBarrier® 45 continuous insulating (ci) sheathing;
Roofing – FOAMULAR® 350 roof insulation; and
Cavity Insulation Between Studs in Exterior Walls – EcoTouch® PINK® FIBERGLAS® insulation.
Owens Corning website also includes an acoustics/fire-resistance wall/floor assemblies calculator to help building teams evaluate various applications of Owens Corning insulation products. To learn more, contact Owens Corning's building science experts at www.specowenscorning.ca/contacttech.
All information listed in this section was submitted by Owens Corning.
Kenilworth Media Inc. and Construction Specifications Canada (CSC) cannot assume responsibility for errors of relevance,
fact or omission. The publisher nor CSC does not endorse any products featured in this article.